Register to download the Computerworld Digital Magazine!
In the January 2015 issue:
4 Ways to Connect Better With Customers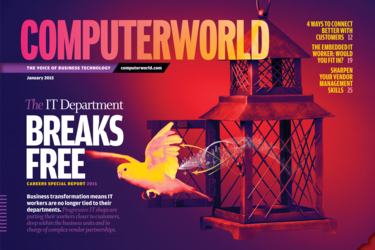 Top IT shops know the value of getting customers and IT together to build better systems. The setup can benefit the business, and give IT workers a real leg up in their careers.
The Embedded IT Worker: Would You Fit In?
When IT workers can collaborate and share ideas with their business colleagues, good things happen for the bottom line. But it takes more than just sitting side by side -- it's a culture shift.
Sharpen Your Vendor Management Skills
The changing vendor landscape means tighter partnerships with service providers and third-party vendors. Here are the skills you should have in your back pocket. 
Security Manager's Journal
As our manager settles in at his new job, he has begun to see security vulnerabilities everywhere he looks.
The Grill
Dieter Haban, the top IT exec at Daimler Trucks, hires a mix of 'Einsteins' and 'Edisons' for his team.
Shark Tank
Read the latest exploits of hapless bosses and clueless users.
News Analysis
IT services are but one human error away from a spectacular failure, and there's very little evidence to suggest that we've found a way to stop people from making mistakes.
Opinions
Futurist Thornton A. May suggests that regulatory compliance could become an IT competency. And columnist Paul Glen explains why the workplace will never be a democracy.