Register to download the Computerworld Digital Magazine!
In the December 2014 issue:
Modernizing the Mail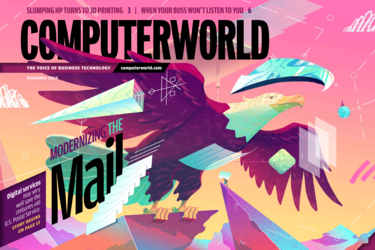 The advent of email may have pummeled the U.S. Postal Service, but in the end, digital services might very well save the centuries-old agency. 
Fast Data With a Laser Focus
Many CIOs are jumping on a fast-moving trend -- mining small data sets to deliver valuable insights quickly to the right people at the right time. 
Working Out the Kinks in the Cloud
Large organizations are feeling the pressure to push ahead with software-defined data centers, even if they must build them using immature technologies. 
Career Watch: IT Skills Demand by the Numbers
Plus, a look at the factors behind the recent uptick in IT hiring.
The Grill: Thaddeus Arroyo
AT&T¹s top IT exec hopes to move 80% of customer interactions to digital channels by 2020.
Shark Tank
Read the latest exploits of hapless bosses and clueless users.
News Analysis
Hewlett-Packard turns to 3D printing as part of an effort to revive its flagging fortunes.
Opinions
Paul Glen offers a few key questions to consider when you¹re trying to figure out what to do when your boss won¹t listen to you. And Scot Finnie thinks Microsoft is still heavily challenged when it comes to connecting with end users, which is ironic, since it incubated as a customer-focused company.