Hands on: This is the brand new Gmail app for Android
Along with its Android 5.0 Lollipop release, Google is delivering a brand new and completely redesigned Gmail app for Android. Here's a quick first look.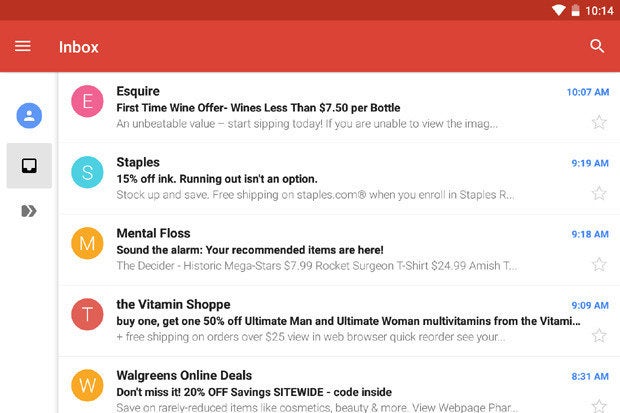 In my first impressions of Google's Nexus 9 tablet, I neglected to mention one aspect of the Android 5.0 software that really jumps out at you at first glance: a brand new Gmail app that follows the Lollipop design aesthetic.
Yup -- even with all the focus on its new Inbox app right now, Google is giving some TLC to its tried-and-true traditional email interface.
The new Gmail app for Android has a fresh Material Design look, complete with bright colors, slick animations, and that telltale floating action button at the bottom-right corner of the screen.
On the Nexus 9, at least, the app uses a multi-paneled view that shows an expandable account and labels area at left and a large message list at right.
In landscape orientation, meanwhile, you can view individual message content while still seeing the message list and expandable label pane.
Also of note, the app now supports Gmail and Google Apps accounts along with external IMAP and POP accounts and Exchange accounts. The old standalone Email app actually still shows up in the app drawer, but if you try to open it, you see a message directing you to Gmail instead.
Last but not least, the Gmail notification now sports a stacked-message icon whenever you have multiple new emails awaiting -- a nice at-a-glance indication that more than one new message is on deck.
So there you have it -- a quick first look at what's new with Google's new Android Gmail app, as seen on the Nexus 9. For more on the tablet itself, be sure to click over to my full Nexus 9 first impressions. And for more on Lollipop in general, check out my in-depth Android 5.0 FAQ.
Whatever you do, don't go far. It's gonna be a busy few weeks here in AndroidLand, and there's lots more ahead.
Copyright © 2014 IDG Communications, Inc.
Shop Tech Products at Amazon