Tech professionals who work at election offices have pretty full calendars these days; but Albert Grimes, CIO at the Massachusetts Office of Campaign & Political Finance, took time out of his busy schedule to chat about how the office handles the flood of political contribution data that comes in shortly before Election Day.
One key, he says, is making sure that people who want to know who's financing the various candidates have easy access to that data. That constituency includes voters, the media and political enthusiasts, as well as candidates and their organizations.
What's the most interesting thing he and his team are working on? Data visualization, Grimes said, so it's easier for people to understand trends in where money is coming from to back various politicians and policies. It's one thing to get a whole series of reports back on who's contributed to a politician or political committee, he noted.
It's a lot more striking to see a graph showing, say, contributions surrounding a ballot question on whether to repeal a law allowing casinos in the state.
This snapshot of an interactive graph on the OCP site tells the story of which side is better funded: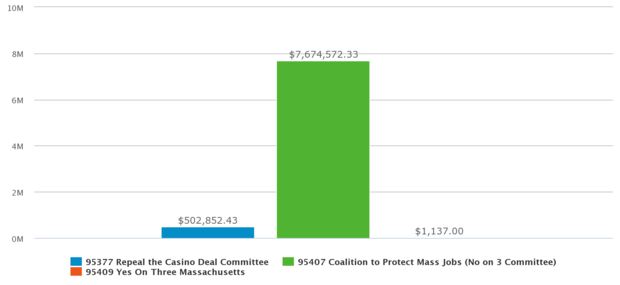 For more details, you can click on any of the bars and get a sortable list of contributors, as you can (hopefully) see in the animated gif below:
This makes it easily apparent which side is better funded -- without having to tally up spreadsheet listing . And because of the ability to get database records for each bar, you can see with a couple of clicks that out-of-state casinos are funding a lot of the No on 3 committee. (If you want to try the interactive version, head to the Chart Creator and in the left navigation panel, select Ballot Questions for "Choose a Race" and Question 3 in the dropdown under that.)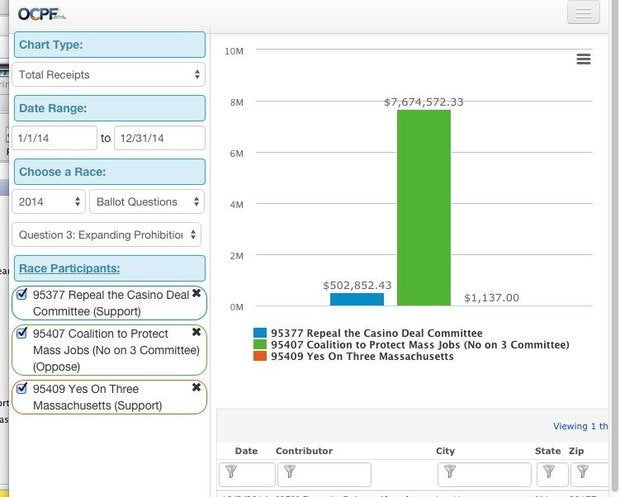 The tool, released this week, was built with the Highcharts JavaScript library along with some custom JavaScript and SQL database calls.
Grimes spoke at Boston University's Hariri Institute for Computing and Computational Science & Engineering along with Paul Clark, a data analyst and disclosure business architect with the Federal Elections Commission.
The most surprising thing to me from Clark's presentation: U.S. Senate candidates are required by law to file all their campaign funding reports on paper. That means more than a million financial transactions per year that then have to be somehow entered into a computer system -- usually keyed in by hand.