Google Nexus Devices
Hands on: The first things you notice about the Nexus 9 and Android 5.0
Google's new HTC-made Nexus 9 tablet is on its way into the world -- and it's officially landed in Android Power's world headquarters. Time to go hands on!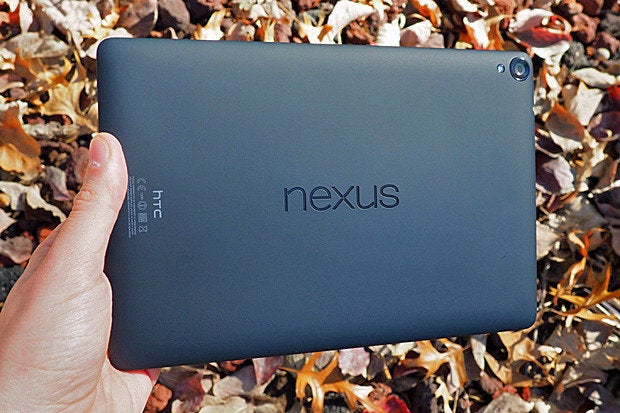 Google Nexus Devices
Show More
Android fans, behold: In my hands sits the long-fabled successor to Google's Nexus 7 tablet -- oh yes, the one and only Nexus 9. 
The Nexus 9 is noteworthy for a few reasons. First, it's a Google Nexus device, which means it's designed with close input from Google's own Android team in order to showcase the most current (and completely unmodified) Android software. Second -- and on a related note -- it's one of the first devices to run the brand spankin' new Android 5.0 Lollipop release. And third, it's the first Nexus device and the first tablet created by HTC in a looong time.
The Nexus 9 is on presale now from Google and a bunch of retailers for $399 ($479 if you want a 32GB model instead of the baseline 16GB). It's expected to start shipping and showing up in stores on November 3rd.
I'll be living with the Nexus 9 for a while and will have a full real-world review to share with you soon. For now, here are the first things that jump out at me as I start to use the device and the final Lollipop software that's on it:
[SEE ALSO: Hands on: Getting to know Google's new Nexus 6]
1. The size
The Nexus 9 really is an in-betweener type of tablet. The Nexus 7 looks like a baby next to it, while the oft-forgotten Nexus 10 looks like a slightly bigger (and somewhat less refined) older brother. 
At first use, the Nexus 9 strikes me as being more suited for two-handed use, both in portrait and landscape orientations; you really can't hold it comfortably in a single hand for long like you can with the Nexus 7. The benefit, of course, is that you get far more screen space, which will undoubtedly be nice for things like document work and video-watching.
2. The look and feel
The Nexus 9 may be made by HTC, but make no mistake about it: It looks and feels like a Nexus device through and through. The tablet follows the same general design aesthetic we've seen with the past couple of Nexus products, with a squared-off shape and soft-touch plastic back panel -- featuring a textured dark "Nexus" logo in the center and not much else.
It's all very minimalist and understated -- certainly not the type of device that's going to grab a lot of attention for its appearance. And you know what? Given the Nexus line's recent history and Google's ongoing focus on content over flashy hardware, that's probably the point.
The device does step things up from past Nexus tablets with the addition of a black-colored "brushed metal" frame. It's a subtle touch, for sure, but one that makes the tablet feel a bit more high-end and sophisticated. The Nexus 9 has dual front-facing stereo speakers, too, complete with HTC's BoomSound audio setup. They aren't as prominent as what you see on HTC's own One (M8) phone -- more of small slits that almost disappear into the design -- but at first listen, they sound pretty darn good.
We've been talking about Lollipop for so long, but let me tell you: Powering up a new tablet with it in place really does feel like you're experiencing a brand new operating system. One that's familiar, for sure, but also one that's fresh and modern, with nary an area that hasn't been retouched. 
You notice the updated look from the moment you turn the tablet on, thanks to the new and improved initial setup that sports Google's bright Material Design motif and makes it easier than ever to sign in and import your stuff from another device.
That effect carries throughout the entire OS; while past visual evolutions to Android always seemed to happen in stages, with bits and pieces appearing in different updates, this one seems sweeping and complete. It really is a whole new Android.
We're not just talking a basic coat of paint here, either: The changes include the introduction of slick new transitions and animations all throughout the system that, even with just the first few minutes of exploration, help to bring an extra level of polish to the experience. Design makes a big difference in what a device is like to use, and five minutes with Lollipop on the Nexus 9 makes that abundantly clear.
Design aside, of course, there are some pretty interesting new features in Lollipop as well as some significant security enhancements. We'll get into all of that soon.
I'll be taking a much closer look at Lollipop and the Nexus 9 (not to mention that, ahem, other Nexus device) over the coming days. Stay tuned for much more coverage and in-depth reviews of both the hardware and the Android 5.0 software.
Believe you me, gang: We're just getting started. 
UPDATES:
Copyright © 2014 IDG Communications, Inc.
Shop Tech Products at Amazon