Hands on with Inbox, Google's new way to experience Gmail
Google's Inbox is a fresh and modern approach to email -- but does it make managing your messages easier or more complex?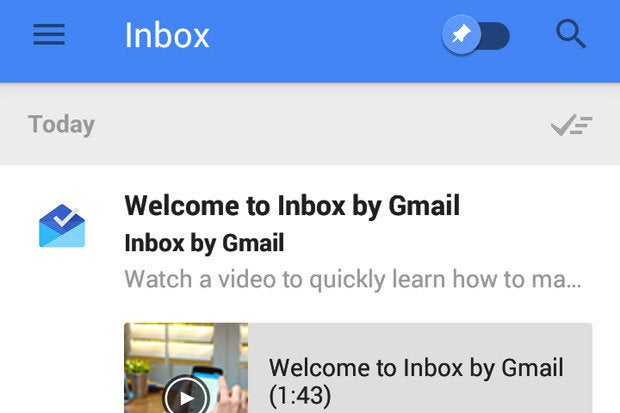 Google arguably reinvented email when it launched Gmail 10 years ago, but the company's never been one to stick with the status quo or shy away from a challenge. With its brand new multiplatform app called Inbox, Google is hoping -- oh, yes -- that it can reinvent email once again.
Inbox is a slightly confusing concept to wrap your head around. It works with Gmail as a service, but it's a completely separate interface (and as of now, at least, one that Google says will exist alongside Gmail as an option -- not any sort of forced replacement). Essentially, it's a new way to think about and approach your email.
And that's where things get interesting -- because the way Inbox approaches your email is, well, not very email-like. It's a clean-slate reimagining of the very way email should work and what we should gain from it.
Let's start at square one: You use Inbox either by signing into the Web app at inbox.google.com or by installing and opening the Android app or iOS app. (For now, Inbox is available only by invitation (déjà vu, anyone?); Google hasn't yet said when it'll open it up more broadly.)
After a brief introduction, you're taken to your, er, Inbox inbox -- a colorful and modern-looking collection of messages and reminders, organized by both topics and dates.
There's a lot going on at once, and it's definitely going to take some getting used to. At first glance, to be completely honest, I'm a little overwhelmed.
Each cluster of items holds messages and reminders from a specific day or period of time ("Today," "Yesterday," "This month," "September," and so on). The messages are presented in what Google calls Bundles -- basically an expanded version of the tab-based category system it introduced into Gmail last year. So emails determined to be promos will all be bundled together within each cluster, for instance, as will emails determined to be related to travel, purchases, or finance.
You can move messages in or out of Bundles, if you find something that doesn't belong, and you can create your own new Bundles as well -- and then train Gmail to file certain types of messages into those categories. And with any Bundle, you can tap it to view all the individual messages or "sweep" the whole thing away all at once.
(Your traditional Gmail labels are still present and available, by the way; in fact, if you open up the Inbox settings, they're listed along with all the Bundles in a tab called "Labels." But there's no way to assign a message to multiple labels in this setup; a message is either in the inbox or in a single Bundle/label -- and that's it. Confused yet?)
Inbox has a few other new tricks up its sleeve, like the ability to automatically pull relevant info out of messages and show it right on the main inbox screen. That feature -- known as Highlights -- works with things like travel itineraries, event info, package tracking info, and photos or other files attached to an email; those types of details will be extracted and displayed right in your inbox so you can see the important stuff at a glance. Google will occasionally even look up and add pertinent details, like the phone number of a business you mentioned in a reminder or a map to a restaurant listed in a reservation confirmation.
Messages and reminders can be snoozed, which takes them out of your inbox and then causes them to reappear at whatever date and time you want. From the mobile app, you can even set a message to reappear when you arrive at a specific place, like your home or office. (Those options will be familiar to anyone who's used Boomerang, a third-party add-on that works with the regular Gmail service in a similar way.)
And speaking of snoozing, you know what term seems to have been put to bed here? Archiving. Instead of "archiving" a message in Inbox, you either snooze it, pin it -- which is kind of like starring it; there's a switch at the top of the inbox that lets you view only pinned messages -- or mark it as done, which takes it out of your inbox and puts it into a "Done" section (basically the equivalent of "All Mail" in the old Gmail).
Last but not least, when you go to create a new message -- by clicking the floating plus sign at the bottom-right of the interface -- you're now given the choice to create a new blank email, create a new email to a specific person with whom you've communicated recently, or create a new reminder.
The integration of reminders is a nice touch, though I'm still a little confused by that part of the system. Reminders I've created with Google Now on my Android phone in the past show up in Inbox, but when I create a new reminder with Google Now on my phone, it doesn't show up in Inbox. Maybe this is just an early-launch glitch, but at the moment, at least, it doesn't seem to make much sense.
[UPDATE: This issue was clarified for me within the comments of my Google+ post. As it turns out, reminders show up in the actual inbox only when their time arrives -- so if you set a reminder for 5:00 p.m., it won't appear in your inbox until 5:00 p.m. You can view upcoming reminders by looking in the "Reminders" tab or the "Snoozed" tab of the Inbox app.]
So what to make of Inbox on the whole? It's hard to say. My first take is that Inbox has some really clever ideas and appealing features. The clean and modern Material Design-inspired interface is refreshing to use, for one; the native ability to snooze emails and have them reappear when needed is also quite handy. I love the prominent placement of pertinent info from messages, and the integration of reminders is a very welcome addition.
But the system in general has a lot going on, and it's all somewhat overwhelming at first blush. Looking at Inbox, I feel slightly lost -- and for a tool that's at the core of my work and personal life, that's not the kind of feeling I want to have.
I hate to say it, but Inbox reminds me a little bit of Google Wave. It's a cool concept that tries to reinvent something in such a dramatic way that it's hard to imagine many users getting on board with it. Heck, as this article has demonstrated, the concept is difficult even just to explain -- which isn't usually a good sign for how easy it'll be to adopt.
Like most people, I have a love-hate relationship with my inbox. I want my email to be simplified. But when I look at Inbox right now, I don't see simplification; I see complication. And if I'm overwhelmed by it, I can only imagine what a typical person who doesn't deal with technology all day will think.
I want to use Inbox -- I really do. And I'm willing to give it a shot to see if I can get used to its unconventional ways.
The question is whether with time, this will turn into the next Gmail-like revolution -- something we'll grow to love and rely on -- or into the next Wave-like miscalculation, which we'll love in theory but avoid in reality.
[UPDATE: Six weeks with Inbox -- and why it's back to Gmail for me]
Copyright © 2014 IDG Communications, Inc.
Shop Tech Products at Amazon