Apple's big iPad event -- the highlights
With new iPads, a new top-end iMac with a 5K retina display and an updated Mac mini, Apple rolled out a lot of hardware today.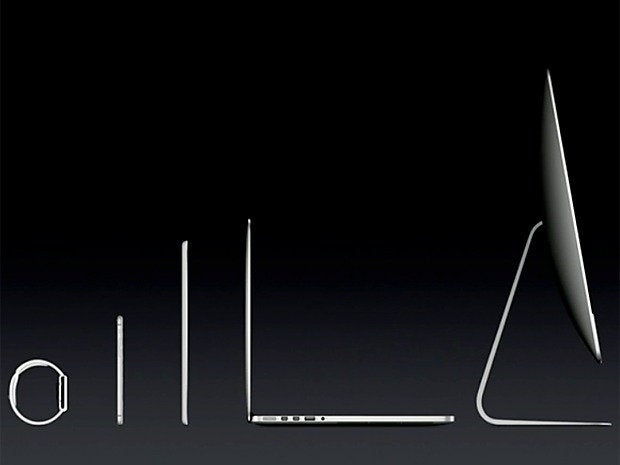 Revamped Apple lineup
Everyone was expecting the annoucement of the iPad Air 2 at Thursday's Apple annoucement, but that wasn't all we got. With a new iPad mini 3, a new iMac with 5K retina display and an updated Mac mini, Apple rolled out a lot of new hardware. Here are all the highlights from Apple's new product lineup.
iPad Air 2
At 6.1 mm thick, the new iPad Air 2 is the thinnest iPad yet, a full 18% thinner than last year's original iPad. It has an improved 9.7-in. retina display with an anti-reflective coating that Apple says will reduce reflections by 56%. It also has a second-generation, 64-bit A8X chip and M8 coprocessor and what Apple calls "ultrafast" wireless. Finally, the new iPad Air 2 also gets touch ID.
Many new iPad users may find touch ID even more useful soon. When Apple Pay officially arrives on Monday, Apple users will be able to use touch ID to make purchases, streamlining the process of online shopping.
Improved iSight camera
Apple also updated the iPad Air 2 with a new 8MP iSight camera with panoramic mode, burst mode and the ability to take slo-mo and time-lapse videos. The HD Facetime camera, which lets in 81% more light, is also improved.
The iPad Air 2, which comes in gold, silver and gray, will be available for pre-order tomorrow and will start shipping next week. The 16GB Wi-Fi model will cost $499, with prices rising to $699 for a 128GB model. LTE versions are also available, for $130 more.
iPad mini 3
The new iPad mini 3 will have a 7.9-in. retina display, a 5MP iSight camera with 1080 HD video recording capabilities, a new HD Facetime camera, and of course, touch ID. Aside from that, the iPad mini 3 does not have many major updates. In fact, it still uses the A7 chip and M7 coprocessor as last year's model.
It, too, will be available for pre-order Friday and will start at $399 for the 16GB Wi-Fi model, with prices rising to $599 for the 128GB version. LTE models will cost $130 more. Also like the iPad Air 2, the iPad mini 3 will come in silver, gold and gray.
iMac with retina display
Apple's new iMac with retina display was also unveiled. The base model comes with a 3.5GHz quad-core Intel Core i5 chip, AMD Radeon R9 M290X graphics card, 8GB of RAM, and a 1TB Fusion drive. Buyers can also upgrade to a 4GHz Core i7 processor, 32GB of RAM, a 3TB Fusion drive, or a 1TB SSD.
The 5mm-thick model uses 30% less energy than its predecessor. It also sports something Apple calls oxfide TFT, which has faster pixel charging and holds a charge longer, and a new timing controller, which Apple custom-designed to allow for 4x more bandwidth.
The 5K screen of the new iMac
Apple spent most of its discussion of the new iMac on its improved display. The new 27-in. iMac boasts an impressive 5K retina display screen. Apple calls it the "world's highest resolution display," and with 5120 X 2880 pixels squeezed in -- a total of 14.7 million pixels -- it has 7X more pixels than HD and 67% more pixels than 4K.
The iMac with retina display starts at $2,499 and is available for purchase today.
Mac mini
The Mac mini wasn't left out of today's announcement. The little computer now has 4th-generation Intel processors, Intel Iris and HD graphics 500 options, PCIe-based flash storage, two Thunderbolt 2 ports, is more energy efficient and offers 802.11ac Wi-Fi.
The $499 model comes with a 1.4GHz dual-core Intel i5 processor with 4GB of memory, a 500GB hard drive and an Intel HD Graphics 5000. For $699, you can get a 2.6GHz dual-core i5 processor, 8GB of RAM, Intel Iris Graphics and 1TB of storage. Finally, the $999 version comes with a 2.8GHz dual-core i5 processor, 8GB of RAM, Intel Iris Graphics, and a 1GB Fusion Drive. It starts shipping today.
Apple Pay
Apple also noted some incremental updates that will be available in iOS 8.1, which ships Monday, and OS X Yosemite, which was released today. And get ready to use that new iPhone or iPad air 2 as a wallet -- Apple Pay will be ready to use on Monday, October 20th.
Copyright © 2014 IDG Communications, Inc.
Next Up: Check out these related slideshows