10 tips for Android security
Ten steps for minimizing the risk of infection, or data loss, on your Android device.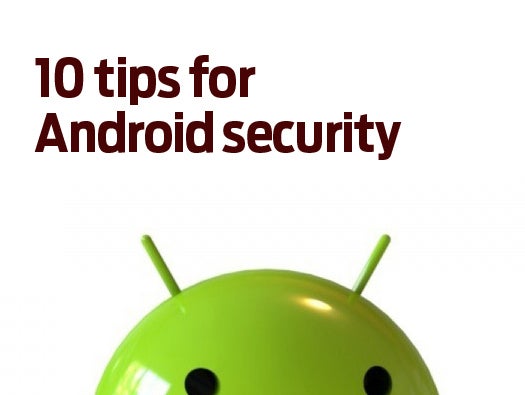 Which Android security steps are you skipping?
With approximately 53 percent of the marketshare (according to comScore), the majority of smartphone owners have the Android platform on their device.
Unfortunately, Android's popularity also makes it the favorite target for mobile hackers.
Cameron Camp, Security Researcher with ESET, offers ten tips for securing your Android device. 
[Also see 20 security and privacy apps for Androids and iPhones] 
Stick with Google Play for apps
Found an app on a shady website? Even though it looks the same as the one from Google Play, it could be stuffed with malicious surprises, warned Camp.
"Malicious actors wrap traditional apps with malicious software which can hack your device, send premium SMS messages, record all your interactions and send them off overseas, or other variants," he said. "Angry Birds is a popular app that's been wrapped this way, but many other popular apps could be similarly wrapped." 
Stick with Google Play for your Android app purchases (but some research has also uncovered dangerous apps within Google Play, too)
Use simple locks
Password-locking your phone is a first step.
But there are simple apps that apply other unlocking techniques (think gestures). which can do wonders to prevent prying eyes from harvesting your personal information, said Camp.
Examples include App Lock and Fingerprint Locks, he said.
Choose your networks wisely
All networks are not created equal.
Connect to the ones you know and trust, and be wary of unsecured hot spots out in town.
Also, wait until you get home for an extra layer of security for sensitive transactions, or ideally use your home computer (which has excellent security settings and safeguards ... right?).
Read the fine print on apps
Does the cute app you downloaded have access to all your phone's secrets? Sometimes the user agreements are shady when it comes to sharing data.
Before you download an app, make sure you understand what data it can access, and what it can do with that data.
Have a "remote control" function
If your phone goes missing, have a way to remotely give it commands to wipe out sensitive data and/or track it down using GPS or other technologies.
"At least you'll know where to start looking, even if it's buried in the back seat of your car," said Camp.
Examples of apps that include a remote control and location service include Seek Droid and Android Lost.
Less is more when it comes to apps
Your device will be faster, more secure, and less prone to problems if you trim down to just the apps you need. 
Added bonus: your battery life will thank you, noted Camp.
Have a backup plan
Phones get dropped. Phones get stolen. Phones get forgotten, driven over, and/or flushed. (But mostly dropped.)
If you lose your phone or it becomes damaged, have a way to retrieve your contacts, files and other personal information. There are apps, such as My Backup Pro and Super Back up, that back up your data in case it happens to you.
Consider mobile security software
Don't want to worry about the next scam to hit your phone? Find an app that acts as a security suite and keeps you on alert, just like you use on your home computer. Many of the major security vendors make software for Android, including ESET, Avast, Lookout, Symantec, AVG and Kaspersky. 
"After all, that's a computer in your pocket - it just happens to make phone calls," said Camp.
Be wary of fake SMS
Got a text that says your mobile device will soon be subject to certain doom? Check the link before you tap, it might send you on wild chase through rogue websites trying to scam you.
Malware posing as security apps, also known as "scareware", are some of the most pervasive scams on Android in recent months.
Auto-lock your valuables
If your device is sitting around, have it automatically lock itself. This way, if it becomes stolen while you grab a latte, your information will be safe longer while you activate your "remote control." You have one of those, don't you?
Copyright © 2013 IDG Communications, Inc.
Next Up: Check out these related slideshows