8 Apple iPad rumors you need to know
Just as it does every year, Apple will roll out new iPads this month. To help inform, educate and entertain, I've curated the most credible predictions to show you what to expect.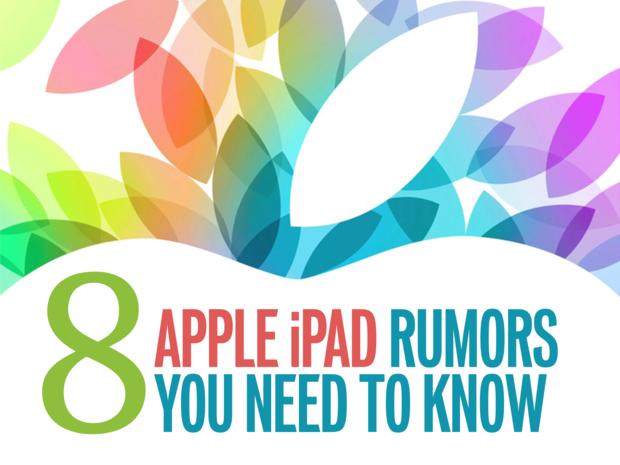 8 Apple iPad rumors you need to know
Just as it did last year, Apple's about to breathe new life into the tablet "market" with a special event Re/Code now claims is set for Oct. 16. The iPad Air 2 is expected to debut then with the Mini set to follow. I've curated the credible expectations, some of which will turn out correct.
Thinner, lighter, more space
If Apple follows its standard M.O., the new iPads will be thinner (I'm hearing quite a bit thinner) and lighter than before. It is also possible Apple may increase available capacity in these models, dropping the 16GB model entirely.
METAL!!!
The new iPads are expected to ship with the A8X chip, a souped-up version of the processor used inside current iPhones. The iPad Air 2 is expected to ship with 2GB of built-in RAM, making it a more capable graphics machine. Just wait until you see those Metal games in action on an iPad.
Touch ID, Apple Pay
Developer Hamza Sood ripped up his Apple developer NDA to publish an image that he thinks implies support for Apple Pay. This suggests TouchID will expand into its second Apple product family after iPhone. (It will be on the Mac eventually.)
Available in gold
Apple's iPhones are now available in silver, space grey and gold, so it isn't too surprising the new iPads will be available in the same colors. Additional small changes include a new speaker grille with larger holes and a "relocated rear microphone," claims MacRumors.
Anti-reflective display
KGI Securities analyst Ming-Chi Kuo claims the new iPad Air 2 may host an improved anti-reflection coating on the display that should make it easier to read in bright light. Volume buttons are likely to be recessed into the chassis, in similar fashion to the iPhone 6.
A better camera
We've all seen iPad owners waving their tablets around to grab a picture. Apple's seen it too. That's why we're expecting an 8-megapixel camera and a better FaceTime HD (720p) front-facing camera for all you Unified Communications mobile enterprise types.
Improved LTE
Do you really think Apple will not hit us with better Wi-Fi, Bluetooth and LTE connectivity (as an option) in its new iPads? It seems a no brainer to imagine these will match the iPhone 6, so you can expect up to 150Mbps downloads and VoLTE for those models, and Wi-Fi that's up to three times faster for the rest of us.
iPad Pro: Will they or won't they?
There is plenty of speculation Apple will soon introduce a 12.9-inch iPad Pro, designed to be a productive solution for enterprise, education and creative users (thanks to those Adobe CS apps). But most observers don't expect this to land until next year, if it happens to land at all.
Copyright © 2014 IDG Communications, Inc.
Next Up: Check out these related slideshows