Register to download the Computerworld Digital Magazine!
In the October 2014 issue:
Blowing the Whistle Without Blowing Your Career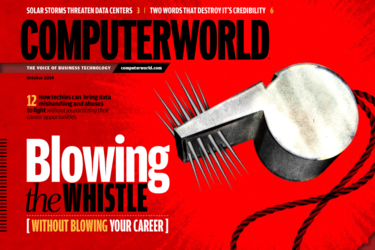 How techies can bring data mishandling and abuses to light without putting their careers in jeopardy.
8 Big Trends in Big Data Analytics
Big data technologies and practices are moving quickly. Here's what you need to know to stay ahead of the game.
5 Tips for Securing Your Enterprise Data
Retake control of your data with sandboxing, cloud security gateways and more.
Shark Tank
Read the latest exploits of hapless bosses and clueless users.
News Analysis
IT execs and government officials are aware of the threats posed by electromagnetic pulses, but few are doing anything about it.
Opinions
Paul Glen warns against using the two little words that can destroy IT's credibility. And Thornton May ponders where modern IT is headed.