Moto's new devices
Living with the Moto G (2014): How good can a budget phone be?
With its second-gen Moto G, Motorola again pushes the limit of what it means to own a low-cost phone.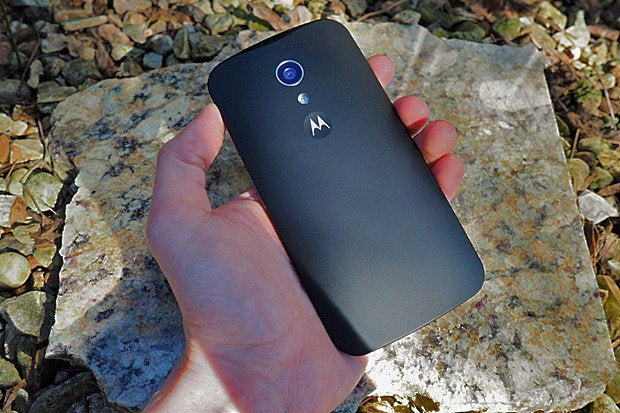 Moto's new devices
Show More
It's amazing what kind of smartphone experience $180 can buy these days. 
Let me back up a minute: I'm not talking about $180 on contract with a carrier. When you walk into your favorite carrier's store and plunk down 200 bucks for a phone, you're actually buying a device that costs $600 to $700. They're just selling it to you at a discounted cost up front because you're promising to pay their inflated service rates for a full two years -- which lets them recoup the actual cost of the phone and then some. 
With the Moto G, you're paying $180 outright -- no contracts, no commitments, no obligations to pay inexplicably high monthly bills for the next 24 months of your life. You can take the phone and use it wherever you want, including at a prepaid carrier that'll charge you as little as $30 to $45 a month, no strings attached. 
What's most astonishing, though, is that for $180 off-contract, the Moto G doesn't (to put it bluntly) suck. Budget-level phones have traditionally offered terrible experiences -- ugly designs, poor performance, and junky software that's bad from the get-go and never sees a single update.
The first-gen Moto G was nothing short of revolutionary in the way it shattered that status quo. And now, with its new second-gen model, Motorola has taken the same formula and refined it to make an even better phone.
In many ways, the new Moto G is pretty similar to its predecessor: In appearance, at least, it's kind of like a bigger, chunkier, and less refined version of the first-gen Moto X. It's nice but unassuming -- simple yet solid. And like with the original Moto G, you can give the phone an extra splash of color by picking up a $15 custom shell that replaces the default plain black backing.
The main physical distinction between the new model and the original is that the new phone is noticeably larger: It's grown by nearly half an inch in length and just under a quarter of an inch in width. The reason is that the screen is now a full 5 in., up from 4.5 in. on the original device.
At the same 720p resolution as the first-gen model, the new Moto G's LCD display is perfectly decent, though unremarkable. It's not as crisp and vivid as the high-res screens you'll see on higher-end phones, but it's also nothing to complain about: It's bright, clear, and quite impressive for this class of device.
The new Moto G has an added "splash-resistant coating" that's supposed to protect the phone from minor spills, rain, and whatever other fluids you might come into contact with during your day (hey, I'm not here to judge). It's by no means waterproof, but it's a bit of extra protection from the elements -- and that can certainly never hurt.
Inside, the Moto G is largely unchanged: The phone still packs a 1.2GHz quad-core Snapdragon 400 processor along with 1GB of RAM. The device never feels sluggish, though (as you'd expect) it's noticeably less snappy than its high-end brethren. Some actions take a second or two longer to complete than what you'd see on a flagship phone, and there's an occasional subtle jerkiness in animations.
Again, though, it's all relative. This isn't a high-end phone; it's a $180 device. The performance isn't top-notch, but it's still quite good -- and for a budget-level phone, it's nothing short of incredible.
Another class-related compromise: Like its predecessor, the new Moto G lacks LTE and instead supports only HSPA+-level data connections. A bit of a bummer, perhaps, but not necessarily as bad as it sounds; HSPA+ networks are actually quite speedy in a lot of places. (There's no word yet on whether an LTE-enabled model will also become available, as happened last time -- several months after the original model's launch.)
New to this model is a standard microSD card slot beneath the removable back cover; it lets you add an extra 32GB of storage to complement the 8GB included internally. The phone also now features dual front-facing stereo speakers that are loud, clear, and better than those on many phones that cost three times as much. (They aren't anywhere near the level of what you'll get on an audio-focused phone like the HTC One (M8), to be sure -- but aside from that and the new Moto X, most smartphone audio experiences are pretty poor.)
The new Moto G bumps its rear camera up from 5 megapixels to 8 and boosts the front-facing camera from 1.3 megapixels to an even 2. That gives you a little more wiggle room to manipulate and zoom into images, but at $180, you're never going to get breathtaking photos from this phone. They're fine and good enough for social sharing, which is about all you should expect at this range.
Similarly passable is the phone's battery life, which is best described as adequate. With light to moderate use, the device should get you from morning to night on a single charge, but don't expect much more than that.
The new Moto G's software is a real treat to use. In short, it's the same "stock-plus" approach we're used to seeing from Motorola these days -- which means you get Google's clean and intuitive core Android user interface without all the arbitrary changes and unnecessary bloat most manufacturers tack onto it.
The only modification Motorola makes is the addition of a few genuinely useful features -- essentially a scaled-down suite of what's available on the higher-end Moto X flagship. The new Moto G has Motorola's Assist app, for instance, which lets the phone recognize when you're driving, in a meeting, or at home and then modify its behavior accordingly -- but it doesn't have the X's always-on voice command system, which requires more resources than this device can offer.
Perhaps most significant about Motorola's approach to software is the fact that it allows the company to provide fast and frequent ongoing upgrades -- something previously unheard of for budget-level phones (and, let's be honest, for plenty of high-end devices, too). The first-gen Moto G received the upgrade to Android 4.4 KitKat less than two months after the platform's release, beating the vast majority of other manufacturers' flagship phones to the punch. And Moto has made it clear it intends to keep that trend alive.
The bottom line
All in all, the second-gen Moto G is everything we loved about the original -- just pushed forward with some nice new tweaks and improvements. 
If you want the best possible smartphone experience, a phone of this caliber isn't going to be for you. But when it comes to the budget phone realm, it absolutely doesn't get any better.
I'll make it easy: If you're looking to spend less than $200 on an unlocked device, the new Moto G is the phone to buy.
Copyright © 2014 IDG Communications, Inc.
Shop Tech Products at Amazon