6 key attributes of a chief analytics officer
Organizations need leaders who can turn big data into a strategic asset, but not everyone is cut out for the job. Do you have the skills and temperament to become a CAO?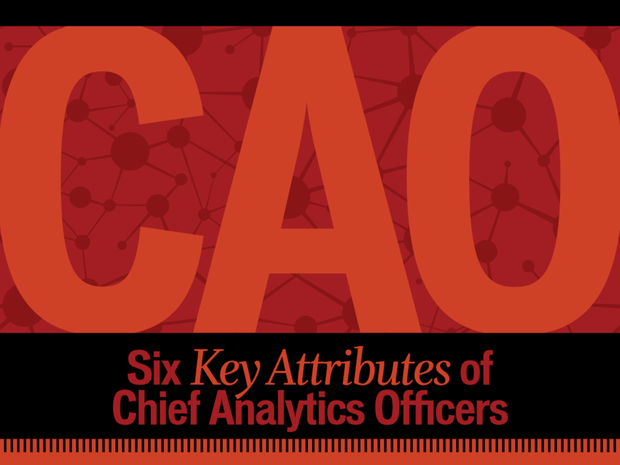 Status quo is out, failing fast is in
As Computerworld details in our feature article, Chief analytics officer: The ultimate big data job?, the CAO title is gaining momentum. With executive teams looking to apply analytics more strategically across the business, it's getting easier to justify a C-level position for analytics. A recent EY study found that while 69% of companies considered customer experience vital, just 12% said they take full advantage of analytics to extract customer insights and deliver better customer service.
We spoke with a half-dozen CAOs to get their take on the skills CAOs require, beyond the prerequisite analytical chops. Read on for details on six important attributes CAOs should bring to the role.
Wanted: bridge builders
Communication is a critical competency for any C-level executive, and CAOs are no exception. The key communication skill here is the ability to translate between analysts and business decision-makers to ensure that analytics initiatives are aligned with business objectives.

"You have to be a translator -- someone who can build the bridges across analytics, technology and business disciplines," says Chris Mazzei, CAO at management consultancy EY. 

"Being the translator means turning information into a common language that both business and IT can understand," says Andrea Marks, CAO at Catamaran, which provides pharmacy benefits management services. "Then you need to distill the information further down to key points that clients and the market can understand." 
Outcomes, not activities, are the priority
The best analytical models are useless if they don't help people make better decisions. "Most organizations spend 80-plus percent of their time developing the models and getting the data right, and 20 percent or less thinking about how to implement it," says EY's Mazzei. "The ability to connect to the point of decision at the front lines is a big part of the equation -- and it's still underappreciated."

Jack Phillips, CEO of the International Institute for Analytics, recommends focusing on business results and delivering small victories early on. "Short, easy wins get attention, which gets more budget," he says. "When you show real value to business leaders, there will be a line at your door." 
Fail fast -- within reason
CAOs should have the fortitude to take risks, according to Catamaran's Marks. Of course, the risk-taking should be supported and guided by the data. A/B testing is a great way to explore new ideas without a heavy up-front investment.

"Just like an A/B testing framework allows product teams to get features out the door quickly at low risk and see the impact of those changes quickly, we have the same goal for analytics," says Paddy Hannon, CAO at Edmunds.com, the consumer auto website. 

Part of risk-taking means being prepared to "fail fast," says Marks. "You need to be flexible enough to turn and chart a new course based on where you think the best opportunities might exist," she explains.
Be a change leader, operationally and culturally
Quick wins will help CAOs build credibility, which they can use -- along with data -- to dispel organizational myths. But tread lightly: This path can generate resentment among individuals who are happy with the status quo.

"The truth is in the data, but we have to be careful about some of the interpretations," says Catamaran's Marks. "That can be challenging, but it's also very enlightening. Asking challenging questions helps you create the strategy and the stickiness with executive leadership."

In this regard, the CAO can play an important role in leading change -- operationally and culturally -- throughout the organization. "Sometimes, what's needed is putting a senior role in place to be the catalyst for that [change management]," says Mazzei.
Go forth, literally and figuratively
Being connected across the organization is a critical CAO attribute, says Edmunds.com's Hannon. "Analysts are used to sitting alone in their group," he says. "So I travel a lot. I go on sales calls. You need to get to know all the key players."

In addition, CAOs must stay on top of market and consumer trends to ensure that analytics investments are driving real business outcomes. It's too easy to take an insular view of the data.

"Keep focused on what the market is saying," says David Veroff, former CAO at Dovetail Health. "Don't get distracted by the incredible insight that can come from the data -- it always has to answer a business need and a market need." 
Identify opportunities, gain advantage
CAOs aren't fortune tellers, but the ultimate goal of any analytics strategy is to use data to proactively identify new opportunities.

"The real power in having a [CAO] is the ability to use the data to gain competitive advantage," says John Reed, senior executive director of staffing firm Robert Half Technology. "Companies can really separate themselves in a marketplace if they get someone who can help them drive that type of initiative."

At Catamaran, Marks's goal is to "move analytics from reactive, where we report on how the business is doing, to being more proactive, where we're actually helping the sales and executive and product teams become more strategic using the data we have."
Copyright © 2014 IDG Communications, Inc.
Next Up: Check out these related slideshows