Living with Acer's Chromebook 13: The good and the bad
Acer's Chromebook 13 has a 1080p display and some impressive-sounding elements, but what you see on paper doesn't tell the whole story.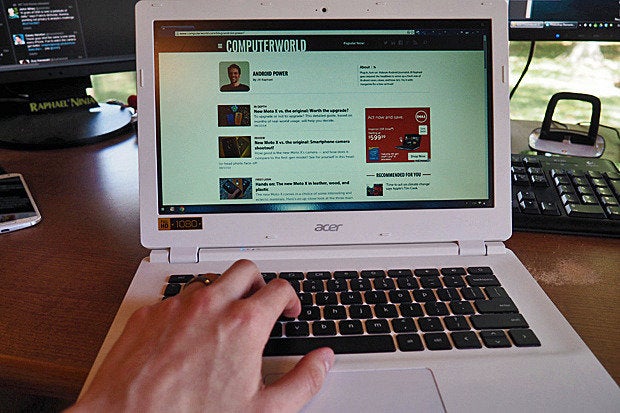 Searching for the perfect Chromebook is like scouring the earth for utopia: Sooner or later, you realize it's a fruitless expedition. The best you can do is settle for something that's pretty good with the types of compromises you can tolerate.
That's certainly the case with Acer's new Chromebook 13. On paper, the system sounds fantastic: It has better-than-average build quality, a large 1080p display, and Nvidia's new Tegra K1 processor -- a chip Nvidia says packs "more cores than the majority of Chromebook processors" and consequently lets you get around the Web "faster than on any other mobile processor on the market."
Oh, and it starts at just 300 bucks -- $380 if you want to bump up from 2GB to 4GB of RAM. (Acer is also selling a non-1080p version of the device for $280 to $300, but the system I'm focusing on here is the 1080p model.)
It all sounds great. But remember: Even when your head is in the cloud, there's no such thing as utopia.
I've been living with the Acer Chromebook 13 for several days now. All specs and marketing messages aside, here's the quick 'n' honest truth about the positives and negatives of using the system in the real world:
Good: The form
Compared to most entry-level Chromebooks, Acer's Chromebook 13 is a nicely made device. It's definitely in a different league than the company's previous Chrome OS efforts, which have been powerful inside but plain outside -- filled with sharp edges, flimsy surfaces, and generally cheap-feeling constructions.
The Chromebook 13 still feels like a $300 computer, but it feels like one with a little more effort put into build quality and design. Its surfaces are sturdy, its hinges seem strong, and its white matte plastic casing provides a sleek and attractive minimalist look.
Even though it's a relatively large laptop, the Chromebook 13 doesn't feel bulky or clunky; it's fairly thin and light for its class -- 0.71 in. and 3.3 lbs. -- and quite comfortable to use both on your lap and on a table.
Bad: The display
Unfortunately, the Chromebook 13 is another reminder that resolution alone doesn't determine display quality. The system may have a 1080p screen, but it's a low-quality TN panel that isn't exactly easy on the eyes.
On the plus side, the higher resolution -- combined with the spacious 13.3-in. display size -- means you have plenty of usable room on the screen. But boy, is that thing difficult to stare at for long. Though text is crisp, the screen itself is grainy; it almost looks like it's covered in some sort of grimy film. Like most TN panels, colors are also washed out and dull, contrast is lacking, and viewing angles leave something to be desired.
Chrome OS doesn't scale up, either, so all the operating system elements are strangely small on the screen due to the increased resolution. Text on Web pages is also too small to read comfortably; I find myself having to zoom into every page at 125 percent just to make it look normal.
Good: The keyboard and trackpad
Acer's new Chromebook has a respectably good keyboard, with smooth plastic keys that are well spaced out and easy to type on. Equally impressive is its smooth and responsive plastic trackpad. Both feel noticeably higher in quality than what we've seen from Acer before, and both are a pleasure to use.
Bad: The speakers
The Chromebook 13 has two speakers on the bottom of its base. They're reasonably loud but tinny, and they get distorted when you play music at full volume. And while they sound okay when the laptop is sitting on a flat surface, their positioning makes audio sound muffled when you have the device resting on your lap.
Good: The battery life
The 1080p version of Acer's Chromebook 13 promises 11 hours of battery life, and that's pretty much in line with what I've experienced. That's commendable, to say the least, and reassuring when you're on the go and don't want to worry about finding a place to plug in.
Bad: The performance
Despite all the hype surrounding Nvidia's new processor, the chip just doesn't deliver. The Chromebook 13 isn't terrible in the realm of performance, but when it comes to typical day-to-day use -- Web browsing, word processing, and the likes -- it's a noticeable notch below the status quo. 
Even with just one or two tabs open, the system feels meaningfully slower than the current crop of Intel Haswell-based Chrome OS systems as well as some of the higher-level Intel Bay Trail systems, like Lenovo's ThinkPad Yoga 11e. Web pages take longer to load, opening new windows isn't instantaneous, and things just aren't as snappy as they should be on a $300 device.
Once you get into heavier amounts of multitasking -- even just four or five tabs open at a time -- the system really shows its limits. The model I'm using has a full 4GB of RAM, but that still isn't enough to put it on par with what other processors provide at a similar (and sometimes even cheaper) price.
Nvidia's processor does excel at handling sites that revolve around three-dimensional graphics -- something the company is quick to point out in its marketing materials -- but for most of us, that's an extremely small part of our computing experience and far less important than the system's overall performance capabilities.
The bottom line
Remember: There is no utopia. Acer's Chromebook 13 is one of the nicer-looking Chromebooks you can buy for $300, but form isn't everything -- and this system comes with some serious caveats.
So should you buy it? If you're set on a 13-in. Chromebook, the choice basically comes down to this or the $300 first-gen Toshiba Chromebook. The Haswell-based Toshiba has superior performance but worse build quality and a lower resolution (though similar in quality) display. Ultimately, each system has its own strengths and weaknesses; which is better is really just a question of which qualities matter more to you.
(There's also Samsung's 13.3-in. Chromebook 2, but it costs $400 while having a similarly underwhelming display, similarly subpar performance, and markedly worse battery life -- so it's kind of a nonstarter in my book.)
Toshiba has a new version of its 13-in. Chromebook on the way next month, meanwhile, and it'll be the first Chromebook to include a screen that's both 1080p and a higher-quality IPS material. That part of the device sounds promising, but the system will reportedly use a lower-level Bay Trail processor -- one that's similar to the sluggish chip in the Lenovo N20p Chromebook -- so I'm somewhat skeptical as to how well it'll perform. But we'll see.
For now, the ThinkPad Yoga 11e remains my pick for best all-around user experience in an affordable Chromebook device. It costs a bit more the entry-level contenders -- $479 -- but for that, you get solid performance, outstanding build quality, and a higher-quality IPS display that, while not 1080p, is by far the easiest on the eyes of any Chromebook I've seen (with the exception of the excellent but pricey Pixel). It also converts into a flattened-out touch-enabled tablet, which is a neat option to have. The tradeoff is that while it's exceptionally sturdy, the system is also rather bulky and nowhere near as sleek as other devices.
Only you can decide which compromises you're willing to make. Or you can keep searching for utopia, if you must; just be sure to pack some sandwiches, as you've got a long and winding journey ahead.
Copyright © 2014 IDG Communications, Inc.
Shop Tech Products at Amazon