Moto's new devices
Hands on: The new Moto X in leather, wood, and plastic
The new Moto X comes in a choice of some interesting and eclectic materials. Here's an up-close look at the three main options.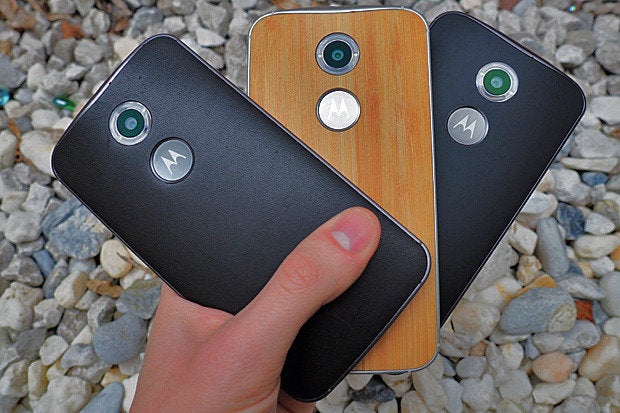 Moto's new devices
Show More
How does the new Moto X look and feel? It may sound crazy, but a lot of that is actually up to you.
We can talk all day about how the phone is bigger than last year's model (it is -- though it's still smaller than the Galaxy S5 or the One M8). We can talk about the general tweaks to the device's design, like the new metal frame, which really does make it feel a lot more polished and premium than its predecessor.
But the biggest variable in the new Moto X's form is how you decide to craft it. Like with the original Moto X, Motorola will sell this year's model through its online Moto Maker customization tool. And with this year's device, that means you can choose from a phone made of soft-touch plastic, a variety of real wood backings, or a selection of genuine leather materials.
I've been spending some time getting to know the various options. Let's take a look:
1. The new Moto X in leather
Well, well. How 'bout them apples? The leather Moto X is certainly one of the most unusual phones I've seen. To be clear, this is genuine leather from a real Chicago tannery -- not chintzy faux-leather plastic like we've seen on certain other flagship devices.
Moto is offering up a choice of four leather finishes: natural, cognac, black, and navy. This one's black, if you couldn't tell from the image. With it, at least, the look is a bit more subtle than you might expect; from afar, you might not even notice that the phone's back is anything out of the ordinary.
When you see it up close, though -- and absolutely when you touch it -- the distinction is quite apparent.
The leather looks, feels, and -- yes -- even smells like leather. (It'd be weird if it didn't, wouldn't it?) Pretty darn spiffy. The one thing I'd note is that we really don't know how leather will hold up on a phone over time. The leather Moto X I'm testing, for instance, had been used by someone else before it landed in my hands. And already, you can see some dings and scuffs on the material.
Moto says the leather backs are "treated with natural oils" so they'll "age beautifully over time." Time, indeed, will be the real test.
This one's my personal favorite. Having a real-wood back makes for an elegant, unique, and just plain cool-looking phone. It feels great in the hand, too -- you know, just like real wood would. (Wood would, wood would, wood would. Would wood?)
Moto will offer four different wood choices this year: bamboo, teak, walnut, and ebony. The look you see here -- bamboo with a white front -- isn't what I'd pick, personally; I prefer a darker wood like the walnut paired with a black front (which then also comes with a matching dark metal frame). Sleek and purdy as can be, and dangerously tempting (calm down, my sweet wallet...). But these photos give you a general idea of how wood looks with the phone's design, at least.
If you ask me, the wood actually works much better here than it did with last year's Moto X. On that phone, a plastic frame connected the wood with the device's front and created a slightly raised and awkward seam. The new Moto X's metal frame eliminates that issue and makes the wood feel like a more natural part of the design.
The extra-prominent "dimple" on the new phone's back works well with the wood, too, as it's made of metal and consequently feels far more present. (On last year's Moto X, where the dimple was actually part of the phone's back panel, the effect with the wood backing was almost more symbolic than anything. You can only do so much when it comes to creating a small finger rest in that sort of material.)
3. The new Moto X in plastic
Ah, the trusty ol' base model. The phone shown here is the plainest possible choice -- just a black backing with silver accents. It's minimalist and maybe even a little too understated, but remember: You can pick from 17 different colors for the regular plastic back, and from 10 different accent colors to go along with that. So there are plenty more distinctive possibilities.
Color choice aside, what's particularly nice about the plastic on the new Moto X is the way it feels: Like with the first-gen model, Motorola is using a soft-touch finish that, at the risk of sounding like a total phone pervert, kinda makes you want to caress the phone gently with your fingers whenever it's in reach. This, folks, is the right way to do plastic; cheap and tacky it is not.
Just for funsies, here's a comparison of the plastic look of the new Moto X with the plastic look of the old Moto X (that one in blue, with blue accents):
Lots o' differences to talk about between the two models -- and lots more to discuss about the new Moto X beyond that.
I've lived with the original Moto X for the past year and am in the midst of living with the new model now. I'll have more detailed thoughts and comparisons to share with you soon, including an in-depth real-world review.
Believe you me, compadres: We're just getting started.
UPDATE: Moto X (2014) deep-dive review: Android done right -- again
Copyright © 2014 IDG Communications, Inc.
Shop Tech Products at Amazon