Hands on: 5 interesting things about the Moto 360
Beyond its basic design and features, the Moto 360 has some pretty interesting qualities that set it apart from other Android Wear watches.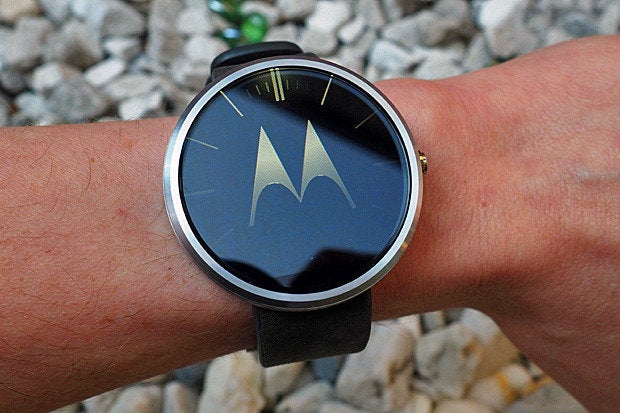 It's a bird! It's a plane! Oh, wait...it's a smartwatch.
With all the hype leading up to the launch of Motorola's Moto 360, it's hard not to think of the device as a superhero of sorts. The watch has been positioned as the Holy Grail of -- the high-end alternative to that's served as a showcase for the platform so far.
I've been using the Moto 360 for a little while now, and I'll let you in on a little secret: It isn't perfect. (What technology is?) But you know what? In many ways, it's a very impressive gadget. And it's very different from the other Wear watches we've seen.
I'll be taking a detailed look at the Moto 360 in an in-depth review soon. For now, here are some interesting standout qualities I've noticed during my time with the watch so far:
1. The Moto 360 has an ambient light sensor -- and that's awesome.
One of the (pardon the pun) glaring omissions in Android Wear watches so far has been the lack of any auto-brightness option. When you take the LG G Watch or Samsung Gear Live out in the sun, you can't make out much of anything on their screens. And suffice it to say, that's not the way a watch should work.
The Moto 360 is the first Wear watch to include an ambient light sensor, which means its LCD display automatically adjusts its brightness based on the lighting conditions around you. And let me tell you: That makes a world of difference. You can actually see the watch clearly in glary conditions, and it isn't blindingly bright in dark rooms.
This should really be standard in all wearable devices.
2. Its heart rate monitor works in the background all throughout the day.
We've seen heart rate monitors on Wear watches before, but those monitors work only on demand -- taking readings only when you actively ask them to. In terms of day-to-day fitness tracking, that's not terribly useful.
The Moto 360 offers a better method. Its heart rate monitor periodically checks your pulse in the background at regular intervals during the day (if you set the watch face down and keep an eye on it, you'll actually see the sensor on its underside lighting up green every now and then). It then uses that data to give you detailed stats about your daily and weekly activity levels. It even has a custom app that can remind you to reach a specific goal of how long you want to be active in any given period.
I still have my doubts about how consistently accurate any of these optical heart rate sensors truly are, but within the parameters of this type of technology, this is about the smartest setup we've seen so far.
3. You can customize the Moto 360's face designs to make them look the way you like.
The Moto 360 comes with some sleek-looking face designs, but it also has a hidden feature no other Wear watch provides: the ability to customize and change those faces via a special phone-based companion app.
All you do is load Motorola's Connect app onto your Android phone and head for the "Watch Faces" option. There, you can see all the 360's watch face choices and adjust elements like their background color, accent color, and number style to make them your own.
4. The Moto 360's dimmed mode is somewhat unusual.
All of the Wear watches we've seen so far have moved between two different states: an illuminated mode, in which the screen is completely lit up, and a dimmed mode, which is a scaled-down, black-and-white version of the watch face that appears whenever you aren't actively using the device.
The Moto 360 has both of those modes as well, but they're a little bit different. First of all, the watch's dimmed mode is disabled by default; instead, the watch's display remains off most of the time and moves directly into the illuminated state whenever you touch it or raise your wrist.
If you go into the watch's settings and activate the dimmed mode -- known officially here as "Ambient Screen" -- you get a scaled-down display similar to what the other watches provide (and unlike on some other Wear watches, the dimmed mode on the 360 actually looks quite good). Instead of staying on all the time, though, the 360's dimmed mode uses a variety of cues to determine when you might need it.
From what I've observed so far, the dimmed display seems to shut off whenever the watch is sitting still and hasn't been touched for about five minutes. It also shuts off when your arm is hanging straight downward -- the way it would when you're walking (and thus unlikely to be looking at your watch). In either circumstance, if you move your arm even slightly, the dimmed mode will come right back on. And if you move your wrist upward in a more pronounced manner, it'll activate the full illuminated mode, as you'd expect.
I was a little skeptical at first when I saw that the 360's dimmed mode didn't stay on around the clock (so to speak), but this more intelligent system actually makes a lot of sense. It manages to have the dimmed-mode display on and available when you need it without leaving it on all of the time for no real reason.
5. The Moto 360 supports standard wireless charging -- which means it works even with third-party charging pads.
This is another one of those things that, once you experience it, makes you wonder why any watch would ship without it: Rather than using an annoying proprietary charging system, the Moto 360 uses standard Qi wireless charging in order to get its juice.
The cradle that comes with the watch is actually really nice, but what's particularly cool is the fact that you can just as easily charge the 360 via any standard Qi-compatible accessory. That means if you have a Qi-enabled battery pack in your bag or a Qi-enabled pad on your desk, you can drop the watch on it and power it up without any hassle. I've tried it with a couple of different chargers I have around, and it's worked A-OK.
So those are some interesting things that set the 360 apart from other Wear watches. Beyond all of that, of course, the real test is what the device is like to use in the real world -- and there are plenty of questions to be answered on that front.
I'll be living with the watch for a while longer as I work to reach some, ahem, rounded conclusions. (Final pun of the day -- I promise.)
I'll let you know when my in-depth review is ready.
UPDATE: Moto 360 review: An elegant smartwatch with exceptional features
Copyright © 2014 IDG Communications, Inc.
Shop Tech Products at Amazon