HTC One (M8) for Windows: Top hardware for Windows Phone fans
HTC's popular high-end smartphone is now available for both Windows Phone and Android.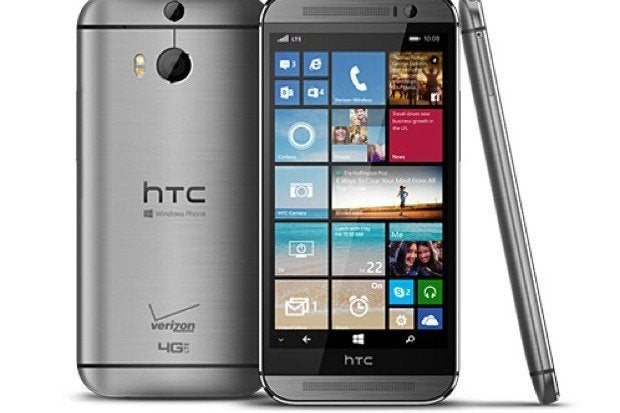 If there's a high-end Windows Phone in your future, the HTC One (M8) may be the one for you. Chock-full of power, designed beautifully and with Windows Phone 8.1 Update under the hood (including the Cortana personal assistant), this is the device that Windows Phone fans will want.
It is available now from Verizon Wireless for $100 with a two-year contract, and will eventually be available from AT&T. Apparently, that $100 is a promotional price -- at some point it may go up. You can also get an unlocked version for $649. The Android version of the phone currently sells for $200 with a two-year contract from most of the major carriers.
Specs, design and performance
The phone's hardware is precisely the same as the Android-based HTC One (M8). As JR Raphael wrote in his in-depth review of the Android version, it's a beautifully designed phone, with an all-aluminum body and a 5-in. display with 1080p and 441 pixels per inch. Colors are brilliant and show in vivid detail. It's powered by a 2.3GHz quad-core Qualcomm Snapdragon 801 CPU and 2GB of RAM, and comes with 32GB of storage.
Overall, I found the phone's performance to be quite zippy, with one noticeable exception: The Windows Phone news app is sluggish when displaying news feeds and articles -- in contrast to HTC's BlinkFeed news-and-social-media feed app, which is lightning fast. It also takes a full minute for the phone to boot when you turn it on, which I found to be frustratingly long.
One reviewer compared the Windows Phone version of HTC One (M8) against the Android version for bootup times and found that by the time the Windows Phone hardware had finally booted up, the Android version had already booted and put itself into sleep mode.
Until the release of the HTC One (M8), high-end Windows Phone 8 devices have tended to come from Nokia, notably the Lumia Icon and the Lumia 1520. Specs on the three phones are generally similar, with the Lumia 1520 being notable for a 6-in. screen compared to the HTC's 5-in. one.
The big news: Windows 8.1 and Cortana
The HTC One (M8) is among the first in a wave of phones that will run or be upgraded to the Windows Phone 8.1 update. (Some other phones, including the Nokia Lumia 1520, have it as well.) The most important feature of this update is Cortana, a Siri-like, voice-driven personal assistant.
The Cortana setup is largely standard stuff -- it asks about your interests, what things you like to do in the evenings and so on. There's one nice touch: When it asks what it should call you, Cortana is polite enough to ask if you would like it to recite your name back to you, so you can make sure you like the way it pronounces your name. If you don't the way it sounds, you're invited to speak your name into the phone, and Cortana tries to match your pronunciation. If you're named Smith, this won't matter much to you. But my last name -- Gralla -- is mispronounced more often than it's pronounced correctly, and it was nice to have Cortana call me by the name I was born with.
To launch Cortana, you tap the Notebook icon at the top of the screen. It shows a screenful of information based on the interests you told it about during setup. Over time, as it learns your interests (based on the questions you ask it and the actions you ask it to take), that information becomes more personal.
You can either type questions or speak them. I found Cortana did an excellent job of speech recognition, and didn't make a single mistake in interpreting what I asked it. Better yet, its responses to my questions were all on target as well -- and superior to Siri's.
For example, it shouldn't surprise you that Cortana knows that the capital of South Dakota is Pierre. So do Siri and plenty of ten-year-olds. But Cortana does a nice job with queries that require a bit more interpretation.
For example, I asked, "What's wrong with the Red Sox this year?" The first link in the resulting list was only partially appropriate: An article about the failure of a Red Sox rookie center fielder, Jackie Bradly Jr., who had just been sent down to the minors after a dismal year at the plate. The next link, though, hit the bulls-eye: "5 things that went wrong for the Boston Red Sox in 2014."
As for Siri, the only result I got was the time the Red Sox game was scheduled to start that night.
Cortana didn't do quite as well when I told it to "Show me paintings of William Turner," the British artist who did his best work in the early to mid-19th century. The first link was to Yahoo's shopping site, which I have no doubt did not have any of the artist's paintings on sale (at least, not the originals).
The second link was even worse. Titled "William Turner: Found," it led to WhitePages.com, which told me it had tracked down information about William Turner, including as his address and email address. In fact, if I wanted to, I could pay for a full report. Not being interested in communing with the dead or contacting the wrong William Turner, I passed up the opportunity.
The third link, though, was better: A link to Turner's Wikipedia entry. That was at least superior to Siri, which only told me, "I didn't find anything for the paintings of William Turner."
Cortana does a good job of remembering your queries and figures that you'll want more information about them in the future. So two days after I asked about the Red Sox, it thoughtfully put the schedule for the Red Sox's next game at the top of the screen. (Of course, given how badly the Sox have done this year, it might have been even more thoughtful to put it at the bottom of the screen.)
Cortana does more as well, including letting you set customizable reminders about events, things you need to do and so on. It's not uncommon for phones to do this kind of thing -- for example, remind you an hour before a meeting that it's going to occur. But Cortana offers more sophisticated capabilities than that, and can pop up reminders not just based on time, but also based on physical location and on the person whom you're emailing, texting or calling.
For example, it can remind you to buy your spouse a birthday gift when you're near a specific store, or remind you to ask a friend how his daughter is adjusting to college the next time you talk to him. In practice I found setting these reminders a snap to do, via a simple, wizard-like interface.
The upshot of all this: Cortana is an excellent personal assistant.
The other primary Windows 8.1 update feature, Action Center, is a mildly useful tool that displays all your notifications and messages, and provides fast access to customizable settings. Put it in the nice-to-have but not must-have category.
The cameras
The device has two cameras, a 5-megapixel front-facing one for selfies and video conferencing, and a 4-megapixel backfacing one that's a bit problematic.
While 4 megapixels sounds quite low, HTC calls it an "UltraPixel" camera and claims that each pixel is larger than traditional ones, which means it can capture more light and detail. And there's also a second back lens that captures depth perception information. In practice, I found the back-facing camera did a very nice job with photos in low light, but otherwise did not produce particularly noteworthy photos. (Check here for JR Raphael's more in-depth look at the cameras.)
The HTC photo software is superior to Windows Phone's normal app, allowing you to add better special effects. And with the HTC software, the camera's second back lens also lets you take a picture first, and then after you've taken it, change the area that is the focus of your photo.
The Dot View case
One more thing separates the HTC One (M8) from other Windows Phone devices: The HTC Dot View case, which you can get for $50. It's a plastic case whose front is perforated with hundreds of dots. When the case is closed, messages from the phone's screen can be read though it.
So when you tap the case, it can display the time and weather information. It can also show information about incoming calls, and you can answer and talk without having to open the case. Cortana's reminders also can be seen through the closed case as well.
I didn't find the case particularly useful or compelling -- in fact, I thought it was rather annoying. It's not particularly pleasant to interact in this kind of eye-straining, pixelated way. However, that was my reaction; others might disagree.
The bottom line
So, do you want this phone? If you're not a fan of Windows Phone, the HTC One (M8) won't convince you to become one. Window Phone still suffers from the well-documented app gap and you won't be able to get some popular apps such as Instagram, Google Maps, YouTube and others.
But if you are a Windows Phone user looking for a new phone, this is clearly the one to get. With its high-end hardware, the Windows Phone 8.1 Update and the introductory $100 price with a two-year-contract deal at Verizon, you won't find a better value in a Windows Phone device today.
Copyright © 2014 IDG Communications, Inc.
Shop Tech Products at Amazon