A brief bubble of Apple [AAPL] speculation broke out this morning when the company's online retail store went offline for a few hours. "Will Mountain Lion ship?" was the big question. It didn't happen. Let's think about Mountain Lion and the company's readiness to disrupt its own business models and consider this: "Will Mountain Lion be one of the last desktop operating systems Apple ships?" In a sense, I think it will. That's because I believe operating systems are heading inexorably into the cloud and here's why:
[ABOVE: Sorry it's a flash video (why?). Also in the news today, two analysts discuss the biggest threats to Apple saying these are internal politics and whether the company is willing to continue to disrupt its own business models. Conversley, of course, the biggest threat to analysts is Apple's willingness to disrupt analyst preconceptions...]
Dummy terminals
Looking at the access logs of people reading this blog here on Computerworld, it's becoming clear that an ever-increasing number of readers like to use their iPad to read what's here.
We all know what an iPad is, but what is its nature?
I see it as a device hosting a slimline mobile operating system that, while capable of performing numerous tasks offline truly comes into its own when accessing the Internet. In other words, it's a mobile device custom-built for use with all the information, software and services held up there in the cloud. It's the same for your iPhone or whatever breed of those devices you choose to use.
In future your computer (Mac or PC) will be more like this. It will carry a slimline OS in order to remain capable of doing many things offline, but will truly come into its own when accessing the information, software and services held online. This vision was explicit within the revolutionary 1998 iMac, which was custom-built to access the Internet. Google followers will point to the Chrome OS as further evidence for this. Microsoft lovers may look to Office 365 as evidence that that company too is looking to deliver its software as services in the cloud. As is Adobe. As is Oracle. As is every tech firm that intends remaining in business for the next decade.
The wide use and acceptance of online storage services such as Dropbox or Cortado confirm this direction. Computing isn't just about the data you hold on your computer anymore; it's about the data you own in the world wherever it might be stored.
While you could argue this has been how it is since the invention of Netscape, today's tools and technologies mean we've moved from an era defined by a local computing model to a new age of mobile device access and data in the cloud. Software and services have made or are making this transition. Why shouldn't computer operating systems make the same migration?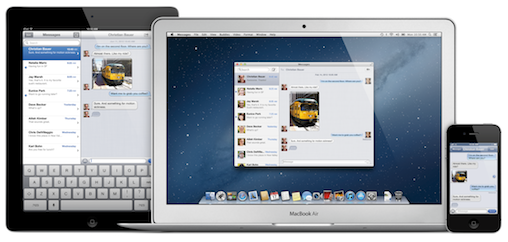 [ABOVE: Apple's Mountain Lion is a big step toward a mobile device/OS meltdown.]
That's why it's Post-PC, not PC-Plus
The iPad and iPhone prove that all you need is a slimline OS on a client device capable of doing things offline that comes into its own when connected to the online world.
Evidence:
Way back in 2007 I argued that the iPhone wasn't just a phone, but a thin-client Mac. At that time many of the tech journalists I knew were still wondering what Apple was doing "making a phone" at all. I think we see the answer now: it was seeding a future-focused mobile platform.
It's no secret that way back in the '90's ex-NeXT software chief and lead architect for OS X, Bertrand Serlet was already evangelizing the notion of thin client devices that drew their power from the cloud.
Even then, Serlet would say "The next Mac OS was likely to be a thin client OS on a computer that had no hard disk."
That's surely part of why NeXT OS had Unix at its core; in which case that's also got to be why Snow Leopard dumped so much legacy code from the OS. That should also be part of the reason Lion dumped even more gigbytes of OS space.
This shrinkage isn't merely about desktop efficiency, it's about creating PC/Mac operating systems that can do things in isolation but also come into their own when accessing the services and software held online. MacBook Air, anybody?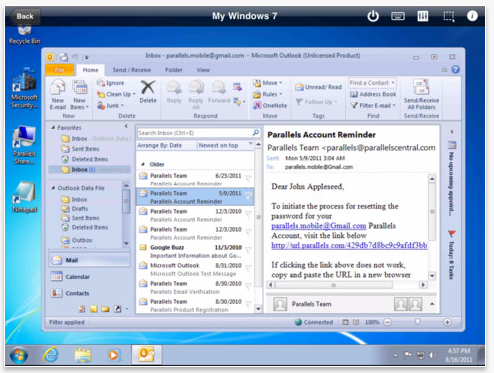 [ABOVE: Hey Windows users -- you can run Windows on your iPad. What more do you need?]
Join the dots
Parallels develops arguably the best desktop OS virtualization solution on the planet. Using the software you can run Windows, Mac OS, Chrome OS and Linux in separate windows all on the same Mac.
The company offers a product called Parallels Mobile. Used in conjunction with Parallels running virtualized operating systems on your Mac, this allows you to remotely access all the applications on your computer -- Mac applications and Windows programs -- from your iPad, iPhone, or iPod touch.
It's kind of cool and reflects that all you need for many computing experiences is a slimline device running a local OS that's capable of conducting some tasks offline but which truly comes into its own when used in conjunction with the software and services held online.
Indeed, as your personal data becomes increasingly held in the cloud (iCloud, Dropbox, your own personal server, whatever you prefer) you begin to question why you require a PC at all. (I accept that some heavyweight computation may require that you use your own "truck".)
After all, if you can use your mobile devices to access virtualized operating systems held online and use these to access your personal data held in the cloud… if you can use your mobile devices to run the applications you need as online services to process that data that is yours…if these things which can be done already can be done at all, then at what point will the online services and software be equally or more efficient than the computer you use at home?
[ABOVE: One of my favorite tech clips, Oracle chief and Steve Jobs' former close friend, Larry Elllison, proves that to be a chum of the Apple co-founder you had to be smart, sassy, a little bit gifted and entertaining at dinner parties (presumably).]
OS X head in the cloud
Serlet is already working with at least two ex-Apple employees on a cloud-based start up called UpThere. We don't know what that service will deliver, but the name implies something like an online data storage service. Why stop there?
It interests me that Serlet yesterday joined the board of Parallels. Here's a portion of the press release announcing the move:
"Serlet will serve as a non-executive director, bringing to Parallels his distinctive professional experience of having led the development of Mac OS X from its inception until his departure from Apple in 2011. Serlet's distinguished background and unique insights will help Parallels accelerate growth and continue creating software that simplifies life for consumers and businesses.
"Bertrand is the rare combination of a software visionary and master of execution. We're thrilled to be bringing his world-class experience and expertise to Parallels as the company continues its fast-paced growth and global expansion," said Birger Steen, CEO of Parallels."
It's also worth taking a look at what Serlet had to say about his new seat on the board. He won't be involved in development especially, but the 14-year Apple veteran, 8-year NeXT software leader and ex-Xero PARC researcher will offer his guidance to the firm.
He says that while at Apple he got to know the Parallels crew, noting: "I also discovered Parallels deep involvement with the cloud, represented by its rich portfolio of products.  I look forward to drawing on my career at Apple to help guide Parallels as it continues on its impressive growth trajectory."
The cloud, huh?
Job ads for Upthere describe this: "Our founders were key to building the world's leading operating system (Mac OS X) and database (Oracle) and have a clear vision of core technology for a Cloud OS," one posting notes.
The operating system in the cloud
A Cloud OS from the father of OS X? In development at a time when for many of us the first thing we reach for isn't a computer, but a thin client connected device, such as an iPad or iPhone?
Why is this happening now and not then? It's the network of course. You need WiFi. You need 3 and 4G. You need fixed line and cable deployment. You need vast banks of Apple-owned servers (the majority of which still remain unused) at strategic points worldwide. You need things to be connected. Now they are. Then, well, then they weren't.
This might be years out, but the opportunity is tangible. Surely it is evident that this change is going on. It's only a question of time I feel until a combination of operating system virtualization, personal data storage and sync, and software-as-service models mean the desktop operating system will be something you access online. I think that's pretty interesting.
What about you?
Vent your spleen or even say something *nice* (always refreshing) in comments below…
Got a story? Drop me a line via Twitter or in comments below and let me know. I'd like it if you chose to follow me on Twitter so I can let you know when these items are published here first on Computerworld.