Apple [AAPL] may have plans to make iTunes media sales a little more social with its rumoured acquisition of CEO Tim Cook's accredited service, The Fancy.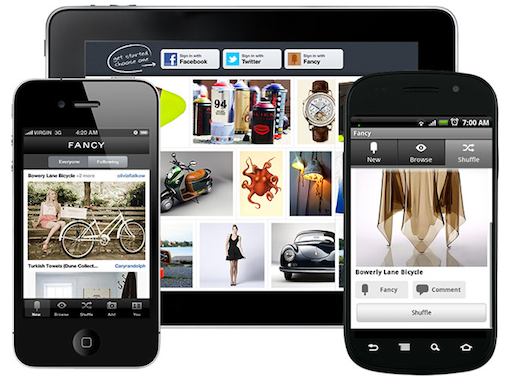 [ABOVE: Currently available for Android, The Fancy could be pretty much defined as a social network for product recommendation.]
Good fit, or idle Fancy?
The Fancy is a Pinterest-like system that lets users flag up things they like online, like a photo blog for products. The service also lets users purchase what they find online, meaning it already delivers support for e-commerce, from which it grabs 10 percent of the transaction's value.
The site describes itself thusly: "It's a place to discover great stuff, to curate a collection of things you love, to get updates on your favorite brands and stores and to share your discoveries. Use it to create a catalogue of your favorite things around the web and around the world. When you find something you love somewhere on the web, Fancy it."
Apple has never been any good at social networking; from iTools to .Mac to Ping, the company just doesn't seem to have much of a clue getting round that side of the tracks. More recently the company seems to have moved away from developing its own social networking services, moving now instead to reaching deeper relationships with existing social superpowers, Facebook and Twitter, while broadening its reach to other smaller services through Siri search and so on.
Business Insider claims Apple's in talks to purchase the service. How might this be applied?
iTunes recommendations
I'm thinking we could see The Fancy model applied to iTunes. Essentially users would be able to flag up music, movies, TV shows, books they like the look of, and share that information with others. Hopefully it wouldn't extend solely to consumption via Apple's stores, but would also enable users to flag up things they fancy from other places.
I'd observe that a walled garden approach doesn't work for social networking, the basis of which must be that it enables users to define their own conversations through autonomous choice of those things they like. One of the secrets of Facebook has to be that it enables its users to engage in discussion across pretty much any topic.
Business Insider in July revealed Tim Cook to have been using The Fancy. The revelation came as Cook engaged in a series of meetings with industry leaders at the recent Sun Valley retreat. His verified account revealed a few things that -- potentially -- Cook actually likes. The Fancy CEO John Einhorn confirmed he "may have met" Cook while he was also at the same retreat.
Apple is thought to be developing an improved version of iTunes. This is likely to see more implementation of App discovery features the company acquired when it purchased Chomp in February this year.
Chomp aimed to help users find apps most suitable to the task in hand (search for WiFi finders or strategy games, for example). To achieve this it would also search through app reviews, rankings, blogs and social media mentions to find the best app of the type sought for. Early deployment of Chomp within Apple's App Store search has already improved the app search experience, though the full implementation is expected within iOS 6.
Chomp also included social media elements, allowing browsers to follow Twitter and Facebook friends in order to see their app reviews. The addition of a product recommendation engine from The Fancy may boost the social nature of app and media sales via iTunes.
Trying to get social
Speaking at the D: All Things Digital conference earlier this year, Cook observed: "Apple doesn't have to own a social network. But does Apple need to be social? Yes".
Bloomberg in June claimed Apple intends a major overhaul of iTunes, promising iCloud file integration and music sharing as leading features in the release. That report also promised improvements in music discovery, which may also be achievable through technology from The Fancy.
Add the notion of an iTunes payment and gifting system, andthe opportunity could be there for the creation of some kind of e-commerce service for iPhone 5 users.
Apple's move to elevate Eddy Cue to its executive board last year underlines just how central to its product offering iTunes has become.
The previous failure of Apple's social network for music, Ping, shows that success in this attempt isn't rubber-clad. Ping's B2C commercial focus leaves little that's engaging for users, meaning they prefer to talk about the music and movies they love on other social networks.
The Fancy is also pretty much defined as a commercial product recommendation service, and the question has to be if this experience is truly engaging enough for an international audience, or whether this shall emerge to be the latest in Apple's extensive list of social media fails. What do you think will happen? Will Apple finally break social networking with this acquisition?
Got a story? Drop me a line via Twitter or in comments below and let me know. I'd like it if you chose to follow me on Twitter so I can let you know when these items are published here first on Computerworld.