Alignment remains a hot topic for CIOs because many organizations are still struggling to get senior business executives and IT leaders on the same page. Fifty-six percent of IT departments understand and support their business users' needs "to a large extent," according to a 2005 IT Governance Institute survey of almost 700 CIOs and CEOs. But that still leaves 44% in need of improvement. Many companies use IT steering committees to provide guidance and prioritize technology projects. Yet guiding the activities of these groups and getting the most out of their efforts can be tricky. Computerworld asked four IT executives for their ideas on how to work with steering committees. Here's what they told us.
Lynne Ellyn,
CIO, DTE Energy Co.
DO get the finance staff involved early.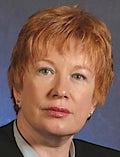 Lynne Ellyn, CIO of DTE Energy Co.Detroit-based DTE holds quarterly IT steering committee meetings to approve projects. Ellyn says that in the past, some executives' pet projects were pushed through despite weak business cases. So the committee decided that before a vice president makes an IT project proposal, he has to persuade the controller for his business unit to sign off on the plan. Now, she says, the IT steering committee rarely turns down a proposal, because the weak ones are weeded out earlier in the process by the departmental financial execs.
DON'T let the objective become managing IT costs. Ellyn says there's a common perception that steering committees should focus on IT cost containment, but don't let that view take hold. "The charter should be to maximize the performance of the organization," she says. Ellyn's committee looks at the business case for individual IT projects from a cross-functional perspective. Cost savings are laid out in the project plans, and future budgets are adjusted for those expected savings, she adds.
Brent Zempel, CIO,