Rugged mobile computer maker Intermec today unveiled the CS40, a rugged device that's about the size of a typical smartphone.
The CS40, which runs Windows Mobile 6.5, is designed to withstand multiple four-foot drops onto concrete surfaces, making it more practical for many workers than consumer-grade smartphones.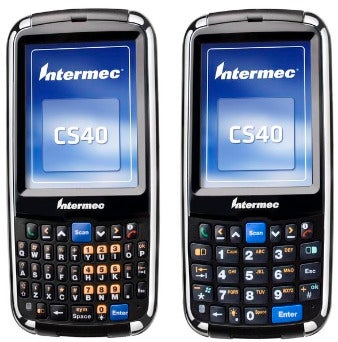 For example, Intermec said the CS40 is ideal for many people who work outdoors or in other jobs where they're on their feet a lot, such as those who repair machinery in offices and homes, and must constantly remove their devices from their belts, pockets or purses, said John O'Rourke, vice president of global marketing at Intermec.
Founded in 1966, Intermec makes a line of larger rugged handhelds used by people who work in warehouses, at health care facilities and in the heavy construction industry. The company's products compete against rugged handheld computers made by companies like Motorola.
The CS40 can be used with either a full Qwerty physical keyboard or an alphanumeric keyboard like the type commonly seen on mobile phones. It measures 5.25 by 2.46 by 0.94 inches in size and weighs 6.9 oz., including battery.
The touchscreen display is 2.8 inches and includes a stylus.
The device supports voice and data over UMTS, Bluetooth and 802.11 b/g.
O'Rourke said the CS40 lists at $1,795, though volume purchases could bring the price below $1,000 per unit.
Intermec compares the CS40 to the ES400 from Motorola, which was unveiled in June.
One striking difference between the two is that the Intermec device includes a 2D bar-code scanner as well as a 3-megapixel camera, while the Motorola device includes a 3.2-megapixel camera but no bar-code scanner. The bar-code scanner is easier and quicker to use than a camera for bringing an image of a bar-code into focus, Intermec said.
Intermec also said that total cost of ownership, or TCO, of the CS40 could be as little as one-fifth of the cost of replacing consumer-grade smartphones used in work settings.
One job considered a prime candidate for the CS40 is replenishing the stocks of greeting cards in multiple retail stores.
Intermec also introduced a suite of services for remote device management that can be used to inventory CS40s and other handhelds, or to monitor battery life or turn off certain functions.
Matt Hamblen covers mobile and wireless, smartphones and other handhelds, and wireless networking for Computerworld. Follow Matt on Twitter at @matthamblen, or subscribe to Matt's RSS feed . His e-mail address is mhamblen@computerworld.com.