In depth: Google's Cr-48 Chrome notebook
Google sent notebooks loaded with Chrome OS to beta testers. Our reviewer took a deep dive into the new operating system.
Chrome OS
Do you already use the Chrome browser? Then you know how to use Chrome OS. The Chrome browser is, in a nutshell, the operating system of the Cr-48. There is no virtual desktop to exit to, as there is in a more traditional operating system like Windows, OS X or the various Linux GUI front ends like GNOME and KDE. The browser is there when you boot up, and it's gone when you shut down.
To access the settings of Chrome OS, you click on the wrench icon and choose "Settings." The operating system's settings page appears as a Web browser tab.
If you logged in with your Google ID, Chrome OS will automatically sync up with any settings you've already used with the Chrome browser on another computer. So your bookmarks, saved passwords, preferred browser settings, extensions and Google's newly launched Apps will be downloaded and set into Chrome OS.
If you chose to log in using a guest account, Chrome OS will run under "incognito" mode, which is the same as the one you can access in a regular Chrome browser. Incognito mode does not save your user settings, cookies or passwords after you log out of the computer.
Performance
So how fast is Google's Chrome notebook? I checked out some of the latest movie trailers on YouTube. Chrome played them ably, and the sound quality cranked out by the computer was good. However, everything seemed to take a little longer than it does on my usual notebook (a Dell with dual-core 2-GHz processor and 4GB of memory).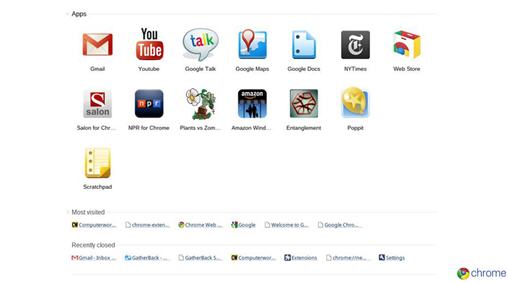 Another JavaScript-heavy site, Facebook, took a while to load, too. The site was usable, but clicking through it and using it was not a remarkably speedy experience.
I'll have to use the Cr-48 more and do further testing on various networks, but the overall impression I have for now is that while the notebook performs capably enough, its performance feels more akin to that of a lower-end netbook or a smartphone.
I started to use the Cr-48 with the battery as it was shipped (it came about half-charged). The system ran for about three hours before I needed to plug it in. Supposedly, the Cr-48 can run for eight hours on a full charge if you use it nonstop, but I have yet to test that.
How do you get one?
It has been reported that up to 60,000 units of the Cr-48 will be given away -- an impressive number, considering that some vendors of consumer technology would feel lucky to sell that number of units. And the unconfirmed rumor is that the giveaway is not necessarily being handled on a first-come, first-serve basis. Rather, it might be based on users' ZIP codes, since Google wants to evenly distribute the computers throughout the United States -- a move that would make sense from a data-gathering and beta test perspective.
Currently, Google has a sign-up page where people can submit their e-mail addresses to be considered for receiving one. Google also is opening up the process by encouraging users to submit videos in which they plead their cases.
Bottom line
The Cr-48 feels a lot like a smartphone with a much larger screen and keyboard for Web surfing and media performance. The keyboard is good, but I find using the touchpad effectively takes some getting used to. By default, it feels too sensitive.
The Chrome OS is basically just the Chrome browser, with an extra settings function that lets you adjust a few things like the touchpad.
So is this a game-changer? It's hard to say at this point: What sets the Cr-48 apart from other laptops are the hardware features that it lacks. To me, this feels like it should be a $150 to $200 device. I couldn't see myself paying more, nor could I imagine most people would want to either. So maybe Google is making the right choice by giving away what is essentially a hardware front end for its Web browser.
Come to think of it: Maybe that's the game-changer Google has in mind.
Howard Wen reports for several technology publications. His Web site can be found at www.howardwen.com.
Shop Tech Products at Amazon