In depth: Google's Cr-48 Chrome notebook
Google sent notebooks loaded with Chrome OS to beta testers. Our reviewer took a deep dive into the new operating system.
A keyboard with a difference
The keyboard is similar to the "chiclet" keyboard found on MacBooks. It took me a little while to get used to typing on it, but that was probably because I'm not used to that style of keyboard. The keys are suitably responsive and don't require much finger-pressing effort to activate.
There are no function keys. Instead, where the function keys usually sit on a Windows-based PC-style keyboard, there are keys that help you navigate Chrome OS's Web browser (i.e. forward, back, full-screen, reload), brightness keys for the LCD screen and volume/mute keys for the sound.
Most notably, there is no Caps Lock key. Instead, Google has a "search" key that merely opens up a blank tab or your default home page (if you have that set). Even the letter labels on the keys are in lowercase.
The wide touchpad doesn't include visible buttons. To activate the features you'd normally access with clicks of the left and right mouse buttons, you press down on left and right bottom corners of the touchpad.
The touchpad feels a tad too sensitive in its default setting (and I prefer my notebook touch pads to be more sensitive than usual). Fortunately, this sensitivity can be adjusted through the Chrome OS settings. I also found pressing the touchpad's hidden buttons to be tricky -- again probably because of the sensitive nature of the touchpad's default settings.
First start-up
After you put in the battery and flip open the Cr-48, it immediately starts to boot up. (You can also start it by pressing its power button.) It takes about 15 seconds to load the first screen.
The computer will automatically try to find the strongest Wi-Fi signal and connect to it. If the Cr-48 is unable to log onto an open Wi-Fi network, you have to click the Wi-Fi signal icon on the upper-right of the screen (between the clock and battery/power icon). A menu pops open listing all the available Wi-Fi signals within range. Choose the one you wish to connect to; if necessary, you'll be prompted to enter that network's required security key.
Within this menu, you can also activate and log into Verizon's nationwide 3G network. Verizon has partnered with Google to provide 100MB of free data bandwidth per month -- which, frankly, isn't very much, especially for a notebook that works solely in the cloud. (In fact, 100MB per day wouldn't even cut it for many of us.)
According to the Verizon 3G activation page (that you can invoke from the Chrome OS wireless network menu), the free 100MB per month is guaranteed over 24 months. You can also get unlimited access for $9.99 per day, or 1GB per month for a $20 monthly fee, 3GB per month for $35 a month or 5GB per month for $50 a month. A credit card is required, even for using the free 100MB per month allowance, although Verizon states that no charges will be made.
Of course, 100MB per month is better than nothing, but there's no doubt that the freebie is just provided to hook you into signing up for a Verizon 3G plan.
Once you're connected, a screen asks you to enter your Google ID -- or you can choose to log in under a guest account.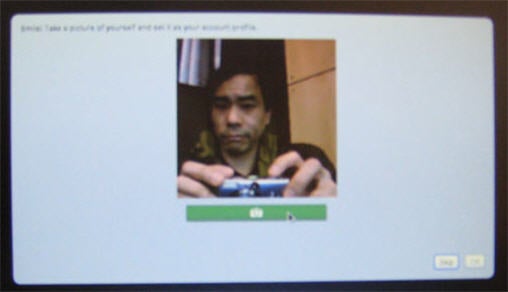 On the next screen, you are asked to provide a headshot -- the Cr-48's webcam will take a picture of you and use that shot as your log-in ID's default profile photo. Say cheese. You can elect to skip that step -- but if you do have a photo taken, make sure you like it before you proceed. I couldn't find any option to update the image or remove it. You can delete accounts that are added to the computer later, but it appears that the Cr-48 is "bonded" to the first Google user who registers on it.
After your headshot is taken, Chrome OS loads up seconds later, and you are shown the browser's home page or a blank tab.
That's it. You are ready to use the Cr-48 and Chrome OS to surf the Web.
Shop Tech Products at Amazon