The tablet market is already populated with dozens of models of various sizes, many close in size to Apple's highly popular iPad, with its 9.7-in. screen.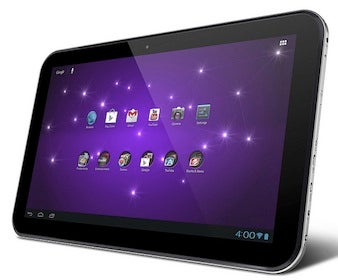 So how does a vendor distinguish its tablets from the competition? One way could be introduce a model with a radically different screen size, like Toshiba this week.
Toshiba expanded its Excite family of Android tablets with three new models, but the one getting all the attention, and already some scorn, is the Excite 13, which features a 13.3-in. display that offers 1600-x-900-pixel resolution and more than 75 square inches of viewing area.
The other tablets that Toshiba announced are the Excite 10, with a 10.1-in. screen and more than 43 square inches of viewing area, and the Excite 7.7, with a 7.7-in. display and more than 25 inches of viewing area. All three tablets run Android 4.0 and use Nvidia Tegra 3 quadcore processors.
The Excite 13 boasts the largest screen of any tablet on the market. But at 0.4-in. thick and weighing 2.2 lbs., it's not as bulky and heavy as you might expect it to be.
Toshiba emphasized that it's not just trying to stand out by offering a jumbo tablet; its goal is to provide a range of sizes to meet a range of user needs. "One size does not fit all, so we are carefully considering how and where people are using tablets and [will] design form factors to best suit various needs," said Carl Pinto, Toshiba's vice president of product development, in a statement.
Jack Gold, an analyst at J.Gold Associates, defended Toshiba's approach with the 13-in. model. "There is no ideal tablet size, just like there is not one size of car, TV, refrigerator, mattress or even PC screen," he said.
"At 13.3 inches, it is probably not terribly portable in the sense of putting it in your pocket, like you might with a 7-in. or smaller size, but it is probably great for uses like looking at X-ray images in a medical setting or detailed schematics and diagrams in certain work situations, " Gold said.
The display is the most expensive element in any tablet, and the larger the display, the higher the price tag, Gold said.
The Excite 13 will go on sale June 10 at prices of $650 for the 32GB model and $750 for the 64GB model. Toshiba will start selling the 10.1-in. Excite 10 on May 6, charging $450 for the 16GB version, $530 for the 32GB model and $650 for the 64GB device. Toshiba's smallest tablet, the Excite 7.7, will also go on sale June 10 at prices of $500 for the 16GB version and $580 for the 32GB version.
While Gold suggested the Excite 13 could be used in the workplace, Toshiba described it as "ideally suited for the home" for tasks such as sharing photos, surfing the Web, playing games and watching movies with a group. It is powered by a quadcore Nvidia Tegra 3 processor, has 1GB of memory, and is marketed as a gaming and multitasking device.
Despite such qualities, a few experts said the Excite 13 will be seen as being too big. "The problem with big tablets is that the bigger they are, the harder they fall," noted Ken Dulaney, an analyst at Gartner. "There's a direct correlation between size and the frequency of being dropped."
Toshiba said the three new tablets all have sturdy aluminum shells and scratch-resistant Corning Gorilla Glass displays to make them durable, although the analysts noted that "durable" doesn't mean the devices are drop-resistant like some ruggedized tablets that cost hundreds of dollars more.
Dulaney said Toshiba is probably trying out different tablet sizes to see how well they do in the market, just as Samsung has done with its tablets, including the Galaxy Tab 2 (10.1), which has a 10.1-in. screen, and the Galaxy Tab 2 (7.0), which has a 7-in. display. Still, Samsung has resisted building a table with anything larger than a 10.1-in. screen, and that makes the Excite 13 all the more unusual.
Ultimately, Dulaney argued that tablet manufacturers "will conclude that the 10-in. tablet is the best size, just like we have concluded that 8.5 by 11 is the best size for a sheet of paper."
Steven Buehler, an analyst at IDC, called the Excite 13 "intriguing," but he also said it is "among the experiments that manufacturers are trying as they attempt to stay in front of the market."
Buehler said tablets, even models as large as the Excite 13, are not ideal for fine detail work, because they require people to use a finger on a touchscreen. And even if a tablet is paired with a keyboard and mouse, the result is still not as effective as using a PC, he added.
"Only time will tell whether users adopt the [Excite 13] form factor, but to me it seems too big to be a good tablet and too tablet-like to be a good PC," Buehler said.
More Tablet Info
The table below shows the most recently announced tablets as reported by Computerworld. Click a tablet's name in the leftmost column to read a news story or review with more information about the device, or view a larger table with more details about each product.
Table created by Computerworld staff using Zoho Creator.
Matt Hamblen covers mobile and wireless, smartphones and other handhelds, and wireless networking for Computerworld. Follow Matt on Twitter at @matthamblen, or subscribe to Matt's RSS feed. His email address is mhamblen@computerworld.com.
See more by Matt Hamblen on Computerworld.com.