Review: Apple's iPhone 5 destined for success
It builds on the legacy of its predecessors with bigger screen, faster chip, LTE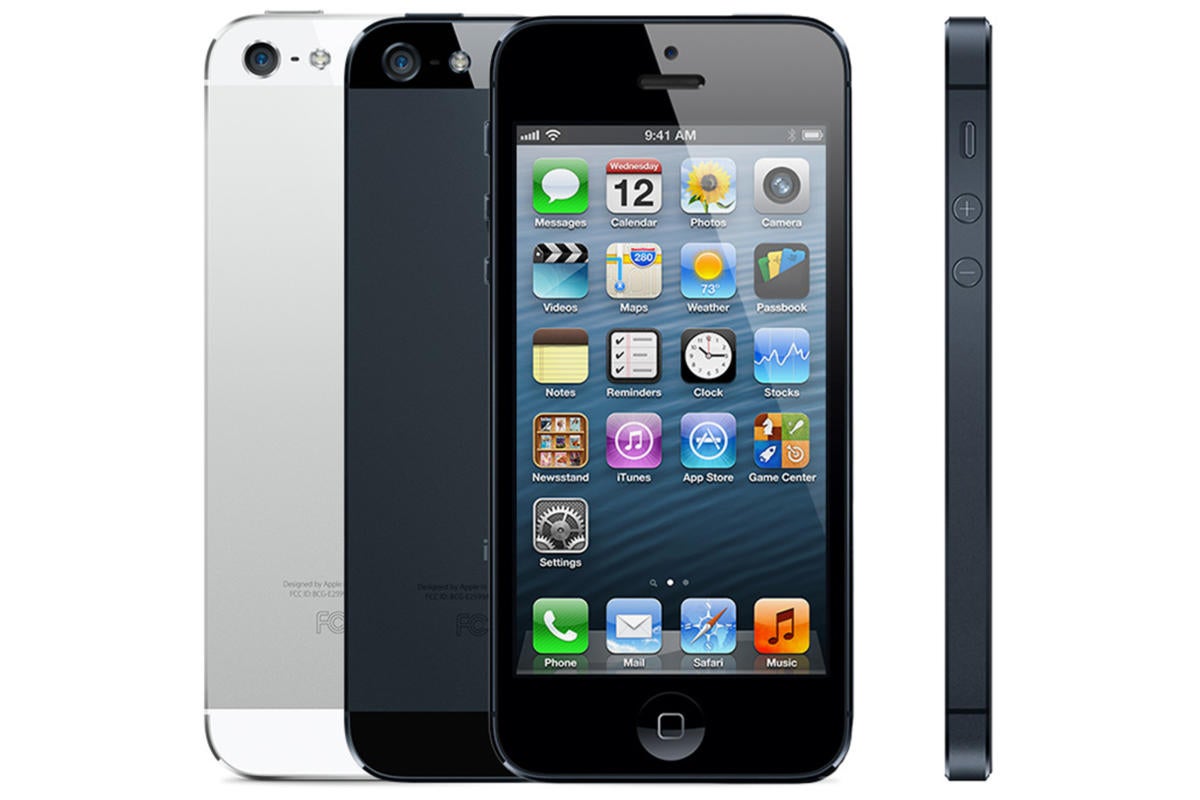 As expected, the iPhone 5 already appears to be a big success for Apple. Buyers flooded Apple's online store on Sept. 14 to get their pre-orders in, while delivery times for those who waited have already backed up to mid-October. According to Apple, two million iPhone 5s were sold in the first 24 hours they were available. (Full disclosure: I was among those online just after 3 a.m. ET.)
The iPhone 5 is the first iPhone to sport a 16:9, 4-in. screen, a new custom-designed A6 chip for improved performance, LTE wireless access and an aluminum-backed redesigned case. Not surprisingly, people waited in lines for days outside some retail stores to get an iPhone 5 when they went on sale Friday morning, and most places quickly sold out. That was true of various Apple Store locations (which should get renewed shipments of stock this week), as well as AT&T, Verizon and Sprint stores.
Over the past few years, the iPhone has become so important to Apple that iPhone revenues alone now dwarf the whole of Microsoft.
I've spent a few days with Apple's latest phone, as well as iOS 6, and my quick-take verdict is that Apple has again delivered a product worthy of the iPhone name and legacy. (That's true for both the phone itself, and for iOS 6 -- despite complaints by some users that the new Maps app isn't as well-done as its Google-based predecessor.)
Apple has clearly learned lessons from previous generations; the iPhone 5 is better in every facet than its predecessor, the hugely popular 4S.
In true Apple form, prices remain unchanged. The 16GB model sells for $199, the 32GB model goes for $299, and the top-end, 64GB model retails for $399 (all prices require a two-year deal with your wireless carrier). The 16GB iPhone 4S is now just $99 (with a two-year commitment), and the 8GB iPhone 4 is free, with contract. As before, you can have any color you want, as long as you want white or black.
On Friday morning, before my iPhone 5 was delivered (I bought the 64GB version), I made sure to back up my iPhone 4S to iCloud (go to Settings>iCloud>Storage & Backup and tap the Backup Now button). Yes, if you have iCloud backups properly configured, your iPhone backs up your data to Apple's servers when it's idle and connected to a power source and Wi-Fi network; manually doing one last-minute backup was my OCD kicking in. Backing up to iCloud allows you to do a restore anywhere there's Wi-Fi access. And it meant I could get the new iPhone 5 up and running quickly.
In the box
The iPhone 5 arrived in a box similar in size to past models, although slightly taller and a smidgen wider. Included inside were a wall plug, a basic printed welcome packet (complete with two Apple stickers), Apple's new headphones, now called EarPods, and a USB 2.0 to Lightning connector. The new connector replaces the 30-pin Dock connector, which has been standard since the first iPod in 2001.
The iPhone 5 is pure iPhone, retaining the iconic single-button front face, with this year's model enclosed in a thinner, taller, aluminum and glass housing. The black model features a black aluminum antenna design that frames the outer edge of the the phone; the back housing is mostly comprised of a dark gray aluminum panel sandwiched between two glass inlays at the top and bottom. (The glass sections help with reception.) The white model features a gleaming silver antenna frame around the edge, and a backplate made of a gray aluminum instead of the darker slate color on the black model.
There are a couple of other cosmetic changes to note: the FaceTime camera is now centered above the noise-canceling earpiece, and the headphone jack has been moved to the bottom.
Even though the screen is bigger, meaning the iPhone 5 is taller, the unit feels really light in your hand, lacking the heft of the dual-sandwiched glass of the 4S; with the screen turned off, the iPhone 5 feels more like the empty shell of an iPhone, not a working model. If you're a numbers person, the new iPhone is 4.87 inches tall (compared to 4.5 inches before); 2.31 inches wide (the same as before); and weighs 3.95 ounces, down from its predecessor's 4.9 ounces. An ounce might not sound like much, but it's readily apparent.
Bottom line? The design, materials, and build quality are impressive; both white and black models are gorgeous. If you care about the nexus of design and technology, you have to be impressed when holding the iPhone 5 in your hand. It really is that simple. Several iconic iPhone designs have been released since 2007, and each time Apple's design team manages to surpass itself. I've almost run out of adjectives to describe the high quality the new iPhone, like earlier models, exudes.
iCloud Restore & Activation
I set up my iPhone from my iCloud backup while the activation with AT&T was supposedly happening in the background. All of my information -- including user data such as app and system settings, text messages, calendars, email and contacts -- downloaded first. After a reboot to apply the refreshed settings, my camera roll pictures, photo streams, and apps/media from iTunes began to download. (If there's a specific app you want access to immediately, tap its icon to bring it to the front of the download queue.)
Unfortunately for me, my iPhone never got around to activating. It took two phone calls with two separate reps at AT&T -- and a whole lot of waiting for nothing -- until I was finally able to speak to someone who could help me. The first time I was told by an affable yet clueless rep that the only way to activate the phone is through a sync with iTunes (not true). His help involved reading aloud from sheets of notes in front of him, which offered intricate instructions on the precise way to plug in the iPhone cable to a computer and launch iTunes. When the iTunes restore failed (surprise!) to activate the phone, I called again.
During the second call, I was connected to someone who was familiar with the problem; she took my IMEI and ICCID numbers and plugged them into her system. A minute later, my old iPhone 4S could no longer make calls, but my iPhone 5 could. (I got the official notice that my iPhone 5 had been activated about 8:30 a.m. Saturday.)
Performance
The iPhone's display dominates the front of the device, just as it did in previous models. The main difference this year is that the screen has been stretched from 3.5 inches to 4 inches (1136 x 640 pixels, yielding a 326ppi display). Essentially, Apple made the iPhone taller without making it wider, allowing the engineering team to spread out the internal components a bit more. The new iPhone is 18% thinner and 20% lighter than the 4S.
Other design decisions contributed to the thinner/lighter equation, including a redesigned nano-SIM card, a single LTE chip for voice and data, the much smaller Dock connector, and the first Retina display with integrated multitouch tech.
Despite those changes, the new design does not sacrifice power. In fact, the iPhone 5 -- using Apple's own custom A6 chipset -- literally doubles the performance of the 4S, and tops the chart as the fastest smartphone on the market today.
The speed is noticeable right away, as the iPhone 5 boots much faster than previous models. Navigating the interface is much smoother, especially since certain screens -- such as those displaying long lists -- don't take nearly as long to load. It's not that the 4S was slow, but there were times the flow of navigation became disrupted by slow window content load times. I haven't seen that issue here. You'll note the biggest performance gain in apps and games, or when using processor-intensive apps, like rendering videos in iMovie. Even Web browsing in Safari is faster. The iPhone 5 blows away the iPhone 4S.
Where does that leave battery life? Apple says you should get eight to 10 hours of real-world use, and up to 225 hours of idle time. I've not been able to extensively test these claims, but, so far, battery life doesn't seem any worse than the iPhone 4S. Given the performance boost, that's impressive.
The display
I have a friend, bless his heart, who judges every phone's worth by the size of its display. Now that Apple has adopted a longer screen that shows more information, I can understand his perspective -- to a point. The new iPhone's larger screen is a compromise between viewable space and the ability to slide the device in and out of pockets, without sacrificing one-handed navigation of the screen. It's a design tradeoff, and I like the results. Seeing more information on a device that still comfortably fits in your pocket is the best of both worlds.
Even better, the larger display, when set at the same brightness as the 4S, shows deeper blacks and more vivid colors without over-saturating an image.
List-based apps -- like Settings or Facebook -- benefit because you can see more on-screen without scrolling, but other apps benefit, too. The Camera app has a larger shutter button, the Weather app displays an hourly forecast that can be swiped through, and options that were once hidden in Music player are now displayed without a tap.
Apps that haven't been rewritten for the larger screen definitely feel odd, as they are centered and framed by black bars at the top and bottom. Although they're shown in full resolution, the effect is noticeable -- especially with apps that require typing. In these apps, the keypad doesn't slide up from the bottom of the screen, where your thumbs would be. It slides out from the black bars that keep the app centered, forcing you to shift your grip to type. It's minor, but still gives you pause. For iPhone 5 users, this will be the new normal until developers rewrite their apps.
Not surprisingly, the display on this model is still prone to glare, reflections and fingerprints.
A new camera system
The camera system gets its own set of improvements. The rear camera is still an 8-megapixel, 1080p-video-capable design, but it's 20% smaller than previous models and sports a few cool upgrades: better image stability when shooting video, a dynamic low-light mode for better shots in the dark, support for iOS 6's built-in Panorama mode, and the ability to take still photos as you shoot video.
The front-facing camera has been bumped to 720p resolution, which should give higher quality self-portraits and Facetime video chats.
One caveat with the option allowing you to snap images while recording video: the still images are simply screen captures of the video itself, so don't expect those photos to be of the same quality as when you use the standalone camera function.
Sounding off on sound
The built-in speaker sounds better than any other iPhone; more volume, while still sounding crisp and clear. Side by side with an iPhone 4S, the iPhone 5 drowns out the sound from its predecessor.This is the first iPhone where I don't feel the need to cup the speaker with one hand in an effort to direct the sound towards me; the improvement is easy to discern.
I like the relocated headphone jack at bottom of the iPhone, which similar to the iPod touch. However, I'm right-handed, and I could see how someone who's left handed might be annoyed by the new positioning.
Audio is also picked up really well. There are now three microphones used for noise canceling, and one of them is located on the rear of the iPhone. That makes a big difference when recording video. The microphones are also used by Siri, Apple's voice-activated "personal assistant."
By far the best addition, though, is Apple's upgraded headphones, now called EarPods. The new are designed so they should better stay in your ears, and they produce richer and fuller sound. In fact, the sound is improved to the point I'm surprised that the EarPods are included as a standard item on the latest products. Apple could have easily sold them as an upgrade.
The Lightning connector
The iPhone 5's Lightning connector has generated some angst among Apple fans, who are annoyed they'll need an adapter to get the new device working with older peripherals. But the connector is brilliantly designed. It's reversible, meaning it doesn't require a specific direction to be plugged in -- unlike USB. That guarantees a good connection the first time, every time. The design, like many of Apple's flourishes, seems simple, obvious, and inevitable. (Why is it that Apple is usually first in this department?)
The result, of course, is that older Dock products will not work with the new iPhone. Apple sells an adapter (available next month for $29) that may work, but that depends entirely on what the peripheral is and does. Having to buy an extra accessory has disappointed some people, but Apple innovates and the world keeps on ticking. Third-party Lightning support is a high priority for many companies, so early-adopters issues should subside soon.
Networking and LTE
Like last year's model, the iPhone supports HSPA, HSPA+, and DC-HSDPA on its auto-switching antenna design; like the iPhone 4S, you cannot hold this device wrong and block the data signal.
Shop Tech Products at Amazon