Deep-dive review: The Lumia 635 smartphone -- a study in contrasts
With Nokia's new low-cost phone, it's Microsoft's Windows Phone 8.1 that makes it good.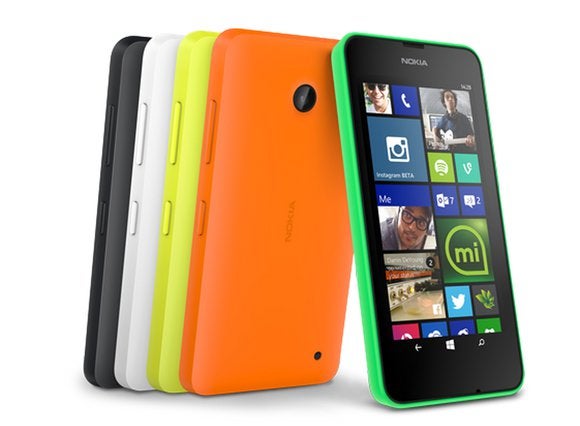 Nokia's new Lumia 635 smartphone could be a glimpse of what future lower-cost Lumia devices will be like -- assuming there are any. After several days of use, I found that its greatest strength was the fact that it comes with the latest version (8.1) of Windows Phone -- which includes Office software and a new "personal assistant" called Cortana.
AT&T will introduce a prepaid version of the Lumia 635 for a $99 promotional price starting July 25th and $140 after Aug. 8th; T-Mobile began selling it on July 9th at $7 a month over 24 months, for a total of $168. Both offers are without contract.
Using the Lumia 635 can be an adjustment for a smartphone user who is accustomed to higher-end devices such as iPhones and Samsung Galaxy phones, but the device may be attractive to buyers looking for a low-cost Windows Phone.
The new Windows Phone 8.1 operating system retains the great Windows Phone live tile concept that, to my taste, offers the best home screen look and feel on the market. With live tiles, you can pin your favorite website to your home screen and it's large enough to easily see it constantly updated.
Still, the Lumia 635 is a phone laden with contradictions: For example, there's only one camera in the rear with just a 5-megapixel lens, even though, before its acquisition by Microsoft, Nokia was known for including high-quality cameras in most of its other phones.
Ultimately, the Lumia 635 is a mixed bag.
Hardware -- many lower-cost tradeoffs
The look and feel of the Lumia 635 is a lot like the iPhone 5C. The back cover is a shell made of polycarbonate plastic. My review unit from T-Mobile had a white cover, but Microsoft has promised black, orange, green and yellow covers also. The display runs nearly to the edges without any physical buttons, with the back cover wrapping around the front just a bit to leave an attractive slim trim edge all around the rectangular device. The corners are rounded off, so it almost has the shape of a somewhat larger iPhone.
The phone is easy to hold, even with a fairly large 4.5-in. display. At 5.1 x 2.62 x .36 inches and 4.7 oz., it is a tad heavier and thicker than the 4-in. iPhone 5S but almost exactly the same weight as the 4-in. iPhone 5C (although it's slightly larger).
The Lumia 635's display has a comparatively low 854 x 480 resolution. Microsoft promotes the ClearBlack display as offering visibility in bright daylight, but that was hardly the case for me. Even at the brightest display setting, I could hardly make out anything on the screen outdoors during daylight, even from inside a car. While it's manufactured of scratch-resistant Corning Gorilla Glass 3, almost all I could notice when outdoors or in the car were my fingerprints, which were more obvious than on any smartphone that I've ever used.
The plastic back cover pops off easily to reveal the battery and a slot for a micro SD card of up to 128GB. The phone itself comes with 8GB of internal memory and online access to 15GB free OneDrive cloud storage.
There's a Qualcomm Snapdragon quad-core S400 processor running at 1.2 GHz, along with 513MB of RAM. There are now a number of phones on the market with quad-core processors from Qualcomm, but they are clocked at faster speeds.
The processor worked fairly well when I played back streaming video, with occasional brief pauses (which I can't positively blame the phone for, since it could be attributable to the slower T-Mobile 3G or 2G network where I live in Virginia -- the phone supports LTE 4G speeds). Audio streaming was quite good over many hours of use, and some simple car racing games worked well on the device.
Where I noticed the slower processing was when I switched between apps on the phone and constantly got a "resuming" or "loading" message in the middle of a black screen before the launch of the next app. Sometimes it would take several seconds for the new app to launch, something that quickly became very annoying.
The battery, rated at 1,830 mAh, lasted three days with what I'd call a moderate usage pattern of emailing, taking pictures, Web surfing, listening to music, watching a few short videos, talking on the phone and more. Microsoft rates the talk time at up to 14 hours on 3G, with video playback at up to seven hours, so that sounds about right.
As mentioned earlier, there's just one back-facing 5-megapixel camera, when most phones today have front and rear cameras with at least one rated at above 9 megapixels. (A high-end phone such as the LG G3 boasts two cameras with a 13-megapixel rear camera.) There's also the ability to shoot video at 720p and 30 frames per second, which offers capable video capture, especially for snippets going to the Web.
One of the most mind-boggling problems of having one camera only in the rear is that it hinders the ability to take good selfies or conduct a videoconference. Nokia has substituted something called Glam Me (yes, really!), which requires you to hold up the phone while facing its blank rear side while looking into the camera lens, then listen for a series of beeps that increase in tempo to indicate whether your face is centered in the frame before hearing a shutter sound.
Clearly, having just one camera helps Nokia lower costs. However, the fault in this Glam Me system is that while your head (or heads, depending on how many people you're photographing) will be centered in the frame, you don't have the level of control you need over many factors, including facial expression or the proper lower or higher camera angle. There are some editing capabilities in the Lumia 635 that can help correct some problems in a selfie image, but not whether the subject is posed to look completely ready for the shutter click. All those Lumia 635 editing tricks can't make up for the lack of a front-facing camera.
There's one speaker on the rear of the Lumia 635 (unlike the stereo speakers in some other smartphones), which worked quite well when laid on a table to play rock and pop music, but not for orchestral sounds, including strings. I got better sound with ear buds plugged into the 3.5mm jack on the top edge.
When I used the Lumia 635 as a phone, my callers sounded a bit like they were coming from inside a box, but the sound was still clear enough to be passably good.
The power button and volume up and down buttons are on the right side, but seemed a little hard to push sometimes. A standard micro-USB charging port is on the bottom edge.
When I first got my review unit, it wouldn't power down properly. I followed the shutdown prompts, but the phone would at first shut down and then immediately start up again. That kind of start-up after powering down happened at least 10 times, both while the phone was plugged in for charging and while unplugged. After a reboot (accomplished by holding down the power button and the lower volume button for several seconds), that problem corrected itself.
Subsequently, at several different times over several days, a somewhat similar problem surfaced: I would close an application on the screen only to see it suddenly re-open. One more try at closing always finally closed it. I haven't seen any similar reports, so these could simply be a problem with the early-release review unit.
Shop Tech Products at Amazon