Hands on: Apple's Mac Pro is the fastest Mac ever
But all that speed doesn't come cheap, so make sure your apps can take advantage of the hardware before buying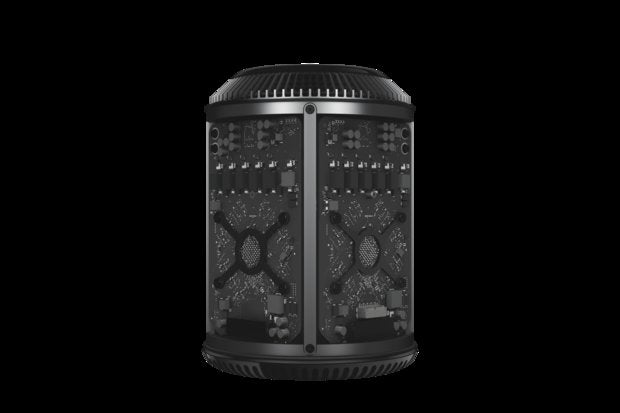 Until mid-2013, the future of Apple's Mac Pro seemed to be in doubt. Despite upgrades to numerous other models, the Mac Pro saw few changes for several years, leaving anxious Mac users in fear that Apple's flagship desktop computer would die entirely and prompting them to launch petitions seeking more information about Apple's plans. That prompted Apple CEO Tim Cook to break from long-standing company tradition and essentially confirm that Apple engineers were indeed working on an update to the Mac Pro.
Confirmation about the new Mac Pro came at the 2013 Worldwide Developers Conference (WWDC), when Apple's senior vice president of worldwide marketing, Phil Schiller, previewed Apple's new Pro desktop, announcing it would ship late in the year and showing off a radical new design in a dramatic movie trailer. Gone was the old aluminum Mac Pro, to be replaced by a sleek, dark gray cylindrical computer. "Can't innovate, my ass," Schiller pointedly said at WWDC, in rebuttal to jibes that Apple innovation was adrift.
The new Mac Pro finally arrived in mid-December, though demand quickly outstripped supply. While a limited number of Mac Pros did indeed ship, many buyers found their orders delayed into April. They're still waiting.
Fortunately, I was able to get my hands on a Mac Pro for a few weeks so I could put it through its paces and find out whether it was worth the wait.
The entry-level Mac Pro
Starting at $2,999, and featuring build-to-order configurations that can reach nearly $10,000, the Mac Pro clearly isn't within the budget of most buyers. Then again, it wasn't designed with the average consumer in mind; it was designed specifically for those who need workstation-class performance.
Just 9.9 in. high, 6.6 in. wide, and weighing 11 lb., the Mac Pro features components intended for moving massive amounts of data while forgoing internal expansion for a much smaller footprint. The entire machine is designed around a unified thermal core: a triangular-shaped heat sink makes up the main structure of the system, channeling heat away from the components and out of the Mac Pro through the use of a single fan near the top of the machine. The fan pulls air from the bottom of the unit, around the components, and out through the top. It's an impressive engineering design.
The entry-level model has a 3.7GHz quad-core Intel Xeon E5 processor, featuring Turbo-Boost technology that can push each core to 3.9GHz when needed. The processor also sports 10MB of L3 cache for improved performance.
If a quad-core Xeon isn't enough power for you, Apple offers built-to-order options including a 3.5GHz six-core chip with 12MB of L3 cache for $500 more; a 3.0GHz eight-core chip with 25MB of L3 cache for $2,000 over the base price; and a 2.7GHz 12-core option with 30MB of L3 cache for $3,500 above the entry-level price. The four-, six- and eight-core Xeon E5s feature Turbo Boost of up to 3.9GHz; the 12-core configuration has a maximum Turbo Boost speed of 3.5GHz per core.
The entry-level machine starts with 12GB of 1866HMz DDR3 ECC memory, but $400 more will get you 32GB of RAM -- and for $1,200 you can bump the total RAM to 64GB.
The Mac Pro also comes with two AMD FirePro D300 GPUs, each with 2GB of GDDR5 VRAM and 1280 stream processors on a 256-bit-wide memory bus that features 160GBps of memory bandwidth. The GPUs can take advantage of technologies built into OS X -- and third-party apps that take advantage of these technologies -- to quickly process data in concert with the CPU through an x16 PCI Express gen 3 connection. (One of the main design decisions Apple engineers focused on when building the Mac Pro was to make sure that bottlenecks weren't an issue; the GPUs would be bottlenecked without that high-speed PCI connection.)
The entry-level card boasts performance that tops out at 2 teraflops. There are, of course, options for better graphics cards. An extra $400 gets you dual AMD FirePro D500 series cards, which feature 3GB of GDDR5 VRAM and 1526 stream processors per card on a 384-bit memory bus with 240GBps memory bandwidth. And for $1,000, you can get dual AMD FirePro D700 cards, each with 6GB of GDDR VRAM, 2048 stream processors, 384-bit memory bus and 264GBps of memory bandwidth. The upgrades max out their performance at 2.2 teraflops and 3.5 teraflops, respectively.
All Mac Pros come with four USB 3.0 connections, six Thunderbolt 2 connections (on three independent controllers, with support for up to six connected devices per port, or 36 devices total); dual gigabit Ethernet; and HDMI 1.4 UltraHD for video and multichannel audio out. The connections are located on the back of the cylinder, and are illuminated by thin white LED tracks when the Mac Pro senses motion via the built-in accelerometer.
Every Mac Pro supports up to three 4K displays and six Thunderbolt-capable displays. (If you're thinking of using it with a 4K monitor, do your research first: Some of these bleeding-edge displays might not work well.) Also included: 802.11ac for wireless networking and Bluetooth 4.0. You'll also find optical/digital audio out/analog audio out via the minijack connection. But there's no SDXDC card slot, even though that's found on every other Mac that Apple sells.
Storage for the Mac Pro starts at 256GB, which may not seem like much, but it's at least PCIe flash-based, meaning it's fast. BlackMagic Disk Speed Tests recorded 978.6 MBps write speeds and 963.1 MBps read speeds on the Mac Pro. That's nearly a gigabyte of read/write speeds per second! Fast as it is, 256GB may not be enough storage for many users; Apple offers a 512GB upgrade option for $400 and up to 1TB of storage for $800. As you can see, upgrades can add up quickly.
There's a "better" version of the Mac Pro that starts at $3,999 if you want more performance and don't want to pick and choose options a la carte. It comes with the 3.5GHz 6-core Xeon E5 chip, 16GB memory, 256GB of PCIe flash storage and dual AMD FirePro D500 GPUs with 3GB of VRAM each. As with the base model, you can add more storage, faster processors and better GPUs.
If all of this sounds like overkill to you, it probably is -- if you're not drooling at the hardware specs, it's safe to say that this machine wasn't designed for you. I suggest you check out Apple's iMac models instead.
My setup
The Mac Pro I tested was an 8-core Xeon E5 model clocked at 3.0GHz, with 32GB of memory, a 512GB SSD and the dual AMD FirePro D700. As configured, this Mac Pro costs $6,799; if you include a Thunderbolt display, you'll spend $7,798.
Since I already had an older generation 27-in. LED display with a DisplayPort connection, I used one of the available Thunderbolt 2 connections to create a dual-monitor setup.
Getting up and running is easy, especially if you are moving from one Mac to another. On first boot, there's a setup assistant that guides you through the process of connecting to a network, Wi-Fi or otherwise, and transferring data from another Mac or Windows PC. You can set up your Apple ID and iCloud information, as well as time zone settings and the option to choose whether or not you want to automatically send Apple diagnostic and usage data.
To make setting up this Mac simpler, there is a screen that offers you the chance to connect to iCloud Keychain, which stores all of your passwords in an encrypted file on Apple's servers. This option theoretically allows you to start using the Mac to access websites, encrypted storage, and anything else that Keychain supports automatically.
Once I logged into the Mac, iCloud began syncing data. Within a moment, I was receiving calendar notifications of upcoming birthdays and events; email accounts loaded and Mail began to build a local cache of emails; and Twitter, Facebook, AIM and Vimeo accounts were automatically configured. Contacts, reminders, notes, Safari bookmarks, as well as my Finder tags and documents stored in iCloud, were all transferred over as well. I then logged into Apple's App store to download my apps.
I've said this before, but it bears repeating: If you're already in the Apple ecosystem, moving from one Mac to another is really easy.
Thoughts on the design and speed
This is completely subjective, but I really love the styling of the Mac Pro, despite the R2D2 and trashcan jokes offered by friends. In fact, there wasn't a single soul who saw it in person who didn't immediately compare the Mac Pro to a trash bin.
It's heavier than it looks, but the anodized aluminum, polished to a shine, is impressive. Built around the aforementioned thermal core, the Mac Pro's components are arranged so that the heat they give off is pushed out the top via a single fan. You can feel the warm air nearly from the moment you turn it on.
In most cases, you can't hear the fan running. In fact, I only heard it once, and that was while running some old iLife software. The Mac Pro is one of the quietest computers I've ever used.
It's also the fastest, which brings me to this point: As fast as the Xeon processors are, the main draw of the Mac Pro is the dual GPU system. In concert with OpenCL and other supported APIs, applications can lean on the more powerful GPUs for general processing. The caveat? Applications need to be written to take advantage of those capabilities; it doesn't happen automatically. But software that's written to take advantage of the processing power of the GPUs yields amazing results.
Apple's Final Cut Pro X has been rewritten with GPU-processing in mind, and many of the video edits done with it happen in real-time. Many filters, actions like speeding up/slowing down video, titles, and video previews happen without waiting for a preview to render. This is a real time-saver for anyone who relies on this software.
There are already a few other apps that support GPU processing, including Motion, Compressor and Pixelmator. But at this point, that list of apps is limited.
Rendering some video
That's not to say that the Mac Pro isn't fast anyway. I ran the test I always do for reviews: Using iMovie '11, v9.0.9 -- software that does not take full advantage of the hardware on any shipping Mac -- I rendered my video project, resulting in a 55-minute h.264 m4v file with a 960-x-540-pixel resolution. The 2013 MacBook Pro rendered this movie in 62 minutes, 27 seconds; a 2013 iMac did it in almost 48 minutes. Even though iMove '11 only used a quarter-to-half of the processing power across half of the available cores at any given point, the Mac Pro still managed to produce the best score thus far, rendering the movie in 37 minutes and 28 seconds. (This was the only time I ever heard the Mac Pro fan; it sounded like someone whispering "shhhhh," not anything like the jet-engine whine of the old Mac Pro/Power Macs.)
I also converted video, shrinking a 12GB file to a 2.5GB 720p h.264 file. That task took a mid-2012 Retina MacBook Pro with a 2.6GHz quad-core Intel i7 processor 38 minutes and 10 seconds to complete. The Mac Pro needed only 16 minutes and 32 seconds.
Hands down, this is the fastest Mac I've ever used. The kicker? This isn't even the most powerful configuration. The other kicker? The Mac Pro is faster when the software is specifically written to take advantage of technologies like OpenCL, which utilize the GPUs as processing cores in concert with the CPUs.
Final thoughts
The real issue, then, becomes this: There's not much you can do on the Mac Pro that you can't do with an iMac. There are obvious pluses to the Mac Pro that will entice certain people, yet be overkill for some. The Mac Pro is faster (sometimes by a little, often by a lot) and it supports six monitors and every internal component is user upgradable. But to get the most out of the Pro, the software you use on a daily basis has to be written to take advantage of this hardware.
So if you're trying to decide between getting a Mac Pro or an iMac, ask yourself whether your software supports the Pro, and whether the speed gains you'll see with the higher-priced hardware is worth the extra cost.
For many, it's clearly a no -- the iMac, a Mac mini or even a MacBook is plenty fast, especially considering the cost. But for those whose daily software can take advantage of the Mac Pro's hardware, who work in time-crunch environments, or who can afford an amazing-looking, brilliantly engineered computer at their desk... Well, the Mac Pro is a great machine.
Do I recommend the Mac Pro? Of course. This is the fastest machine I've ever used and it wasn't even the speediest configuration. It's also the most expensive machine I've ever used and it wasn't even the priciest configuration. The Mac Pro is recommended because of its speed, its design, and the fact that every component can be upgraded down the line (if parts become available). If you want speed, this is it.
Just make sure you justify the cost.
Copyright © 2014 IDG Communications, Inc.
Shop Tech Products at Amazon