18 supercool objects made with 3D printers
3D printers are being used to create some amazing things, many of which were on display at last week's Inside 3D Printing Conference and Expo in San Jose. Here are 18 3D printed items that really stood out.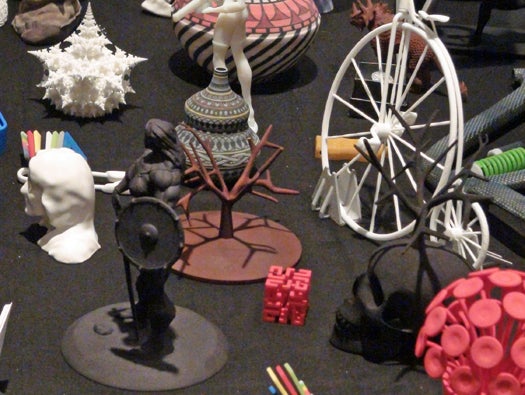 Inside 3D printing
3D printing offers a method to produce prototypes of objects that can be used to create production products or create objects for production use; one of its greatest advantages is removing the need for sophisticated engineering of parts. 
3D printing employs numerous methods and more than 100 materials, but the basic premise is that layers of plastics, paper or metals are laid down on a hard platform or powder base. Computer-aided design (CAD) programs are used to manipulate images in preparation for printing.
Last week's Inside 3D Printing Conference and Expo in San Jose showcased the impressive advances happening with 3D printing, which is used for everything from constructing buildings to constructing lunch. Here are some of the interesting projects that were on display. 
3D printed guitar
Here is a guitar with a body printed by 3D Systems. This is a good example of the intricacy of designs that can be created with 3D printers. Another exhibit at the Inside 3D Printing Conference featured a guitar body filled with working sprockets.
3D printed food
This cake with a topping made of sugar was printed by 3D Systems, which is also developing technology for printing chocolate candies. But 3D printing of food doesn't stop with sweets.
Intellectual Ventures Laboratory in Bellevue, Wash., is one of many research groups developing systems designed to print everything from steak and hot dogs to rice. Equipped with toner-type cartridges that hold pulverized freeze-dried foods, the meal printers would add water and minuscule amounts of healthy ingredients, such as green vegetables, while extruding the freeze-dried material to create edible foodstuffs that look like the meals we eat every day.
3D printed artery
The biomedicine and medical device industries are two of the fastest-growing markets for 3D printing. Stratasys 3D printers created the arterial model shown here. Something similar to this artery would serve as a surgical guide, used by physicians as a diagram or practice part prior to a patient's surgery. While this model can't be implanted in a patient because the body would reject the polymers, biomedical companies are beginning to use 3D printing to create body parts. 
For example, bioprinting uses patients' cells to create replacement arteries and veins. 3D printing is also being used in the development of synthetic genomics, which combines the chemical synthesis of DNA with coding software. The technique holds promise for creating vaccines and other pharmaceutical products.
3D printed ceramic pot
This ceramic pot printed by Sculpteo, a 3D printing service provider, is an example of how a wide range of materials can be used to produce objects with the technology. It also demonstrates that various colors can be added to a piece during the printing process. Customers of Sculpteo and other service providers upload CAD images, and the company does the rest and ships the finished product the next day.
3D printed exoskeleton
Printed by Stratasys, this polymer exoskeleton was used by a young girl as a medical support device. The girl, Emma, was born with birth defects that left her body twisted, and she was unable to use her arms. The exoskeleton weighed far less than a metal version that had first been used to help her regain the use of her arms. As the child gets older, new exoskeletons can be printed to accommodate her growing body.
3D printed cordless drill
This cordless drill prototype printed by Stratasys demonstrates 3D printing's ability to mix materials in an object. The grips on this drill's handle are a soft, rubber-like polymer called TangoBlack Plus, and the white drill body is made of hard VeroWhitePlus. The gray battery and black chuck and clutch are a combination of the two polymers.
3D printed dental mold
This dental mold was printed by Envisiontec using E-Denstone, a highly durable polymer. With 3D printing, it costs less to produce dental molds than it does with the traditional method, in which pliable latex is used to make impressions of teeth that are then sent to a third party that actually produces the mold. The 3D printing method is also twice as fast as the traditional method. 
Invisalign, another dental mold company, uses 3D printing to make 17 million customized, transparent braces every year. 
3D printed engine block
An engine block prototype printed by Stratasys eliminates the need for lathes or traditional tool and die methods of creating new designs. All automobile manufacturers today use 3D printing in design or manufacturing processes. 
3D printed human face mold
This flexible mold of a human face was created by Stratasys using 3D scanning technology and 3D printing. First, a person's face is scanned and the image is uploaded into a CAD system, which is then used to create the printed mold, with no need for a cast or plaster material.
Stratasys displayed multiple face molds to show how the TangoPlus polymer material is being used for everything from facial reconstruction procedures in healthcare to the manufacture of movie props in Hollywood. The material can be hand-painted or spray-painted.
3D printed shoe
This is just one example of 3D in fashion. The high-heel shoe printed by 3D Systems illustrates the intricate designs that are possible in clothing prototypes. 
3D printed smartphone case
These smartphone cases were created by Fathom, a 3D printing and rapid prototyping service provider. The sprockets do move, showing not only the creative design potential of 3D printing, but also the functionality of products built in this way.
3D printed jewelry
Jewelry made with 3D printers is another up-and-coming application of the technology. Not only can jewelry be made of polymers, but as this ring shows, by using selective laser sintering and other metal melting techniques, 3D printing can create finished products.
3D printed chain and sproket
This chain and sprockets were not printed separately. Typically, 3D printed objects with moveable parts will include small support structures (pillars of polymer or metal) that hold movable objects in place during the printing process. Once printing is completed, those support structures can then be cut or blasted away with a water jet. Often, objects are also hand-sanded to provide a smoother surface. 
3D printed skulls
Most of a human skull can be created with 3D printing. Scientists have replaced up to 75% of a patient's skull with a custom-fitted plastic implant made with the technology. A patient's head is first imaged with a 3D scanner, and then details are etched by hand to help cells and bone attach to the implant naturally.
3D printed robotic hand
This hand, which was created using Stratasys technology, demonstrates how 3D printing can be used to make working robotic parts. All of the working joints in this hand mimic the capabilities of an actual human hand. 
3D printed superhero
Solid Concepts used 3D printing to build ZoomR, a six-foot, four-inch superhero mascot for ZoomRP.com. First, an image of the superhero costume was created using a proprietary laser scanner. Then ZoomR was printed in multiple parts and assembled and painted in less than two weeks. ZoomR's outer shell is just 0.030-in. to 0.040-in. thick.
3D printed scooter
3D Systems printed this scooter to demonstrate that it's possible to use the technology to make large working prototypes, not just small objects.
3D printed spiral art
This spiral art is a demonstration of how delicate and intricate designs can be with 3D printing.
Lucas Mearian covers storage, disaster recovery and business continuity, financial services infrastructure and health care IT for Computerworld. Follow Lucas on Twitter at @lucasmearian, or subscribe to Lucas's RSS feed.
Copyright © 2013 IDG Communications, Inc.
Next Up: Check out these related slideshows