Internet of Things
The Internet of Things at home: 14 smart products that could change your life
The Internet of Things is changing simple homes into smart homes, where everything from your lights to your locks can be controlled from your smartphone. Here are products that can help you get started.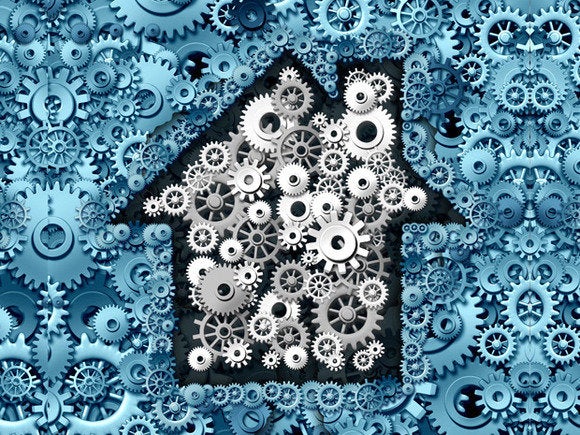 Change your life with the Internet of Things
The Internet of Things may be coming to the office -- but it's already in the home. These 14 products let you monitor and control everything from the thermostat on your wall to the crockpot on the kitchen counter -- right from your smartphone.
Not all systems work together, however, so before you buy, make sure the devices you're considering are compatible with those you already own. 
Note: This slideshow accompanies our story The Internet of Things at home: Why we should pay attention; get more info about these products at The Internet of Things at home: 14 smart products compared
Belkin WeMo
Belkin's WeMo home automation system can monitor and control WeMo-branded smart wall switches and plugs, LED light bulbs, motion sensors and lighting devices, all from your browser or smartphone app. There's no hub required -- everything is managed through Belkin's free cloud service. The WeMo switch is priced at $39.99 direct (Check Amazon price). 
Each WeMo device has its own channel, which you can use to link it to online services such as Gmail to trigger specific actions.
Belkin also plans to support small appliances such as Mr. Coffee smart coffee makers and Crock-Pot slow cookers. And if you're handy with electronics, the WeMo Maker lets you turn any device that has a low-voltage DC switch or sensor into a smart WeMo appliance you can remotely monitor and manage.
Canary
The Canary all-in-one home security system includes an HD video camera and sensors for air quality, motion, sound, temperature and vibration in one unit.
The system uses machine learning to determine what constitutes normal activity in the home and lets you send alerts to the Canary mobile app if something changes. By learning normal patterns for such things as temperature and ambient noise levels when people are home, Canary can reduce the incidence of false alarms, according to the vendor. You can configure alerts to be sent to multiple users, including primary users and backup users who receive alerts when you're away.
Canary, available for preorder, is expected to ship sometime this summer. The system sells for $199 direct (Check Amazon price).
Connected by TCP
[Note: This product is no longer available.]
TCP's home lighting automation system includes a gateway device that plugs into your home router, wireless remote control, mobile app and two smart LED bulbs, and it can support up to 250 lamps and control them individually or as a group. 
The mobile app lets you monitor the status of lighting as well as remotely dim bulbs and turn them on and off. TCP offers one-touch pre-programmed settings ("Away," "Night") and lights can also be programmed to turn off, turn on or have their lighting levels adjusted at specific times of day. TCP currently only monitors and controls smart lighting, and it only supports its own brand of LED lighting products.
A spokesperson said it plans to offer smart plugs, dimmers and other sensors later this year.
Energy Aware Technology Neurio
Neurio embeds a Wi-Fi-enabled sensor inside your home's electrical panel and identifies individual devices and appliances by their "power signatures." It monitors power use, breaks down activity by device, uses machine learning to interpret that activity, and can inform you when something important happens, such as that you left the oven turned on.
It can also send a text message via an included app to alert you when, for example, the oven is preheated -- and it integrates with SmartThings to allow remote control of smart devices. "Neurio is the brain platform" that uses machine learning to understand when you go to bed or leave home, says co-founder Ali Kashani. 
This product is set to ship in December and can be preordered. The Energy Monitor is $179.99 direct (Check Amazon price). 
Grid Connect ConnectSense
Grid Connect, an established player in the industrial sensor market, also offers the ConnectSense home security system, which works with your home Wi-Fi router and ConnectSense-branded motion, light, temperature, humidity, water, door and window sensors to monitor the security status of your home. No hub is required. Some sensors use batteries, so they are ideal for placement in areas such as a basement, where you might need a water sensor but have no outlets nearby.
The sensors communicate using Wi-Fi, which may be easier to connect but requires more power than the protocols commonly used by other home automation systems. ConnectSense can deliver alerts by voice call, text, email or tweet. Both the mobile app and the cloud service on which it relies are free. The wireless security system is sold for $149.99 direct (Check Amazon price). 
Honeywell Total Connect Remote Services
Honeywell Total Connect Remote Services combine professional security monitoring with personal smart home automation, allowing you to monitor and control everything from security cameras and smoke alarms to lighting and window shades. The system can be monitored and controlled from a mobile app or by way of a wall- or desktop-mounted hardware console.
You'll need to have it professionally installed by an authorized Honeywell dealer and it only supports Z-Wave devices, which means it won't work with Honeywell's consumer line of Wi-Fi enabled smart home thermostats (controlled through Honeywell's Total Connect Comfort service).
While Honeywell offers its own line of home security cameras and sensors, it also supports smart devices from third parties, such as Yale locks and Lutron lighting. 
Icontrol Networks Piper
This all-in-one Wi-Fi-enabled smart home security and automation hub includes an integrated 180-degree wide-angle HD camera with two-way audio. Embedded sensors detect motion, temperature, humidity, light and sound. The sound sensor can identify common sounds and notify you remotely that it was a doorbell or a smoke alarm, for example.
The mobile app lets you remotely control the camera and set rules to trigger text, email or phone calls, and view recorded video, which Piper stores in the cloud at no extra charge. The unit can be programmed to sound an internal siren alarm, and Piper can monitor and control third-party on/off switches and open/close sensors and range extenders that support the Z-Wave protocol. The Piper classic sells for $199 direct (Check Amazon price).
Interactive Voice ivee Sleek
[Note: This product is being replaced by the ivee Voice]
ivee Sleek may look like just another alarm clock, but it also functions as a voice-activated interface that lets you talk to the Nest smart home thermostat, the Staples Connected Home and SmartThings smart home monitoring and control systems.
The unit also can stream weather reports and other information from the Internet. Interactive Voice also has announced plans to directly support several brands of smart locks and lighting products as well as the Iris and iControl smart home automation systems. The Sleek is currently sold out on the ivee website, but can be found on Amazon. 
Lowe's Iris
Lowe's Iris smart home monitoring and control system supports a wide range of smart devices and appliances, from home security sensors to a smart sprinkler system that monitors water usage. The home improvement retailer offers a Safe and Secure startup kit ($149) that includes a hub, motion and contact sensors and a keypad; a Comfort and Control kit ($249) that includes a smart thermostat and smart plug; and a Smart Kit ($299) that includes all of the above plus a Wi-Fi range extender.
While the basic service is free, the premium service ($9.99/mo.) lets you create custom rules, use ivee Sleek voice control, video streaming and recording to the cloud, and send alerts to multiple people.
Revolv
[Note: This product is no longer available.]
Revolv wants to be the unifying smart hub for monitoring and controlling every smart device in your home, regardless of brand, type of product or communications protocol used.
The system includes a hub that's capable of supporting seven different radio frequencies (although only three are currently turned on, it says), and an iOS app that supports the most commonly used status and control features for a wide variety of smart devices, including Sonos home theater and hi-fi systems. (Revolv says it will deliver an Android app in Q2.)
The base unit uses Wi-Fi to connect to your home router, so you can place it anywhere, and Revolv says it can push flash updates to the on-board computer to support new devices as they become available. (Update: Revolv is no longer available and is becoming part of the Works With Nest platform. Revolv products will no longer effect May 15, 2016.)
Securifi Almond+
Almond+ is a wireless router/range extender that also serves as a smart home monitoring and control system that supports smart devices and appliances using the Zigbee, Z-Wave and Wi-Fi communications protocols.
In addition to offering a smartphone app and browser-based control interface, the Almond+ includes a touch screen color LCD that functions as a master monitoring and control console, and is designed to be wall mountable. The Almond+ sells for $249.99 direct (Check Amazon price). 
Sen.se Mother
This maternally themed smart home suite includes a "Mother" (the hub) and "Cookies" (wireless sensors) that you attach to objects or people and then program to monitor and analyze movements, temperature and location.
The small, battery-powered sensors can be attached to anything from your front door, to monitor for intrusions, to toothbrushes, to make sure children are brushing regularly. Activity history is tracked online, and can be configured to send alerts. Mother doesn't work with other smart devices, but the reprogrammable, general purpose cookies can be used to add smarts to any device in the home.
The system is available for $149 direct (Check Amazon price). 
SmartThings
The SmartThings smart home automation system includes a communications hub compatible with the popular ZigBee and Z-Wave protocols as well as IP-accessible devices; supports a wide range of smart devices, from smart appliances to Sonos sound systems; and lets you manage everything from your smartphone app.
SmartThings offers kits to get you started that include smart plugs as well as basic sensors you can use to detect presence, motion, orientation, temperature and vibration. SmartThings isn't just a product; it's also an open platform that enables third-party software and smart device vendors to develop hardware and software that connects to the platform. So far, more than 5,000 developers and device makers have signed on, according to the vendor. The SmartThings Home Monitoring Kit has a price tag of $249 direct (Check Amazon price). 
Staples Connected Home
[Note: This product has been discontinued.]
The office supply retailer offers its own Staples-branded home automation system that includes a smart hub and mobile app.
Staples Connect can monitor and control a select list of smart door locks, smoke alarms, thermostats, lighting, window shades and other devices from more than a dozen participating brands. It does not currently support any cloud security cameras or small appliances, however. Staples also offers professional installation services if you don't want to try to get everything connected and working on your own. The Connect Home Starter Kit sells for $199.99 direct (Check Amazon price). 
Next: Check out the features chart The Internet of Things at home: 14 smart products compared.
Copyright © 2014 IDG Communications, Inc.
Next Up: Check out these related slideshows