10 Gmail tools to supercharge your inbox
From dynamic contact tracking to analytics in your inbox, these add-ons and services provide enhanced capabilities for both casual and power Gmail users.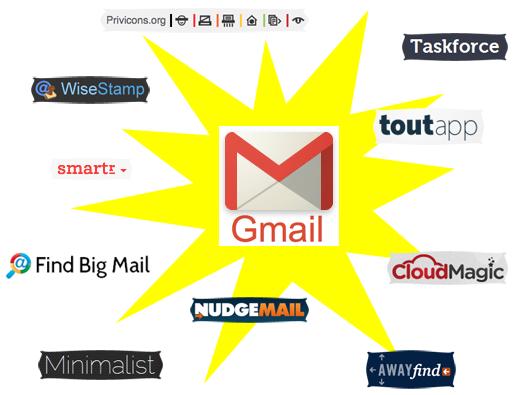 Gear up Gmail
We love Gmail, with its easy-to-use interface and copious amounts of free storage. But that doesn't mean we don't like tinkering with it too. Happily, there are loads of great add-ons and services that take Gmail to the next level. We've gathered 10 of the best.
But first, a word of caution: If you've got highly sensitive info in your Gmail inbox, make sure you know what any third-party service would do with your data -- and you're comfortable with its policies -- before allowing access to your account. And it's always wise to take basic security precautions, including turning on Google's two-factor authentication and never reusing your Google password with another service.
Now, on to the tools!
Taskforce
Taskforce turns your inbox into the ultimate productivity tool. Once the add-on for Chrome, Firefox or Safari is installed in your browser, Taskforce's intuitive interface is integrated with your Gmail inbox. Simply click on the Convert to New Task or Add to Existing Task button to add the email to a to-do list displayed right in your inbox.
Once a task is on your list, you can share it with others, even those who don't have Taskforce -- making this not only an efficient add-on, but a collaborative one. The basic version of Taskforce is free. The Pro version, which costs $5/mo., adds advanced features including the ability to schedule recurring tasks and drag and drop items in your to-do list to prioritize them.
ToutApp
If you run your own business or routinely send emails on your company's behalf, ToutApp's automated email templates and analytics capabilities are a dream come true. Available for Chrome and Firefox, the add-on lets you create email templates for repetitive emails, and you can also auto-attach documents or auto-cc recipients within those templates.
Those emails can then be scheduled to be sent at a specific time, and back-end analytics track in real time who opens your emails. Incoming mail can be filtered by groups of contacts that you set up. It's the perfect way to bring a "set it and forget it" mentality to your inbox.
Paid plans start at $30/mo., but "always-free" and "lite" plans with limited capabilities are also available.
Smartr Inbox
Turn your Gmail inbox into a supercharged rolodex and social network hub with Xobni's free Smartr Inbox add-on, available for Chrome, Firefox and Safari. The tool scans for and compiles a comprehensive list of your Gmail, Facebook, Twitter and LinkedIn contacts.
Your Gmail inbox will feature a sidebar showing your contacts' photos and recent social media updates; when you open an email, the same info is displayed for the sender. Click on a contact to see a complete profile that includes past emails you've exchanged with them. Robust search functions mean you'll never lose a contact again -- and you don't have to leave your inbox to find out what your friends and professional contacts are doing on the Web.
AwayFind
AwayFind sends an alert to your phone when you receive a high-priority email, making obsessive inbox checking a thing of the past. Alerts come in a variety of ways, including through a voice call, text, IM, direct message on Twitter or notification through the AwayFind mobile app.
AwayFind integrates into Gmail via a Chrome or Firefox add-on. It helps you identify which senders are important and for how long (anywhere from a day to a lifetime); it also gives you the tools to flag appointment-related emails so you'll never miss a last-minute schedule change.
The free Basic Plan includes 10 alerts per month. For more robust capabilities, individual plans start at $5/mo., while business plans start at $10/user/mo.
Find Big Mail
Gmail gives you 10GB of storage space to work with, but sometimes even that's not enough. Find Big Mail (free for any @gmail.com address) is here to help. Just enter your email address on the Web service's home page, grant it access to your inbox and watch as it identifies which emails take up the most space. (It works in any Web browser.)
Once the service is finished scanning your inbox, you'll receive a detailed summary email complete with easy-to-read space breakdowns and links to the 20 largest emails hogging your megabytes. The service also lists the emails by size in Gmail's sidebar for later deletion.
CloudMagic
Search tool CloudMagic's name does it a disservice -- it's more like a thunderbolt. The service scours your inbox and other digital accounts blazingly fast, helping you find emails, contacts, documents and other files nearly instantly -- all clearly organized by type. You can specify which services you'd like CloudMagic to scan; while Gmail and Google Apps are the logical choices, the service also supports Twitter accounts, as well as Microsoft Exchange and Office 365 emails, contacts and calendars.
Simply sign up for the free service and search directly from the CloudMagic website, or install the browser add-on for Chrome, Firefox, Safari or Internet Explorer to place a CloudMagic search bar right inside your Gmail inbox.
NudgeMail
How many appointments or tasks have you forgotten this week? What about emails you set aside to deal with later? Enter NudgeMail, a free-during-beta service that lets you mail reminders to appear in your inbox at a specific time in the future.
Simply write or forward an email to nudge@nudgemail.com and include the desired time or date in the subject line (anything from "3 hours" to "Sunday" to "September 12") -- or specify a command in the email address itself (e.g., sunday@nudgemail.com or sept12@nudgemail.com). Not quite ready for a NudgeMail when it arrives? Send a "snooze" email with your desired delay time in the subject line. The reminder will reappear after your designated interval.
Privicons for Gmail
Privicons for Gmail is one secretive add-on. For Gmail users who prize privacy, that's a good thing. Once you've installed the free Chrome add-on, you can click the Add Privicon button in your Gmail taskbar and add color-coded privacy indicators to emails, alerting recipients to their sensitivity.
Self-explanatory options like "Keep private" and "Don't print" provide clear indicators that the email is best kept quiet. "Delete after reading/X days" lets you specify how long a reader should keep the communication. For those worried about going on the record, "Don't attribute" tells a recipient to keep your words anonymous. If you and a recipient have a shared circle of work or personal associates, the "Keep internal" tag encourages them to keep your communication in the family.
WiseStamp
WiseStamp turns your Gmail signature into a one-stop promotional tool. The add-on, available for the Chrome, Firefox and Flock browsers, lets you add icons, links and other information into a slick template. The result is an email signature that can contain everything from clickable social media and website buttons to contact information across a variety of electronic channels.
Display your Skype or Google Talk usernames, a button that links to your Etsy or eBay shop and icons that display your Facebook, Twitter and other social media pages. You can create one signature with a free account; paid plans start at $36/year and provide expanded templates and the option to create more signatures.
Minimalist for Everything
When you need to tap your inner Zen master, Minimalist for Everything will help you find your center. The free Chrome add-on provides dozens of customization options that can strip away everything but the essentials from your Gmail inbox.
That includes sidebar and header advertisements, the entire Gmail chat window and Google+ updates and notifications. With Minimalist for Everything, you choose how to best streamline your inbox and focus on what's important: the email inside of it.
Logan Kugler is a frequent Computerworld contributor. His most recent article was "How to be an IT social media star."
Copyright © 2012 IDG Communications, Inc.
Next Up: Check out these related slideshows