Facebook's new Brand pages
Starbucks, Macy's, the U.S. Army and President Obama's re-election campaign are among those that have upgraded their Facebook presence.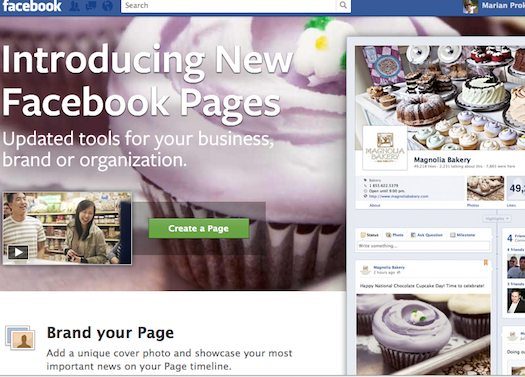 Facebook's new Brand pages
Facebook launched a redesign of its Brand pages this week, and companies, politicians, organizations and music groups have jumped on the opportunity to upgrade their pages. Even the different branches of the U.S. armed forces have added the Timeline. "New Facebook Pages give government agencies, lawmakers, and political campaigns more engaging ways to tell their stories, and we're excited to see branches of the U.S. military leading the way," said Joel Kaplan, vice president of U.S. public policy for Facebook. The following are examples of how some companies and organizations are using the new feature.
Starbucks
Coffee roaster and retailer Starbucks uses its new Timeline to offer up information on job openings, a map that shows local Starbucks cafes, a feature that lets users send their Facebook friends Starbucks eGift cards and videos of bands, Starbucks commercials and interviews.
Kia
Kia Motors, the South Korean auto maker with nearly 2 million likes on its Facebook page, also updated its Brand Page this week.
 
Kia uses the Timeline to offer information on its car models, the Geneva Motor Show and Kia dealerships around the world.
Walmart
Walmart, which has had more than 13 million people "like" its Facebook Page, was one of the first companies to update its Brand Page with the Timeline feature. The Page shows off photos - a lot of them of food and kids - along with a section for recipes and a list of local Walmart stores and their corresponding local ads.
Obama's re-election campaign
President Obama's campaign team was quick to update his Facebook page this week, adding the Timeline feature. There is also a spot on the page for fans to make donations to Obama's campaign, as well as an online store for buying campaign-related T-shirts, buttons and even iPhone covers. Obama's campaign team also is using the Timeline to let visitors scroll back through a history of photos and videos, including his wedding photos, as well as photos from his time in office and on the campaign trail.
Congressman Lou Barletta
Obama isn't the only politician moving quickly to update his or her Brand page.
U.S. Rep. Lou Barletta (R-Penn.) upgraded his Brand pages this week. Barletta uses his Timeline to show photos of himself working in his district and videos of his speeches. He also uses his page to layout the Republicans' jobs plan and to offer a space for users to send messages of thanks to members of the U.S. military.
U.S. Army
The branches of the U.S. military also updated their Brand pages. The U.S. Army page, which has more than 1.2 million likes, provide information on recruitment, the Army's senior leaders and historic photos from World War II and Vietnam. "The Army's rich and dramatic history is a story written by Americans, serving in times of peace and war, creating the strong Army of today," said Army Col. Thomas Collins, deputy chief of Army public affairs, in a statement. "The Army is proud to portray our history via Facebook's new Page feature. We are excited to be one of the first to create this and we hope that more people will want to connect with their Army and contribute their stories as we continue to serve as our Nation's decisive force."
Macy's
When Facebook announced the new look and features for its Brand pages this week, one of the pages that it touted during the press event was Macy's. With nearly 5 million likes, the retailer uses the new Timeline feature to provide information on fashion trends and to promote the store's Million Dollar Makeover event. It also has a tab for Macy's gift registry. The store also has a Twitter Tab, which is a space for fans to follow various Macy's Twitter accounts, such as @askMacys and @MacysRegistry.
Copyright © 2012 IDG Communications, Inc.
Next Up: Check out these related slideshows