9 step CIO survival guide
Will the CIO role fade to black or shine as a catalyst of change? The jury is still out, but this CIO Survival Guide will help you redefine the role at your business.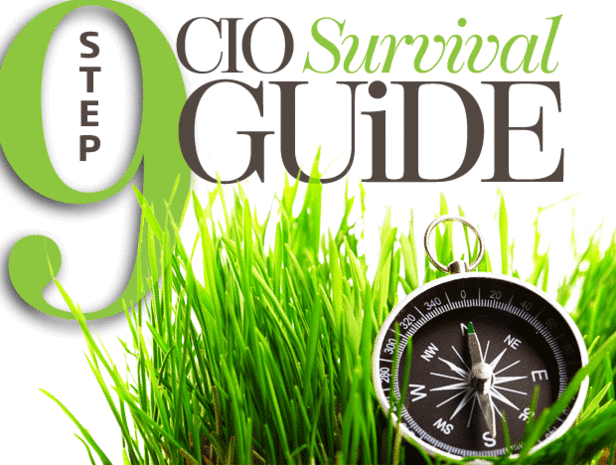 The CIO survival guide
It probably goes without saying that the CIO's role is in a state of flux in most organizations. Cloud, mobile, social, analytics and cyber are all forces driving massive changes in IT. The possibility is there for the CIO role to fade into irrelevance, with IT becoming a utility that's managed as a distributed function across the business.
But the opportunity is also there for the CIO to become the catalyst for transforming the business, a trusted adviser that helps the business navigate the digital business environment. Here's a handy CIO Survival Guide to help you redefine the CIO role at your business.
Don't panic!
Change creates opportunities. The current state of flux means you now have the opportunity to define what the role of CIO means to your organization.
"CIOs are actually in a unique position because their roles are evolving," says Mighael Botha, CTO North America at Software AG. "In finance, things are pretty much the same quarter-to-quarter and year-to-year.But CIOs can go out and say, 'This is what I want this role to mean for my organization.' It's time to strategically look at what you can do to really accelerate the business."
Assess your process landscape
In IT, it's common to talk about the 80/20 barrier: You spend 80 percent of your time and resources keeping the lights on, leaving 20 percent for innovation. And innovation is required if you want to transform the role of the CIO. There's no magic bullet to change that ratio, but you can move the needle in the right direction a little bit at a time.
"The first thing to really look at is your process landscape within IT," says Botha. "You have to really identify the areas that take up the most of your time. Look for ways to streamline and automate internal IT processes. Maybe I can automate some things that would enable me to move the need from 80 to 75."
Identify your staff's talents and form a strike team
Getting the right people in the right positions can help you carve out more time to innovate. Identify the talents of the various people on your staff, make sure you have them in the right positions and ask them how their jobs could be streamlined to spend less time on maintenance and more on innovation. Consider forming an 'IT strike team' focused on research and development.
"If you get like-minded individuals together that you can task with a certain goal, you sometimes get more momentum," Botha says. "They want to enact that change. Positive thinking and positive actions grow additional positive thoughts and ideas. It sparks new interest in getting stuff done more productively."
Stop saying 'no!'
Historically, a big part of the CIO's role has been taking cost out of the business. In many cases, this has led to 'no' as the first response to user requests. Rather than saying 'no,' seek to understand the user's problem and seek a solution. Otherwise, today's users will simply go around you.
"'No' has become the word I hate the most from my staff ," says Noah Broadwater, CTO of Sesame Workshop, the producer of Sesame Street. "Instead, you say: 'I understand, let me look into a solution.' If you say, 'Let me understand what you're trying to solve, and I'll try to help you,' then they don't go around you."
Embrace enable and govern strategy
Removing 'no' from the vocabulary doesn't mean abdicating responsibility for security, but it does mean 'centralize and control' can no longer be your guiding doctrine. Instead, you need to embrace the idea of 'enable and govern.'
"Users just show up with their iPads and smartphones," says Kevin Wright, CIO and senior vice president of Services and Technology at Softchoice. "For IT it's created this situation where if we continue to try to control, centralize and block, we'll fail. If we allow it to all just happen, then data doesn't get governed, security gets breached and complexity increases. We need to enable the business and give them benefits while governing them."
Leave your office
Changing the way IT supports and services the business requires truly understanding the needs of the business. You can't do that from your desk.
"Today, the budget has really moved away from the CIO," Botha says. "The dollars really sit with the business owners. It is important for the CIO to get more in touch with the business, to learn the lingo, to really understand the vertical space you're responsible for. The only way to do it is really to get into the field. A good starting point might be an industry get-together."
Seek the sponsorship of your C-Level peers
You can't transform IT by yourself. You need the sponsorship of your C-level peers. A steering committee with stakeholders from across the business, including other functions like HR and legal, can help. And it's important to help them understand that transforming the IT function is a process; it won't happen overnight.
"I don't think transforming IT into a business partner is something you can accomplish in a year," Botha says. "It's really about establishing a roadmap. IT has historically been a reactive business as opposed to a proactive business. You need to explain the roadmap for their success and get input from them about how IT can become a better business partner. And you need to measure success and report back on that success."
Talk to partners
When getting in touch with the business, don't limit yourself to understanding the challenges of internal stakeholders. Sit down with your company's business customers, partners and suppliers. Learn what's going on in their businesses and how you can help your company become a better business partner.
Prototype rapidly
Plan big, start small, fail fast and scale appropriately. When undertaking new projects, ground them in business objectives and simple metrics, and fight for a single, empowered business owner who can guide the big picture direction and tactical decisions of the project. Pilot as soon as possible and get user feedback to guide the future direction.
"The CIO of the future may look a lot like a venture capitalist—maintaining principles for what makes a solid investment, defining the boundaries upon which deals will be conducted, and driving funding, staffing and strategic support based on often-changing needs and the emerging value of individual initiatives," say Suketu Gandhi, principal of Deloitte Consulting, and Bill Briggs, director of Deloitte Consulting.
Related: IT carrers: Should you be an SVP?
Copyright © 2013 IDG Communications, Inc.
Next Up: Check out these related slideshows