Your car as smartphone: In-car tech at Mobile World Congress
Cars are the new smartphones, one GM official said at Mobile World Congress, and these prototype models show some of the possibilities of in-car infotainment systems that will soon be connected to the Internet via wireless networks.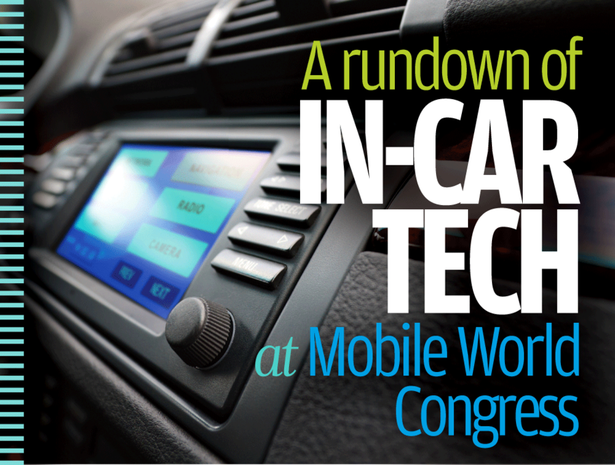 Cars installed with wireless infotainment systems will start shipping in the millions this year. Auto makers arrived in force at Mobile World Congress in Barcelona to show off mostly prototypes of their systems. Many in-car systems were based on QNX, the BlackBerry operating system. While the intent was to lure developers to build more apps for in-car systems, many attendees just wanted to see cool cars.  
GM's Corvette Stingray
In-car infotainment systems were a big draw for crowds at the 2014 Mobile World Congress in Barcelona.  This year, GM brought a bright yellow 2014 Corvette Stingray  with an in-car infortainment system that works wirelessly.  GM predicted millions of its vehicles will have wireless in-car systems installed in the next two years.  Guess which country has the most cars? (Hint: It's not the U.S. Click through the slides for the answer.)
Stingray interior
The Corvette Stingray uses an in-car touch-screen display to find apps, information and entertainment.  GM will have its own AppShop available for use in various car models starting in June.  The Stingray doesn't show its antenna, but GM's in-car systems will be equipped with MIMO antennas that can work over GPS, cellular, Wi-Fi and Bluetooth.  The car contains a controller smaller than a shoebox to collect wireless data and compare it to in-car sensor readings and to present apps and other information on car displays.
Smartwatch car app
A three-person GM development team used a Samsung Gear smartwatch to build a working prototype app to lock, unlock and start the Stingray on the show floor.  While the original Gear smartwatch ran on Android, the GM team worked with Samsung to develop a firmware update of the watch to the Tizen OS on HTML5 that made the development process simpler. Samsung announced at MWC that both its Galaxy Gear 2 and Gear 2 Neo smartwatches will run on Tizen.
Ford Focus
Ford also showed off an in-car system featuring a touch-screen display in a blue 2014 Focus.  What caught the attention of visitors on the showfloor was not Ford's in-car tech, but whether Ford would really be dumping the Windows-based Sync platform in favor of QNX, an OS already used in millions of other cars that is also the basis of the BlackBerry smartphone OS. Ford didn't comment.
Mercedes Benz
The hottest car at MWC was a Mercedes Benz muscle car with black matte paint and a BlackBerry QNX-based concept infotainment system. QNX, a subsidiary of BlackBerry,  put the Mercedes CLA45 AME Turbo on display in the Qualcomm booth. Qualcomm builds chips with wireless radios inside for all kinds of networks. A QNX rep said the Mercedes was originally painted a "soccer mom gray" so a crew was hired to beef it up with the matte finish, which uses a vinyl base. 
Mercedes medallion
The Mercedes on display at Qualcomm's MWC booth had a port on the front bumper inside the medallion that some speculated might be a radar sensor for preventing collisions or that could be used in a city-wide smart highway grid. Alas, it was just a camera port, although it clearly could be converted into something else.
Mercedes dashboard
The Mercedes an interactive display that stretched well into the reach of the front-seat passenger.  Even so, car makers seem to be trying to restrict most in-car interactions to the rear seat where videos and games can be played and the driver isn't distracted.  Cars are becoming the new smartphones and tablets, one GM official said, a concept that AT&T and other wireless carriers are hoping to monetize.
Opel Insignia
Mobile World Congress became an opportunity for car makers to meet would-be in-car infotainment app developers. GM used this fuel-efficient white Opel Insignia, not sold in the U.S., to lure developers to its site at developer.gm.com.
So far, 4,000 developers have signed up with GM, which claims that anyone with HTML and Java script skills can write an in-car app to present a car's functions or other apps on a car's dashboard display, or even to a passenger's Google Glass, smartphone or smartwatch. GM's in-car OS is proprietary and based on QNX. GM said customers in China are eager to buy cars with in-car infotainment systems. Yes, you probably guessed, China is the world's largest car market.
Copyright © 2014 IDG Communications, Inc.
Next Up: Check out these related slideshows