Hacking the Apple II at KansasFest
The annual KansasFest convention for Apple II enthusiasts challenges attendees to push the machine in the HackFest competition.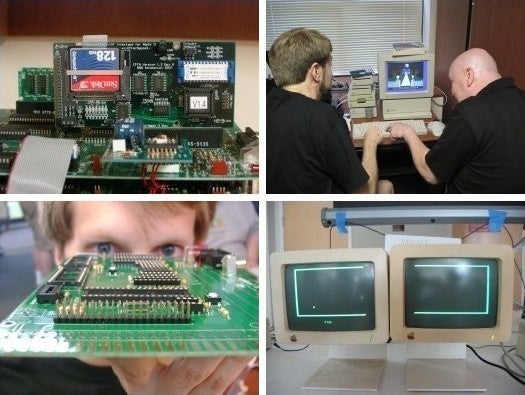 The history of HackFest
The Apple II computer celebrated its 35th birthday this year at KansasFest, an annual convention dedicated to Apple Computer Inc.'s first product. Held this year July 17-22 in Kansas City, Mo., KansasFest is host to HackFest, a contest in which retrocomputing enthusiasts are challenged to make the machine do things it was never designed to do.
All programs must be written start-to-finish while at KansasFest and must run on a real Apple II. Judges value creativity, effort and "coolness" over function and utility. Here is a sample of HackFest entries over the years.
CurtaSim
Jeremy Rand arrived at his first KansasFest in 2012 with an unusual gadget: a Curta, a hand-cranked mechanical calculator dating back to 1948. Figuring that such a rare and valuable device should not be lost to time, Rand created a Curta simulator for the Apple II, allowing retrocomputing enthusiasts to "crank out the answer." The math-intensive program, which was written in C and employs high-res graphics, audio and the joystick, placed first in this year's HackFest.
Magic Gosub
Ivan Drucker's first HackFest entry built on a freeware program he's previously released: Slammer, which allows assembly code to be effortlessly inserted into an Applesoft BASIC program. This particular implementation of Slammer, dubbed Magic Gosub, lets programmers refer to specific blocks of BASIC code by labels instead of by line numbers. Magic Gosub came in third place in HackFest 2012.
Lissajous curve plotter
This summer, Peter Neubauer created a Lissajous curve plotter -- "a parametric mathematical function that produces fascinating curves of which circles, ellipses, and parabolas are special cases," writes Neubauer. "These curves show up in mathematics, nature, popular culture, and even jewelry."
The curve's parameters are determined by mouse input, and the program is written in BASIC. With stiff competition from six other entries in HackFest 2012, Neubauer did not place in the top four.
Squares
The function of this program by Daniel Kruszyna, author of the award-winning Waterline demo, isn't obvious, but the genius lies beneath. Squares is an assembly-language program that compiles to only 128 bytes, producing a psychedelic screensaver. Kruszyna won first place in HackFest 2011 for squeezing this program into so small a space.
Logo DoubleTalk
For the 2011 competition, Peter Neubauer combined the classic programming language Logo with the DoubleTalk speech synthesizer hardware. The result, which earned second place, is this self-running demo in which the Logo turtle draws familiar shapes while the card speaks the text appearing on the screen. The audio was not captured for this video.
Wizardry crack
For his HackFest 2010 winning entry, Martin Haye removed the copy protection from the 8-bit role-playing game Wizardry, published by Sir-Tech Software Inc. in 1981. Once the game was deprotected, Haye was able to make working copies of the original floppy disk, defeating an early version of DRM.
KFest Trivia
At t KansasFest 2010, Peter Neubauer made his first foray into programming with Complete Pascal 2.0 to create this KansasFest trivia game. To give the questions context, he used Pegasoft Draw Tools 3.1 to convert a modern digital camera's photos into images the Apple II's limited graphical capabilities could display. Taking Neubauer's lack of expertise with Complete Pascal into account, the judges awarded him second place for the game.
Conway's Game of Life
Peter Neubauer won his first HackFest in 2009 with this Macrosoft-based implementation of Conway's Game of Life. The user activates pixels to determine a starting state, which the program then uses to run a simulation of cellular interaction and decay.
VROOM
Martin Haye placed second in HackFest 2009 with VROOM, a keyboard-based paint program. It supports low-resolution plotting in 16 colors, allows inserting and deleting columns and rows, and saving one's work to disk. The Applesoft BASIC program derives its name from this sample image, depicting the Nintendo game Excitebike.
NadaPong
Michael J. Mahon -- a former software engineer, lab manager and principal architect at companies such as Burroughs Corporation and Hewlett-Packard -- created a custom Apple II network using adapters and software he calls NadaNet. In this self-running demo dubbed NadaPong, two networked Apple II computers bounce a ball between each other. NadaPong came in first place at HackFest 2007.
Ken Gagne is senior associate online editor at Computerworld, where he writes about social media, retrocomputing and Apple. He writes the blog Apple II Bits and is on the planning committee for KansasFest.
Copyright © 2012 IDG Communications, Inc.
Next Up: Check out these related slideshows