8 new tech job titles -- grab 'em before they're hot
With change the only constant in the IT jobs market these days, savvy tech pros are keeping their eye on these emerging specialties.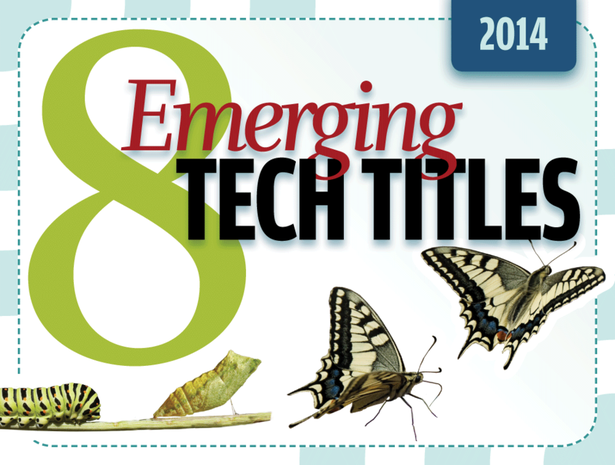 Your future job title may be on this list
IT pros face a constant balancing act between jobs that are core to IT's mission, like tech support specialist or QA technician, and those that ride the wave of change overtaking the industry, like dataviz expert, UX guru or chief digital officer.
With an eye toward your future, Computerworld polled tech industry watchers and analysts to get their take on the up-and-coming jobs that should be on your radar. Who knows? The job with the most potential might be one you haven't heard of yet.
Tapping AR to enhance business processes
Not too long ago, augmented reality seemed the stuff of science fiction. Now it's moving into the enterprise. Gartner analyst Tuong Huy Nguyen notes that while business adoption is still low, AR technologies are mature enough for organizations to use for internal purposes such as enhancing business processes and training employees.
As they move to develop such tools, companies are beginning to look for IT pros experienced in AR, says Thomas Cirri, director of recruitment for tech staffing agency Mondo. His firm saw its first request for an AR-skilled professional just last year, he reports, but demand is growing, particularly from ad agencies, broadcast companies, publishers and educational firms.
Making sense of data from 30 billion devices
The Internet of Things, or IoT, is gaining momentum. This vast network of sensors and other intelligent devices connects objects (and animals and people) to each other -- and to enterprise infrastructure. ABI Research predicts that there will be more than 30 billion wirelessly connected devices by 2020, up from an estimated 10 billion in 2013.
Companies need technologists who can design, maintain and advance tools that harness the IoT's data-gathering potential, says Chris Curran, chief technologist for PwC's US Advisory practice. Hardware, software and analytics skills all come into play as these professionals figure out how to collect and analyze voluminous amounts of raw data from the devices, turning the results into useful business intelligence.
Aligning technology with marketing strategy
Seasoned marketing professionals have seen an explosion in the number of software products designed for the marketing department, says Mayer G. Becker, director of global marketing operations at technology services firm NCR. Companies need someone to make sense of all those choices, he adds.
Enter the marketing technologist, someone whose job is to ensure that the technology aligns with the marketing department's strategy. Big companies have already caught on: Gartner reported in January that 81% of organizations with $500 million or more in annual revenue now have the equivalent of a chief marketing technologist, up from 70% last year.
Leveraging IT experience to become truly agile
According to IDC analyst Melinda Ballou, "There's very significant interest in agile" software development, a methodology that favors collaborative design with frequent check-ins and delivery dates. Her firm's research indicates that 60% to 70% of organizations doing software development (including enterprise IT departments) are dabbling in agile, with 30% to 35% having a disciplined agile practice. And that, she adds, is creating a demand for those skilled in agile development techniques.
Most companies have yet to fully implement the practice, notes PwC's Curran, so they're particularly interested in hiring experienced agile program leaders and project managers to move their companies forward.
Answering the need for expertise in emerging languages
Change is constant in the world of development. As new programming languages and platforms rise in popularity, so do new titles based on those tools. Two of today's up-and-coming titles are Node.js developer and Scala developer, according to Pete Kazanjy, founder of recruiting search engine TalentBin.
"What Node does is extend your ability to use JavaScript to the server side, so you don't have to go back and forth from JavaScript to another language," explains Doug Schade, principal consultant with recruiter WinterWyman Technology Search. And some companies are replacing Java with Scala -- for "scalable language" -- because they find it makes functional programming easier, he adds.
Job site Indeed.com shows a spike in demand for both positions starting in 2011, with a sharp climb in 2013.
Perfecting user experience, whatever the device
Responsive Web design is based on the idea that websites should be easy to view and navigate across all devices, from desktops to tablets to smartphones, with a minimum of resizing, scrolling and panning. As responsive design gains traction, companies are looking for tech pros well-versed in this approach, says Taso Du Val, founder of Toptal, a service that connects developers with employers.
"This is a very new trend," he says, noting that only a small fraction of websites are fully responsive right now. "But in the next year we're going to see more and more movement that direction."
Tapping the trend toward collaborative development
The DevOps philosophy holds that IT organizations can develop better applications if tech pros with operations expertise are actively involved in their development. "You need to think while you build the software about how it will be operationally; it's an end-to-end value proposition," IDC's Ballou explains.
The approach is becoming more popular as enterprise environments grow more complex and failures become more expensive, she adds. As a result, organizations are looking for workers who are skilled in both software development and systems engineering.
Demand is clearly on the rise: DevOps job listings on Indeed.com increased fourfold from January 2012 to the present day, and the jobs site Dice reported nearly 500 DevOps listings each day last September, up from 200 daily the prior fall.
Seeking to make sense of big data, and more
As companies seek to gain insight from the ever-expanding reams of data they collect, they're snapping up experts in business intelligence and analytics. Mid-level positions such as data scientist have been around for years, but nowadays new positions are popping up at the top, including chief analytics officer, chief data officer and chief science officer, according to the Analytics Trends 2014 report (PDF) from professional services firm Deloitte.
Mondo's Cirri says he sees plenty of organizations starting to hire tech-savvy leaders to fill these new roles -- a trend that Deloitte notes might fade as analytics becomes more core to IT and marketing. Still, the report adds, right now it's important for companies to create leadership positions to oversee big data management.
Copyright © 2014 IDG Communications, Inc.
Next Up: Check out these related slideshows