iPhone 5: The details in pictures
Apple iPhone 5 is longer and thinner, more powerful, and boasts LTE. Get a close-up look at the new hardware and features.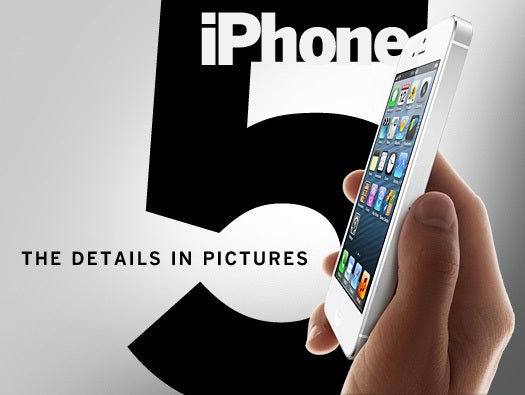 Longer but not wider
This is the first feature that strikes you: the longer body. But Apple keeps the iPhone 5 both a pocketable and (for most) a one-handed device: 0.30 inches thick, 2.31 inches wide and 4.87 inches tall, weighing 3.95 ounces. Compared to iPhone 4S: 0.37 inches wide, 4.5 inches tall, 2.31 inches wide, weighing 4.9 ounces. Apple says the new phone also is 12% smaller volumetrically.
The phone is in two colors: black with slate back, and white with silver back.
Apple embraces windows
Not those Windows. Instead, the flat aluminum metal back has black glass windows at top and bottom for unimpeded wireless transmissions.
A new angle on the edge
One obvious style change is the chamfered edge of the metal sideband, creating a chiseled look that doesn't seem sharp or "edgey."
The difference a half-inch makes, part 1
For the first time, the iPhone offers a larger screen: a 4-inch diagonal display, with 640-by-1136-pixel resolution, preserving the 326-pixels-per-inch density of Apple's crisp Retina display. (iPhone 4S: 3.5-inch diagonal, 640 x 960 pixels).
The new display (and the phone, as a result) is also thinner, thanks to a new technology that smushes the touch sensors into the display itself instead of keeping them in a separate layer.
The difference a half-inch makes, part 2
One obvious difference with the taller display: The home screen adds a fifth row of app icons. Existing apps run fine: The phone automatically centers them, adding black bars around them as needed.
The difference a half-inch makes, part 3
With the taller screen, and 18% more pixels, there's simply "more app" on display, for maps, Web browsing or playing games.
The shrinking dock connector
The iPhone 5 replaces the wide 32-pin dock connector that's always graced the bottom of the iPhone with a much smaller 8-pin connector, dubbed Lightning. It creates more room along the bottom edge, and inside. And don't worry about being able to use your existing peripherals ...
Apple has an adapter to bridge the gap between the iPhone 5's Lightning dock and the 32-pin peripherals you treasure.
The shrinking CPU
Apple stayed with its dual-core architecture, crafting the new A6 CPU in a smaller silicon process: 32-nanometers instead of 45. The result: a chip that's 22% smaller and more power efficient, while doubling both app performance and graphics performance. When teardowns of the new phone start, observers are expecting see a doubling of RAM and possibly a faster clock speed for the A6.
OMG LTE
As expected, the new iPhone for the first time supports LTE cellular connectivity, for Verizon and AT&T, and Sprint's now-sprouting network. Apple waited for a single-chip, single-radio implementation (expected to be from Qualcomm, its traditional cellular supplier), to minimize components and costs, and optimize battery efficiency. Theoretical peak throughput for LTE is 100Mbps. You can still connect to 3G, which you'll have to do for voice anyway, with the iPhone's support for a range of 3G standards.
Battery life
Despite the more powerful CPU, LTE and bigger screen, iPhone 5 actually improves battery life compared to the 4S model, according to Apple. 3G talktime is the same for the iPhone 5 and 4S at 8 hours; standby time for the new phone is 225 hours, versus 200 for 4S. Internet use on the iPhone 5 is 8 hours on 3G and on LTE, and 10 hours on Wi-Fi. For the iPhone 4S: 6 hours on 3G, 9 on Wi-Fi.
Camera improvements
The new iPhone retains the 8-megapixel iSight camera and its f/2.4 aperture. But it offers better low-light performance, 40% faster photo capture, more precise lens alignment and a highly durable sapphire lens cover. Overall, the unit is 25% smaller. Apple also improved the camera's image stabilization, to minimize blurring.
The front-facing camera now supports 720p high definition for higher quality Facetime video chats.
Faster image processing
Thanks to other changes in the new CPU, photo and video processing is faster. The A6 has a new image signal processor (ISP) built-in, with a feature called spatial noise reduction and a special filter that essentially guides the ISP.
iOS 6
iOS 6 will run on the new iPhone (as well as on the iPhone 3GS, 4, 4S, iPad 2, new iPad and new iPods). It was unveiled, with over 200 changes and improvements, in June at Apple's Worldwide Developer Conference.
Some high points: integrated Facebook (shown at right); Passbook (middle), with new partners to store movie tickets, airline boarding passes, store loyalty cards, etc.; shared photo streams (left), which shares photos you add to the stream automatically; Apple's maps app, with 3D turn-by-turn navigation, and Flyover, which lets you "fly over" scenes in 3D; full-screen mode for Safari; and the new VIPs feature in the native Mail app, which lets you mark some mailers as "VIPs" and have their messages collected in one place.
The voice of iPhone
For the new iPhone, Apple has tweaked Siri, giving it background in sports and movies, and the ability to book restaurant reservations for you. Tell it to "Find a sushi restaurant for 4 around 8 p.m." Tap to make a reservation it presents, and the phone takes you to Open Table.
Wi-Five
One seemingly slight change: The iPhone 5 is the first iPhone to let you use the 5GHz band to connect to a Wi-Fi network. That's a much less crowded frequency than 2.4GHz and offers more channels from which to choose. Apple says the phone's 802.11n Wi-Fi data is 150Mbps for the single-stream 11n chip.
Price and availability
iPhone 5 models will have the same price as their iPhone 4S cousins last year: with a two-year cellular contract, $199 for 16GB, $299 for 32GB, and $399 for 64GB. The iPhone 4S will sell now for $99 available only in a 16GB model. iPhone 4, with 8GB, will be free with a two-year contract.
Pre-orders begin this week, Friday, Sept. 14, and the iPhone 5 will be released a week later, on Sept. 21 on AT&T Wireless, Verizon Wireless and Sprint in the U.S. Notably, Apple has greatly accelerated its iPhone rollouts in overseas markets: That should lead to a huge surge in sales for the final quarter of 2012.
Copyright © 2012 IDG Communications, Inc.
Next Up: Check out these related slideshows