Apple's iOS 6 Maps mess in pictures
Here's a look at some of the problematic 3D views of prominent locales you'll get in the Maps app in iOS 6. Apple CEO Tim Cook apologized for the troublesome app on Friday and suggested that users try alternatives until Apple can improve it.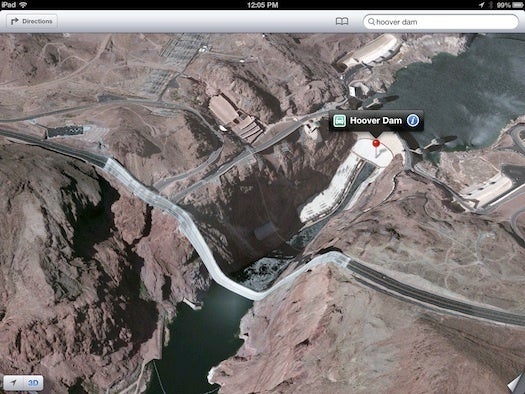 The Hoover Dam bypass bridge, Boulder City, Nev.
In this view, the Hoover Dam is shown in the upper right and the Hoover Dam bypass bridge appears to be melting into the Colorado River.
The Eiffel Tower, Paris
This 3D view shows the famous Eiffel Tower apparently folded over on itself.
The London Eye, London
The famous London Eye ferris wheel on the Thames River is missing all of its spokes (but at least it's not melting into the river or folded in over itself).
The George Washington Bridge, New York City
The GWB, as it's known locally, as you've never seen it before. At least Maps got the shadow of the bridge right.
The U.S. Capitol Building, Washington, D.C.
No, this isn't what political gridlock looks like. It's a 3D view of the Capitol Building, apparently without the 3D.
The Space Needle, Seattle, Wash.
The Space Needle emerges relatively unscathed in this 3D view, but some of the buildings around it are Dali-esque.
The Golden Gate Bridge, San Francisco
The Golden Gate Bridge looks reasonably intact, as long as you don't focus too closely on the actual lanes of travel, where some disturbing gaps show up.
The Empire State Building, New York City
Of course, not all famous landmarks are messed up in 3D view. The Empire State Building looks like itself.
Copyright © 2012 IDG Communications, Inc.
Next Up: Check out these related slideshows