8 CIO moms share tales and tips from the IT trenches
Top IT leaders reflect on how parenting has changed their management style. (Hint: Don't sweat the small stuff.)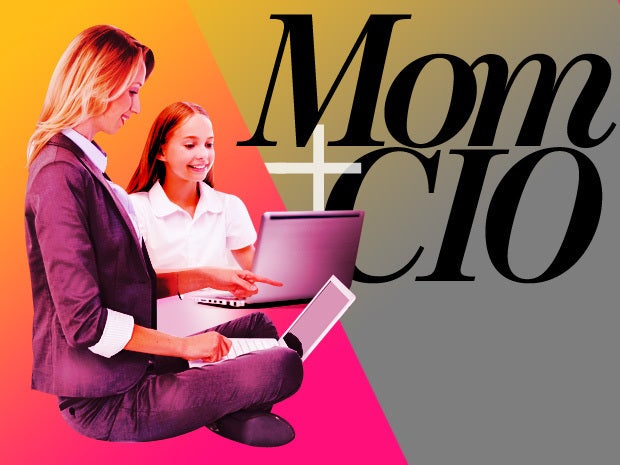 Flexibility is key
Multitasking, conflict resolution, crisis management. They're skills used every day by CIOs in the office -- and equally by parents on the homefront.
To celebrate Mother's Day, Computerworld sought out eight mothers who hold the title of CIO. We asked them how being a mother has influenced their management style, how they juggle parenthood with tech leadership and what advice they'd give other parents and would-be parents rising through the ranks of IT.
Their collective message? Combining motherhood and tech leadership is not only possible, it's wonderful for gaining perspective on both roles -- so long as you're prepared to take a few conference calls from the top of a ski lift.
Cora Carmody, Jacobs Engineering
Management style: Being a mom, you practice patience, manage interpersonal conflict and are on top of time management and logistics -- all great leadership skills.
Tales from the trenches: For me, coming back to work still nursing took courage and confidence. During the first Gulf War, my husband was called up when my youngest son was about four months old. So I was a working, nursing single mom. After that, you look at stress at work from a whole different vantage point.
Advice: Believe that you can do it. If you wait until the absolute perfect time, you may miss the opportunity to have the perfect job -- a mother who is also a CIO.
Susan Doniz, Aimia
Management style: Parenthood has taught me to be better at delegating and being clear on what I need. I'm more focused on my work and more sensitive to others' scheduling issues.
Tales from the trenches: Recently, four other women and I had an unplanned conference call on the weekend. Every so often you would hear screaming children in the background. No one asked you to put the phone on mute; we all knew what was happening. But what we got done in that weekend was incredible.
Advice: Women tend to say yes to too many things. Focus on three things and knock them out of the park; that's better than focusing on 15 and doing a mediocre job.
Karen Tegan Padir, Progress
Management style: Being a mother has taught me how to focus on the outcomes that are best for everyone and help people achieve their goals in the context of what's good for the company.  
Tales from the trenches: Working for a global company, the workday is never 9 - 5. Calls interrupt family meals, soccer games, vacations. I've even had to stop at the top of a ski mountain while my family took a few runs because I was working to close a deal.
Advice: Work as much as you can before you have children to establish your credibility. Take time to do things for yourself, such as getting your master's degree or taking a more demanding or risky job.
Cynthia Nustad, HMS
Management style: My ability to empathize has improved since having children. When circumstances are out of people's control, I'm more focused on end goals than hours worked. Flexibility and compassion are empowering to others, so I've seen performance improve on my teams. 



Tales from the trenches: One of our daughters had soccer practice in the middle of a multi-hour conference call. I took the call on my cell with headphones, and I was able to get in some exercise by walking around the track.
Advice: There are times when work, family, motherhood, friendship and personal time all seem to collide. Don't beat yourself up if you aren't able to find that perfect balance that we all strive for.
Marian Cook, CAP
Management style: Parenthood has improved my negotiation skills. Studies show that women have difficulty negotiating their salaries. As a mother, it helps me to ask because I'm doing it for my children. It's empowering for me to frame it that way.
Tales from the trenches: I worked for a month in Shanghai -- with my children along! It was a parenting goal of mine to globalize my children. I arranged to work mornings only while they did their schoolwork, then afternoons and evenings we explored.
Advice: Find a practical way to make money at what you excel at. Build an unbeatable portfolio of skills and people who believe in you. With that credibility and value proposition, managing motherhood can happen.
Myra Davis, Texas Children's Hospital
Management style: Having kids, you just have to go with the flow -- translating that to work means every day won't be the same. I learned to adjust my demeanor and style to the situation at hand.
Tales from the trenches: I remember times when I forgot to sign a homework assignment or was late for pickup. If you drop the ball, acknowledge it and pick it up. These incidents solve themselves, even if the outcome doesn't meet my type A personality.
Advice: I take raising kids and maintaining my career one day at a time. It is a blessing and I am human. As a parent juggling leadership you have to continue developing yourself while you are continuing to be the parent you want to be. 
Ursula Soritsch-Renier, Sulzer
Management style: When you are juggling career and family, you need to have a laser-sharp focus, so my management style is open and direct. I don't beat around the bush, I set clear targets and make hard work fun.
Tales from the trenches: Don't try to run a board meeting with your kid next to you! He doesn't have an off button where you can make him draw for an hour. Team up with others, ask friends or neighbors, whatever it takes.
Advice: IT is where flexibility is happening. Since we are always connected, it sometimes doesn't matter where we work. Children are robust -- as long as we love them enough and let them know it, they'll survive.
Cindy Elkins, Genentech
Management style: Being a parent has given me a long-term view. I've learned to think much more about my investment in future generations and how I can help them navigate their journeys.  
Tales from the trenches: I was recently elected to a board. I want my daughters to have access to everything -- boards, being a CEO, starting a company. I am doing whatever I can do give women more access to these opportunities.
Advice: Find or create a company where you can bring your whole self every day, so there's no divide between your "work self" and "home self."
This article, 8 CIO moms share tales and tips from the IT trenches, was originally published at Computerworld.com.
Copyright © 2014 IDG Communications, Inc.
Next Up: Check out these related slideshows