6 tools to tame digital distraction
It's no secret that social media and other online sites are concentration killers. These 6 tools help you keep your focus in a noisy digital world.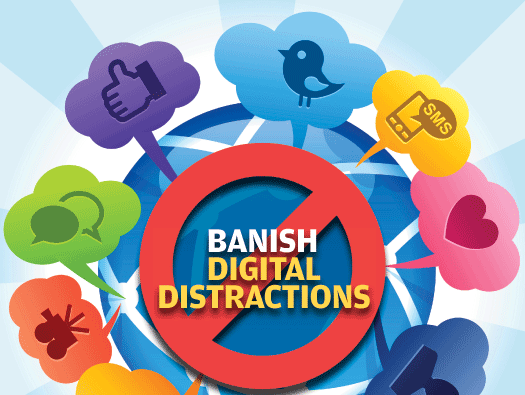 With social media adding more destinations daily (Pinterest, anyone?) and news outlets refreshing by the minute rather than the hour, the ability to focus is becoming an endangered talent in corporate America.
Digital distractions not only torpedo your productivity, they can even impair your mental faculties, according to a 2009 Stanford University study that found that "media multitaskers" fared poorly at paying attention, controlling their memory and switching effectively from task to task.
It doesn't have to be that way. We found six tools, arranged in order of most- to least-restrictive, to help you banish distractions and restore discipline to your workday. We've even included a bonus tool just for you procrastinators.
Freedom
(Windows and Mac; free trial, then $10 to download)
Freedom takes an all-or-nothing approach to battling online distractions -- it disables your computer's networking capabilities, blocking the connected world for as little as 15 minutes or as long as 8 hours.
The tool is not entirely heartless -- an option at startup lets you remain locally connected, handy if you still need access to your company's LAN, for example.
Once running, the program doesn't remind you that it's there -- the small Freedom button remains unresponsive when clicked. That's because, once you fire up Freedom, it cannot be disabled -- save by rebooting your entire system. Drastic, perhaps, but effective, or so say a handful of famous authors. 
StayFocusd
(Systems running Google Chrome browser; free)
When it comes to productivity, you are often your own worst enemy. The StayFocusd Chrome add-on can help. It lets you set a daily time limit for browsing time-wasting websites of your choosing; once your allotted time is up, the sites are blocked until the following day. You may be able to slip Facebook sessions past your boss, but StayFocusd's all-seeing eye can be disabled only by uninstalling the add-on, making this a nearly foolproof way to remain on task.
Customization hounds will find plenty to love here, too. You can configure StayFocusd to operate only during certain hours on certain days, and/or to block subdomains, individual pages and even certain types of content, such as Flash games.
RescueTime
(Web-based; RescueTime Lite, free; RescueTime Pro, $6 per month)
Just what do you do all day? RescueTime can tell you. This "personal analytics service" tracks how much time you spend on a given website or using an application -- anything actively being used on your computer.
RescueTime then rates your efficiency and attention trends to paint a detailed picture of your productivity (or lack thereof). Helpful charts zero in on productivity bottlenecks and identify both peak productive times and the hours during which distractions take precedence over actual work.
RescueTime Pro ($6 per month) lets you choose which distracting websites to block, helps you create time-saving goals and even tracks the time you spend on offline tasks.
Anti-Social
(Macs running OS X 10.4 or later; free trial then $15 to download)
Mac users with social media addictions will appreciate Anti-Social, which blocks social sites for up to eight hours but still leaves you free to access other parts of the Web.
By default, Anti-Social cuts your Mac off from a robust sampling of social media Big Boys, including Twitter, Facebook and LinkedIn, as well as other notorious distractors like Hulu, Flickr, StumbleUpon and even Match.com.
You can specify other websites you want to block, and an option lets you keep access to email open. As with the more draconian Freedom, the only way to access sites blocked by Anti-Social before time is up is to reboot.
LeechBlock
(Systems running Mozilla Firefox browser; free)
The LeechBlock add-on for Firefox provides protection from sites that aim to get you off track, while offering more customizability than some of its site-blocking counterparts.
LeechBlock lets you specify which websites you want blocked and when. You can block sites for set periods of time (such as between 9 a.m. and 5 p.m. each day) or for specific time intervals (such as the first 20 minutes of every hour) or both.
You can also assign distracting websites to one of up to six different sets and apply different time limits and blocking features to each. A set of social media sites, for example, could be blocked for longer than a set of news sites.
BringFocus
(Windows-based systems; free)
Unlike other distraction busters, BringFocus doesn't block you from certain websites or shut down your Internet connection. Instead, the Windows-compatible program lets you set an on-screen timer for working on a single task, curtailing the compulsion to multitask or give in to distraction.
The timer settings are built for small bursts of work. The default options give you the ability to block off time in intervals between three and 15 minutes. You enter a description of the task you want to work on in a simple text box, or choose from a drop-down menu. The timer then displays the task description and the countdown timer in a separate window on your desktop.
And that's it. Sometimes, simplicity is a virtue. 
Bonus tool: The Procrastinator's Clock
(Windows, Mac and Web-based; free)
This little tool doesn't block distracting websites, but it does make you believe you have less time to waste on them. The Procrastinator's Clock, which runs in the background on your machine, is guaranteed to be at least 15 minutes fast -- ensuring you approach deadlines and appointments in a timely fashion.
Here's the real catch: While the clock is guaranteed to be at least 15 minutes fast, it changes speeds secretly, so you never know just how far ahead it really is. It makes procrastination and a lack of punctuality terrifying, and fear is the best motivator out there.
Copyright © 2012 IDG Communications, Inc.
Next Up: Check out these related slideshows