Computerworld's 2012 holiday gift guide: In pictures
Get a close-up look at more than 40 great gifts for the technology lovers on your holiday shopping list.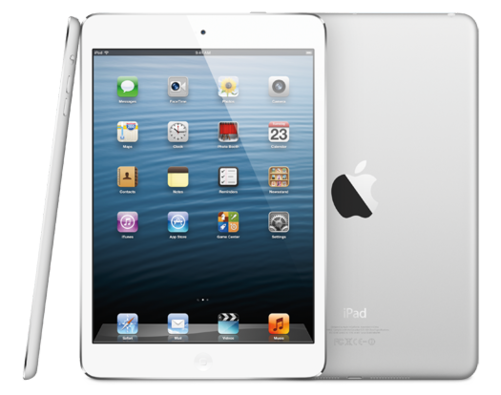 iOS tablet: Apple iPad Mini
7-in. tablets are hot, with Apple's version doing its part to fan the flames. The smaller iPad shaves off size, weight and cost without sacrificing quality -- and tops many wishlists this year.
This slideshow accompanies . Click through to that story for details, prices and purchasing info for each product you see here.
Android tablet: Google Nexus 7
The Nexus 7's narrow size and stellar user experience make it an ideal gadget for around-the-house Internet surfing -- and at $200, its value is unmatched.
Back to
Windows tablet: Microsoft Surface with Windows RT
Microsoft's innovative Surface with Windows RT tablet is fast, lightweight and offers an unusual and useful cover/keyboard.
Back to
E-reader/tablet: Barnes & Noble Nook HD
With a top-notch screen, the Nook HD is great for book lovers, magazine lovers and those who want a fast e-reader for watching TV and movies.
Back to
iOS phone: Apple iPhone 5
With high-quality construction, top software and the best digital stores in iTunes and the App Store, the newest iPhone is still the standard-bearer for modern smartphones.
Back to
Android phone: Google Nexus 4
Google's Nexus 4 provides the ultimate Android experience with no carrier contracts or commitments.
Back to
Windows phone: Nokia Lumia 920
Nokia's Lumia 920 is the best Windows Phone 8 device you can buy today: fast and powerful, with a great screen and a reasonable price.
Back to
Mac ultraportable: Apple MacBook Air
The thinnest and lightest notebook in Apple's lineup is perfect for those looking for maximum portability without sacrificing power and battery life.
Back to
Windows ultraportable: Sony Vaio T Series 13 Ultrabook
A delight to give or receive, Sony's Vaio T Series 13 combines top performance and a touch screen in a slim case.
Back to
Chrome OS ultraportable: Samsung Chromebook
The Samsung Chromebook makes getting online easy and fun without the hassles of traditional computing.
Back to
Mac all-purpose laptop: Apple 13-in. MacBook Pro with Retina display
The rigid aluminum and glass construction is 20% thinner and a pound lighter than the previous generation, but it's the beautiful Retina display that is the star of this notebook.
Back to
Windows all-purpose laptop: Dell Inspiron 15R
Dell's Inspiron 15R packs peak performance and all the mobile creature comforts into a reasonably priced traditional notebook format.
Back to
55-in. LED LCD HDTV: LG 55LM6700
The 55LM6700 from LG is a no-compromise 55-in. LCD 1080p HDTV with great looks, LED edge lighting, Smart TV features, Wi-Fi support and 3D capability using inexpensive passive 3D glasses.
Back to
55-in. plasma HDTV: Panasonic Viera TC-P55GT50
Top-shelf plasma HDTVs are very affordable these days, and the 55-in. Panasonic Viera TC-P55GT50 delivers superb picture performance with all the trimmings for a very attractive price.
Back to
Value 42-in. LCD HDTV: Vizio E3D420VX
It may not be the latest or the greatest, but the 42-inch Vizio E3D420VX delivers 3D and Smart TV features at a bargain-basement price.
Back to
Plantronics BackBeat Go wireless earbuds
Plantronics' BackBeat Go earbuds make a great choice for audiophiles who want to listen in stereo using a lightweight Bluetooth headset.
Back to
Worx Toys
Who says STEM skills are hard to teach? Worx Toys are fun to play with and sneak in some surprisingly sophisticated education on the side. These toy vehicles have see-through shells that let kids see how the working parts inside operate as the accompanying storybook explains it all.
Back to
Canon PowerShot G15 digital camera
Canon's PowerShot G15 is a good all-around performer in a portable package that will exceed a phone camera's image quality, especially for moving subjects or in low light.
Back to
Livescribe Sky Wifi Smartpen
Livescribe's Sky Wifi Smartpen easily transfers written notes (with audio) to an Evernote account.
Back to
Logitech Washable Keyboard K310
This fully washable keyboard is perfect for friends or relatives who live with careless toddlers or marauding pets -- or who are just a little clumsy themselves.
Back to
Eton FRX3 emergency radio/charger/flashlight
Ideal for anyone who might undergo an extended power outage (in other words, pretty much everyone), the Eton FRX3 provides radio, flashlight and mobile phone charging in an emergency.
Back to
Nintendo Wii U video game system
Nintendo's new video game console is an all-in-one media hub that features innovative asymmetrical gameplay for up to five players.
Back to
New Balance GPS Runner sports watch
This easy-to-use, affordable GPS sports watch helps your favorite runner track speed, distance and pace.
Back to
Fitbit One activity monitor
This tiny clip-on monitor, which tracks the wearer's activity throughout the day, is great fitness-motivation tool, especially for people who love real-time data.
Back to
Philips Wake-up Light
The Philips Wake-up Light makes the process of getting out of bed easier and more pleasant by rousing the sleeper with slowly increasing light.
Back to
Blue Microphones Tiki USB microphone
Blue Microphones' Tiki USB microphone enhances voice quality for all those Skype calls and Google+ Hangouts.
Back to
The Art of the Data Center by Douglas Alger
This coffee-table book features gorgeous photos and in-depth interviews about what makes 18 of the world's coolest data centers tick.
Back to
Bluelounge Eco-Friendly Bags
Well-designed and made from recycled plastic bottles, the Eco-Friendly Bags from Bluelounge meet aesthetic, practical and moral imperatives.
Back to
Speck CandyShell Flip case for iPhone 5
The CandyShell Flip case provides colorful protection for the new iPhone 5, and with a hinged back, it's ready for docking.
Back to
CaseCrown Bold Standby Case for Nexus 7, iPad Mini and more
CaseCrown's Bold Standby tablet cases provide solid, versatile protection for specific devices in colors from sober to festive.
Back to
StarTech Portable eSATA USB to SATA Standalone HDD Hard Drive Duplicator Dock HDD
DIY geeks will love this highly portable drive duplicator, which makes disk cloning a snap.
Back to
GoSmart Clip
Your gift recipient can go far with the GoSmart Clip, which provides a simple and low-cost way to attach a smartphone to just about anything that moves.
Back to
LaCie PetiteKey USB flash drive
This stealthy, slim, waterproof USB flash drive can hold from 8GB to 32GB of data. It's one of the few thumb drives going that fits nicely on a keychain.
Back to
Scratch-n-Scroll Mousepad
Here's a mouse pad that's also an old-school Magic Slate: Jot down phone numbers and quick reminders, and later on lift the surface to erase it. Neat!
Back to
Cocoagraph photo-printed chocolates
Combining two hot trends -- Polaroid-style snapshots and artisan chocolate -- Cocoagraphs are edible photographs with retro styling. Upload your own hi-res digital photos and Cocoagraph custom-prints them on chocolate bars (available in four flavors with add-ins like dried strawberries) for a one-of-a-kind gift.
Back to
Doctor Who TARDIS 4-Port USB Hub
Doctor Who fans will thrill to the flashing lights and sound effects of this TARDIS 4-port hub as their data travels through space (but not time) between their computer and USB devices.
Back to
FinderCodes Electronics Lost & Found Kit
Attach FinderCodes tags with QR codes to valuable items like phones, laptops and cameras, and anyone who finds a lost item can scan the code with their smartphone or enter it at the findercodes.com website. FinderCodes then notifies the object's owner that someone has found it and provides a way for the finder to contact the owner. The Electronics Lost & Found Kit comes with two tags with rings, plus five adhesive tags for phones, laptops and the like.
Back to
Fling Mini
The Fling Mini brings arcade-style gaming to smartphone screens. The mini-joysticks attach to the display with little suction cups. Joysticks to the world!
Back to
Crumpler All and Sundry bag
This nifty bag will give your friends a convenient way to carry all the cables, adapters and other accessories needed for the other gifts in this guide. The 12-x-5.5-x-2-in. bag has a zipper in the middle for easy access to its contents; the sides can also be folded back and snapped together (as shown here) to create two separate compartments.
Back to
GoSmart Stylus
Available in two styles, the GoSmart Stylus for touch-screen devices has an open, wheel-shaped tip so you can see your target between the spokes, which allows much more precision than typical rubber-tipped styli do.
Back to
Wireless Wipes
A little disinfecting goes a long way toward keeping E. coli, staph and other creepy crawlies off your loved ones' mobile devices -- and away from their faces. Available in three scents, Wireless Wipes antibacterial wipes dry fast, leaving behind a clean screen and some peace of mind.
Back to
Copyright © 2012 IDG Communications, Inc.
Next Up: Check out these related slideshows