Office for iPad arrives: A look inside
Microsoft unleashes its Office suite for Apple's iPad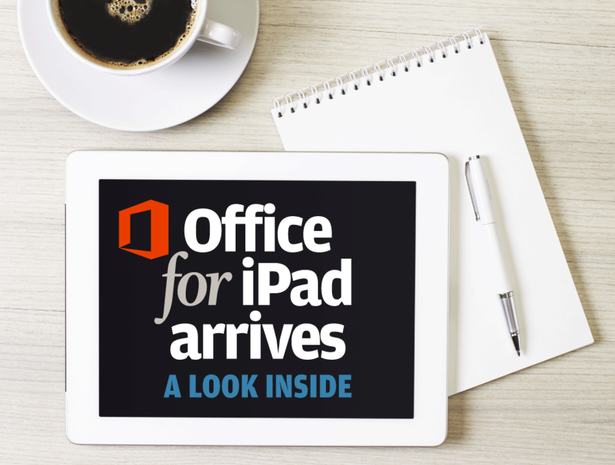 Office ventures onto the iPad
After years of speculation about whether Microsoft would ever offer its lucrative Office franchise on Apple's iPad, and if so, when, CEO Satya Nadella last week kicked off a press event where the company unveiled the new all-touch apps for Word, Excel and PowerPoint.
The three apps can be downloaded free of charge from Apple's App Store, but in that form, only let customers view documents and spreadsheets, and present slideshows. That's Microsoft's new freemium business model for Office, perhaps a harbinger of how it will market the same apps for Windows 8 and Windows 8.1.
Free to read, but pay to play
To create new documents, spreadsheets and presentations, or edit existing ones crafted either on the iPad or another device, customers must subscribe to an Office 365 software rent-not-buy plan.
As it did in mid-2013 when it launched Office Mobile -- a skeletal set of tools for the iPhone and Android devices -- Microsoft reduced the friction by offering an in-app purchase of Office 365 Home, the consumer-grade subscription that provides rights to install the desktop suite on up to five Windows PCs or Macs, and activate the new apps on up to five tablets.
Because the Office 365 Home subscription is an in-app buy, Apple gets its 30% revenue cut, or $30 of the plan's $100 total. Microsoft keeps the remaining $70..
Ooooooooo noooooooo … it's ribbon-ized
Office for iPad relies on a ribbon interface, just as do the desktop versions of the suite -- the oft-disparaged ribbon debuted in Office 2007 for Windows and in Office for Mac 2011 -- but on the tablet the ribbon is noticeably narrower, freeing up space on the iPad's smaller screen.
The on-screen keyboard takes up about one-fifth of the display when the iPad's held in a portrait orientation. A third-party keyboard -- several Computerworld staffers use Zagg's Cover Keyboard -- eliminates the need for the on-screen touch keyboard, opening up more room for the document.
Apps store documents on Microsoft's OneDrive
All of Microsoft's Office apps for the iPad rely on the company's OneDrive -- formerly labeled SkyDrive -- online storage service, circumventing Apple's own iCloud. There is no way to access a third-party cloud-based service, like Dropbox or Google Drive, from within the apps.
However, with the Dropbox app on an iPad, users can select "Open In..." from the sharing menu, then choose the appropriate Office app. The resulting file is read-only; the document, spreadsheet or presentation must first be Duplicated in Word, Excel or PowerPoint before it can be edited.
Tracking's included in Word
Word includes track changes, a critical feature for enterprises -- and frankly, for almost any collaborative work -- with the familiar-from-the-desktop commands that let users accept or reject the inline alterations.
All touch, all the time
Excel for iPad retains the kinds of original elements -- such as frozen panes -- that often vanish if the spreadsheet is opened in an Office alternative, like Apple's free Numbers app.
The touch-first user interface (UI) is responsive and for the most part, accurate. Selecting a column, for instance, then dragging it wider or narrower, is a cinch.
Document fidelity is one of Office for iPad's biggest sales drivers
PowerPoint, the third of the Office for iPad apps by both download tally and gross revenue from in-app subscription purchases, also offers excellent fidelity with the original presentation, a hallmark Microsoft stressed last week as a major differentiator from its rivals.
Okay, what happened to Print?
Users cannot print from within any of the iPad Office apps, easily the biggest omission. And an odd one, too, what with iOS's built-in support for AirPrint and its developer-ready APIs.
One workaround is to attach a file to an email message, send it to oneself, then retrieve the message on a device -- a Windows PC or Mac, most likely -- for printing. Opening the document from OneDrive on a PC or Mac also works.
Apps save in .docx, .xlsx and .pptx formats
Office for iPad's apps automatically save documents in the post-Office 2007 format -- Excel's .xlsx, for example, or in Word, .docx -- meaning that they'll have to be opened and resaved on the desktop if they're to be shared with users stuck on earlier editions of the suite.
Alternately, those users can install the free Office Compatibility Pack, which will let them open, edit and save documents created with or altered in Office for iPad.
Copyright © 2014 IDG Communications, Inc.
Next Up: Check out these related slideshows