WWDC reactions 'mixed' (to put it mildly).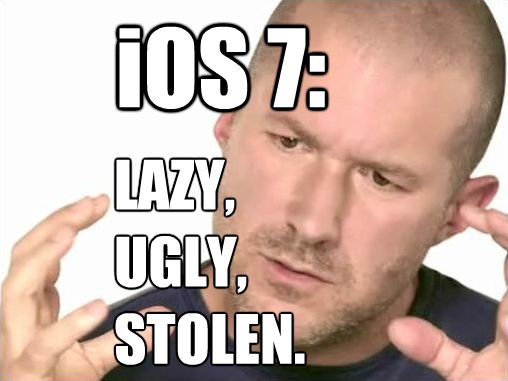 As expected, Apple (NASDAQ:AAPL) unveiled its new iPhone-and-iPad OS at WWDC 2013. But what designer 'Sir' Jony Ive called the "completely new" iOS 7 isn't exactly universally loved. In fact, many people hate it.
In IT Blogwatch, bloggers pan for mold.
Your humble blogwatcher curated these bloggy bits for your entertainment.
In case you've been living under a rock, here's a brief word from Gregg Keizer:
Apple CEO Tim Cook and several of his top executives took the stage today at the...Worldwide Developers Conference (WWDC) keynote. ... The most anticipated part of the keynote...came over an hour in, when Cook touted iOS 7 [which] powers the iPhone and iPad.

...

The icons appeared "flatter"...in that they omitted shadows and textures that previously made them jump off the background, but...translucent layers...said Ive, "gives you a sense of context."

...

A beta of iOS 7 for iPhone will be available today for developers.  MORE
But Joshua Topolsky calls it "simply confusing":
The icons are...the first sign that there are points of confusion and even missteps. ...styles wildly vary from app to app. ...a collection of 3D globs. ...shockingly basic...not elegant...childish...amateur mishmash. ...a mess, too many colors and lines intersecting. ...lazy gradient.

...

Again Apple seems to ignore the utility of glanceable information, keeping safely to an annoying dance of swipes and secret menus. ...closer to bathroom signage than even Windows Phone. ...feel and look like the work of a lesser designer. ... Your notifications will still interrupt your work. ... Even closing notifications looks harder...doing nothing to actually speed up your productivity. ...design and organization of items is bizarre...messy...a visual strain. ...the execution is troubling.

...

Less useful.  MORE
And Romain Dillet points the finger of, uh, inspiration:
iOS 7 Steals...many features and UI choices...inspired by innovative third-party apps or...competitive mobile operating systems.

...

The new Mail client...looks a lot like Mailbox [and is] very reminiscent of Mailbox's gestures. ... Similarly, the new Calendar app now provides a new default view...that looks a lot like Sunrise's UI. ... And of course, there is iTunes Radio. You can't avoid a comparison with...Pandora.

...

You can now swipe your finger from the left edge...to go to the previous screen. ... This feature comes directly from BlackBerry 10. ... Apple introduced a new multitasking screen that looks a lot like the now defunct WebOS. ... iOS now looks a lot like Windows Phone as well.  MORE
As Dan Frommer notes, Apple is even violating its own rules:
I've only seen it demonstrated on white iPhone 5s.  

...developers aren't even supposed to use white-iPhone photos to promote their apps. I wonder if that'll change.  MORE
Meanwhile, John Brownlee spots this tiny, telling detail:
Apple is getting rid of the signal bars...replacing them with five dots. ... Notice there's no room for a carrier name. ... Apple has finally succeeded in removing every trace of carrier branding from every iPhone.

...

If you want proof at a glance how radically Apple has changed things, just look to those five little signal dots. ... Apple's ultimate triumph over carriers.  MORE
UPDATE: Brownlee later updated his post, recognizing that, although the carrier name was hidden in the keynote demos, this isn't true in the actual iOS 7 beta.
Wait. Who's this? Michael Dempsey? Michael Dumpsey more like:
I sold my Apple stock last week. I couldn't be happier.

...

I didn't see anything in today's announcement that made me regret that decision.  MORE
Computerworld Blogs Newsletter
Subscribe now to the Blogs Newsletter for a daily summary of the most recent and relevant blog posts at Computerworld.