Going Google is getting cheaper.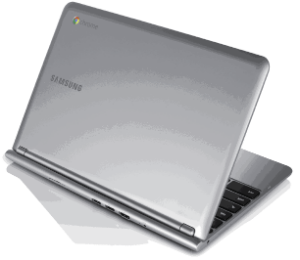 Google has just announced a new entry-level model of its cloud-based Chromebook computer. The device, dubbed simply the "new Samsung Chromebook" (yes, really), will cost $249. It's avaliable for pre-order this afternoon and will start shipping next week. Amazon, Best Buy, and other retailers will offer the device; it'll also be sold directly from Google's own Google Play Store.
The new Samsung Chromebook, like the Samsung Series 5 550 model introduced earlier this year, runs Google's Chrome OS operating system. Chrome OS is a platform built solely around Web-centric apps and technology; rather than relying on local applications, nearly everything you do on a Chromebook takes place on the Web.
I've used Chrome OS myself for quite some time; I tested the original Cr-48 pilot notebook and ended up buying one of last year's introductory models after reviewing it here. The operating system has come a long way since its introduction. It now includes a fully functional desktop with movable windows and robust offline support. Some people are quick to dismiss the concept -- understandably, given its unusual nature -- but while it's certainly not for everyone, Chrome OS really does offer a lot of advantages over traditional computing for users who live in the cloud.
So what's the deal with the new Chromebook? In short, it's a slimmed-down model with less horsepower; on paper, at least, it's closer in some ways to the first-gen Samsung Series 5 Chromebook than the more recent Series 5 550 model. On price, it's even lower: The current Series 5 550 Chromebook currently retails for $449 while the older Series 5 Chromebook is priced at $349 (for the Wi-Fi-only versions).
Here are the official specs of the new $249 device:
• Display Size: 11.6-inches
• Display: 1366 x 768 resolution; 200 nit brightness
• Thickness: 0.8 in.
• Weight: 2.5 lbs.
• Battery life: over 6.5 hours
• Processor: Samsung Exynos 5 Dual
• Memory: 2GB
• Storage: 16GB SSD
• Ports: 1 USB 3.0, 1 USB 2.0, combo headphone/mic jack, secure digital memory slot
• Keyboard: Full-size Chrome keyboard
Basically, we're talking about a slightly smaller screen -- both the Series 5 and Series 5 550 Chromebooks have 12.1-inch displays with 1280 x 800 resolution -- and a smaller and lighter overall form. It matches the internal storage of the higher-end 550 model but matches the more limited RAM of the lower-end Series 5 device.
The specs make me a bit concerned about the device's performance -- while the newer Series 5 550 Chromebook is snappy and responsive, the older Series 5 model is rather poky and easily bogged down, particularly when you have multiple tabs open -- but we are talking about different processors here, so we'll see how things go. In any case, for $249, it's a very intriguing proposition.
The new Chromebook also comes with 100GB of Google Drive storage for two years. That alone would normally cost you $120.
I'll be spending the afternoon trying out the new Samsung Chromebook for myself. Check back soon for some hands-on impressions.
UPDATE: My full review is now online:
Samsung Chromebook review: Google's new $249 computer
For much more on Chrome OS and its pros and cons, you can also check out my in-depth series:
Chrome OS reviewed: The final verdict on Google's cloud platform