Getting fit this summer? Here's an app place to start
Do you want to get fit but don't know where to start? Here are some fitness apps that can help get you on your way.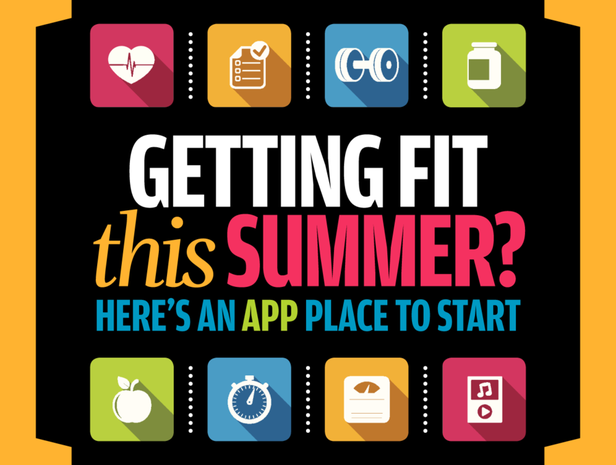 There are thousands of smartphone apps in Apple's App Store and the Google Play store to help you get fit or lose weight. One of the newest uses your heart rate to register stress, while another reminds you to "Stand up!" because being seated for long periods isn't good for you and could be "literally killing you." 
Some fitness apps are simple, more like games, but others can be complex -- mapping your walk, run or bike route with GPS and then charting your progress with vital stats. New smartwatches can present fitness data on your wrist while audible coaching can order you to "Speed up!" or "Slow down!" based on personal fitness goals. Here's a sampling of some popular fitness apps.
S Health app
Feeling stressed? One way to get motivated to use a fitness app is to first check your stress level. Samsung recently updated its free S Health app to register a user's stress level on a fever bar. The app records your stress level, from low to high, for comparisons over time.  
The rating is based on the user's heart rate, which is measured with a sensor activated when users place their finger on the back of the Galaxy S 5 smartphone. Users can also get a digital readout of their heart rate on a separate page of the S Health app; the stress indicator is only a graphical version. If anything, it could show some people that they work best under pressure.
Stand Up! Work Break Timer
If you're writing code nonstop or knee-deep in preparing a big report, it couldn't hurt to take frequent stand-up breaks. With the free Stand Up! Work Break Timer in the App Store, it's easy to set an alarm at regular intervals of your choosing, with colorful choices of interfaces.  
The app's description is direct and derives from recent scientific research:  "By now you know that sitting down is slowly killing you..." it states.  Recently named one of the App Store's "top grossing health and fitness apps," the Work Break Timer generates revenue through a 99-cent in-app purchase of added alarm sounds.
Elevate Brain
Apple recently rated Elevate Brain as one of its "best new iOS apps." It's free to download but costs $50 a year for the pro version that adds an array of brain-focused exercises.  
The old saying, "healthy body, healthy mind" might just work in reverse: While this app's not designed to help drop pounds, count calories or tighten abs, it might enlighten you to the value of doing so. Google Play has an entire index of brain-boosting apps under the heading of "Mood Boosters."
Lots of weight-loss apps
Weight loss is a big focus of many fitness apps. Titles include Lose It! (initial download is free) -- a top grossing app in the App Store and in Google Play. The App Store also has the Running for Weight Loss app for $3.99, while both stores feature the Fooducate Health Weight app (Download is free). There are also dozens of free apps that provide calorie counting or calculate body mass index (BMI).
RunKeeper GPS
Both major apps stores offer RunKeeper GPS, a free app, initially, that's so  popular with runners that it passed the 25 million user mark last year. It loads GPS maps quickly and then monitors the user's speed and tracks distances. It can be used for biking, walking or tracking a weight-loss program. Higher-level training for marathons is also available with audio coaching tips.  
An elite training program is $40 a year and can be purchased in-app. It works on Android smartphones, iPhones and Pebble or Samsung Galaxy Gear smartwatches, (Apple's first iWatch seems a prime candidate, too). Even with its varied features, one reviewer asked if the app's designer, FitnessKeeper, could include outside temperatures with his running history.
Samsung's Gear 2 smartwatch
Samsung's Gear 2 smartwatch, which went on sale for $300 in April, features a Bluetooth connection to the S Health app in the Galaxy S5 smartphone.  Even without the smartphone nearby, it can be be used on a run with audio coaching tips that tell you to "Speed up!" or "Slow down" based on your heart rate and pace that are compared to a pre-set conditioning program, rated from "easy" to "improving." 
The smartwatch uses a light sensor to read heart rate from the user's wrist. For the most reliable reading, the band should be worn behind the wrist bone. There's enough storage capacity on the watch for playing workout songs, which can be piped to a Bluetooth headset.
Apple's Health app
Apple recently announced that iOS 8, coming this fall, will include a new Health app with a dashboard for all a user's health and fitness data. Also, a software tool called HealthKit will help developers build apps  that tie together data in various health apps, providing a more holistic view of the user's wellness.
While Apple showed Health working on an iPhone, it will be interesting to see what features will also work on the stylish Apple iWatch, rumored to be launched in October. 
Copyright © 2014 IDG Communications, Inc.
Next Up: Check out these related slideshows