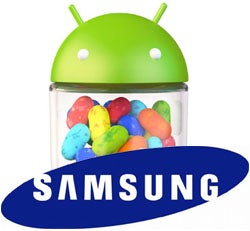 Samsung isn't typically known for its speedy upgrade chops, but today the company is giving us a closer look at which devices it plans to bump to Android 4.1, a.k.a. Jelly Bean.
According to a statement provided by Samsung to Android Power, the company's flagship Galaxy S III phone is receiving its Android 4.1 upgrade starting this morning -- but only, curiously enough, in Poland.
The Android 4.1 upgrade will supposedly reach Galaxy S III phones in other countries "gradually," with timing determined by "market and wireless carriers' requirements." In other words, if you aren't in Poland, don't hold your breath just yet.
Besides the Galaxy S III, Samsung had previously confirmed that its Galaxy Note and Galaxy Note 10.1 devices would be getting some Jelly Bean love. The company is now adding several other phones and tablets onto the list of confirmed Android 4.1 upgrades, according to its statement.
Those devices are:
• Galaxy S II
• Galaxy S II LTE
• Galaxy Ace 2
• Galaxy Ace Plus
• Galaxy S Advance
• Galaxy Beam
• Galaxy Chat
• Galaxy Mini 2
• Galaxy S Duos
• Galaxy Tab 7.0 Plus
• Galaxy Tab 2 7.0
• Galaxy Tab 2 10.1
No specific upgrade schedules have been provided thus far for any of those devices. It's also worth noting that Samsung has not explicitly said that other phones and tablets won't get Jelly Bean; that seems to be left open-ended at the moment. 
Remember, you can find the latest Jelly Bean upgrade info for any device in my Android 4.1 upgrade list. It's always kept up-to-date with the most current details available for all phones and tablets.