Camera phones: A look back and forward
Is it a camera that also has a phone, or a phone that also has a camera? The short -- and continuing -- history of camera phones.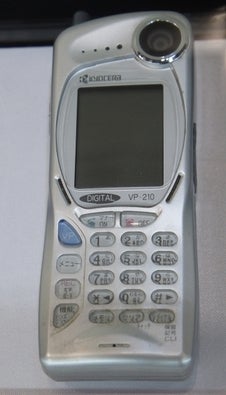 Kyocera Visual Phone VP-210
Widely acknowledged as the first camera phone, the VP-210 debuted in May 1999 and was originally billed as a "video mobile phone" rather than a phone with a digital camera. It used a front-facing 110,000-pixel camera to send up to two images per second via Japan's PHS cell network system. The phone could store up to 20 still photos in JPG format, or send images out via email. The tiny amount of memory and the relative crudeness of the camera make it a museum piece today, but at the time having that functionality in a 5.5-oz. package was nothing short of revolutionary.
Note: This slideshow accompanies our story . 
Grundig Mobile X5000
Released back in 2006, the Grundig Mobile X5000, a hybrid flip-phone and video camera, was notable for its interesting form factor. The display half flipped up and could be twisted around in much the same manner as the flip-out display for a standalone video camera. With a 6-megapixel image sensor, the camera was able to shoot 640 x 480, 30fps video to a mini-SD card. A few images of the X5000 in action can be seen at the NewMobile site.
Samsung Memoir
The , released in 2009, was a good example of how a mobile phone camera can be implemented in an intriguing way. Instead of a being a phone with a minimal camera added, this was a point-and-shoot camera with an Android-powered phone added.
The Memoir had an 8-megapixel sensor, a flash that was akin to what you'd find on a conventional point-and-shoot camera and camcorder functionality for recording up to an hour's video at a time. However, it lacked Wi-Fi (a thoroughly inexplicable omission) and some of the "phone" parts of the phone, like the touchscreen, weren't up to par.
Nokia N8-00
The Nokia N8's camera specs are striking, closer to a standalone point-and-shoot than a phone: 12 megapixels, a genuine glass Carl Zeiss lens (f/2.8, 5.9mm focal length) and a Xenon flash instead of the usual LED. (It only shoots 720p video, however.) What's less clear is if Nokia will produce another device to follow in its upscale footsteps: The N8-00 was released in October 2010, and all the following models in Nokia's N series have only had 8-megapixel cameras. 
HTC Evo 3D
The HTC Evo 3D (released in June 2011) packed two different imaging innovations into one phone. Not only did it shoot 3D images and movies (up to 720p for movies and 5 megapixels for stills), it played back 3D content on its own stereoscopic display (and you didn't need separate glasses). Too bad the quality of the 3D camera, like many other , was more gimmicky than useful. Maybe a future iteration of 3D camera tech will make this more than just a neat idea.
Apple iPhone 4S
Many of the incremental revisions that Apple made to the iPhone 4 when it was revised as the revolved around the camera. It was bumped from a 5-megapixel to an 8-megapixel sensor, with a larger f/2.4 aperture (to admit more light) and an infrared filter to allow better color reproduction. The iPhone 4 shot 720p video; the iPhone 4S shoots 1080p video. (The makers of the Camera+ app did their own side-by-side comparisons.) One feature that's not new (it was in the iPhone 4) but still noteworthy is back-side illumination for the image sensor, for even greater light sensitivity.
HTC One X
HTC's newest flagship phone, the One X, comes close to the iPhone 4S in its raw camera specs: an 8-megapixel back-side illumination CMOS sensor, an f/2.0 aperture lens and 1080p video recording. Most intriguing is a distance-sensitive LED flash that allows photo subjects to get the illumination they need without being washed out -- another example of an incremental step camera phones can take to improve their lot. The camera's software also lets you create easy panoramic photos and take rapid-fire stills in succession.
Sony Xperia Ion
Sony's forthcoming Android 2.3-powered will sport a 12-megapixel sensor and Carl Zeiss glass optics; it will also be capable of 1080p video. The images will be viewable on a 4.6-in. high definition, 1280-x-720-pixel display. The AT&T phone is expected to ship sometime in the second quarter of 2012.
Polaroid SC1630 Smart Camera
Polaroid, struggling to reinvent itself in the digital era, has produced its own variation on the Memoir's camera-with-phone concept. With 16 megapixels, a 3X optical zoom and 720p video recording, the SC1630's camera specs are more than competent. The "phone" side is essentially a touch-screen Android device sans cell access (at least, as of this writing) but with Wi-Fi connectivity (and with access to the Google Play market, so yes, you can run Instagram).
It's not clear which version of Android will be loaded with it, although it demoed earlier this year running 2.3. For those who want Android functionality but not a full-blown phone, this might be a good compromise. It's expected to be available later in 2012.
Copyright © 2012 IDG Communications, Inc.
Next Up: Check out these related slideshows