Well, that didn't take long. Apple [AAPL] offered the iPhone 5 up for pre-order at 12.01am PDT this morning, or 8.01am UK time -- and initial stocks were quickly sucked up by a smartphone hungry public as the company begins what some expect will be the: "Biggest consumer electronics product launch of all time."
[ABOVE: I'm impressed by the Kickstarter-funded Impossible Instant Lab, a device which delivers almost instant print outs of iPhone images, just like a Polaroid camera.]
Under an hour
It took under an hour for shipping times to slip from one to two weeks, and delivery dates continue to slip as smartphone-savvy shoppers click the 'Order Now' button. Estimated shipping times for the US, UK, Canada, Germany and Australia have all moved to two weeks, with the 32GB model now showing a two to three week wait in some regions. 
It is worth noting that estimated shipping dates extended to four weeks within the first 24-hours of iPhone 4S pre-ordering availability on that device's release last year. Apple's own store saw a few problems fulfilling demand, a Cnet report tells.
In time-honored fashion this means many shoppers will choose to follow the call to join queues outside of Apple retail stores and partner carrier companies come the official release of the device on September 21.
Apple is facing some criticism from members of the tech press, but even then the company seems to have won most pro pundits over. RealWire's Lissted service found that the ratio of positive to negative Tweets among 2,242 tech journalists it tracks ran at 2.5-to-one, a PRWeek report informs.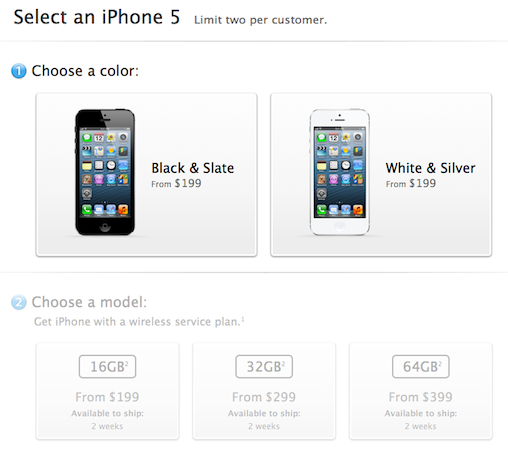 Systems crash
Carriers are looking forward to a bumper season. AT&T CFO, John Stephens told delegates at a Merril Lynch conference yesterday: "It will impact everybody's results. It will impact ours because of our embedded base." 
That's his way of pointing out that around 44 percent of current iPhone owners already plan to upgrade to the new model. AT&T predicts around 14.4 million smartphone sales in the quarter. Driven by the release of the iPhone 4S in Q4 last year, 73 percent of all smartphone sales were of iPhones. 
This suggests Apple could move 10.5 million of its new device through At&T alone.
In the UK the small Three network saw its site fall over as it faced unprecedented levels of iPhone demand. Word on the ground here, incidentally, now seems to suggest that network offers the best 3G coverage, which could be the clincher for new iPhone sales in this country given the lack of any existing 4G networks beyond that promised by Everything Everywhere.
Online outages and order fulfillment problems also hit Orange and T-Mobile (the firms behind the UK's only compatible 4G network, Everything Everywhere). The two carriers also revealed their 4G deals, promising customers ordering an iPhone 5 from either network a free transition to the LTE service on launch, on request.
In related news, Apple's oh-so-expensive Lightning cable adapters have done brisk business. These interconnects have also sold out, hopefully giving the company the economy of scale in production it might require in order to offer up these doo-dads at a more reasonable price. 
Return of the fanboi (queues)
The other side effect of the sudden but brief almost availability of the iPhone 5 is that trade-in prices on earlier models have begun to fall. 
A Computerword report states prices on old models have already dropped up to 8 percent. If you planned to sell to upgrade, you may have missed your moment to maximize your price. Of course, that's a good opportunity for those in the market for an iPhone 4S or earlier unlocked model...
Summing up, this morning's near-immediate uptake of the new iPhone pretty much confirms we'll be looking at the usual annual smartphone upgrade gala with queues outside stores carrying the device worldwide. 
No doubt Apple will let us all know when sales hit the first million or so, and all eyes will be on the company's next financial report on around October 18.
Got a story? Drop me a line via Twitter or in comments below and let me know. I'd like it if you chose to follow me on Twitter so I can let you know when these items are published here first on Computerworld.