12 portable battery chargers add life to your devices
The latest chargers for smartphones and tablets offer more power but less weight than last year's.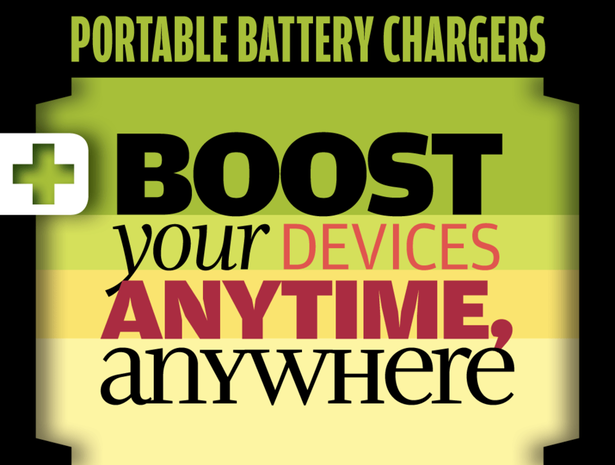 Smartphone and tablet batteries are getting more powerful. However, they are dealing with wireless, GPS and Bluetooth connections -- not to mention streaming video and all those apps -- so they are also draining faster. Many of us can't make it through the day without needing a power boost, but who wants to go looking for an outlet?
It's much easier to throw a portable battery charger into your bag. Last year, we covered 10 portable battery chargers, and some of them are still available. But technology, like time, marches on -- and many of the devices in this year's batch are smaller and lighter while providing additional power.
Here are 12 chargers that will help keep you powered throughout the day.
Rayovac Phone Boost 800
Rayovac's Phone Boost 800 adds only up to two and a half additional hours of talk time, but at under 2 oz., you won't find much that's smaller and lighter.
Another benefit is that it doesn't need cables -- if your phone uses a micro USB, Apple Lightning or 30-pin port, you can just plug the charger directly into your phone. Nervous you might lose such a small charger? Never fear, just clip it onto your key chain and you will always have it on hand.
The Phone Boost 800 will start shipping in early April.
Price: $14.99 (micro USB), $16.99 (Apple 30-pin), $24.99 (Apple Lightning)
Capacity: 800mAh
Dimensions / weight: 1.39 x 3.27 x 0.60 in. / 1.48 oz.
Fluxmob Bolt
According to Fluxmob, the Bolt, which started as a Kickstarter campaign, is the world's smallest portable battery backup and wall charger combined.  The company says that it wanted to manufacture a device that could charge through a wall outlet. Plug your Bolt into an outlet, plug your phone into the Bolt, and you're charging both at once. Come morning, and your Bolt is ready to go with you for a backup battery boost.
This device, which comes in red, blue or black, can power most smartphones up to two times on a single charge. It tends to sell out quickly; new units are expected in mid-April.
Price: $59.99
Capacity: 3,000mAh
Dimensions / weight: 2.75 x 1.33 x 1.10 in. / 3.1 oz.
Secur Sun Power 4000
Carry the Secur Sun Power 4000 with you and as long as you can catch some rays, you can charge your phone.
According to the vendor, the 4000 has kicked it up a notch from other solar powered chargers -- the ultra-high-efficient panel offers up to four times the charging power of similar devices. If you have a device that charges off a micro USB, you don't need any additional cables. If you have anything else, just bring your cable with you and you're good to go.
The charger can power two devices simultaneously and will ship in mid-April.
Price: $68.00
Capacity: 4,000mAh
Dimensions / weight: 3 x 5 x 0.5 in. / 6 oz.
Lepow Add Power Bank
Sometimes you need only a little extra power; other times, you need serious battery backup. If your needs vary, consider the Lepow Add Power Bank.
The base unit (which comes in taffeta white, raspberry pink and sky blue) starts with 4,500mAh of power; you can snap on a supplementary power pack (which only comes in concrete gray) for an additional 4,500mAh boost. 
The base has a USB output port and micro USB charging port; the supplementary pack has a micro USB port. It ships at the end of March.
Price: $99.99; $39.99 for supplementary pack
Capacity: 4,500mAh; another 4,500mAh w/ supplementary pack
Dimensions / weight: Base: 4.7 x 2.4 x .4 in. / 4.23 oz. Supplementary pack: 4.4 x 2.4 x .4 in. / 4.23 oz.
Eton FXR4 S
Eton offers some of the most versatile chargers around. Take the Eton FXR4 S. Not only does this portable battery charger quadruple as a weather alert radio, a flashlight, a red emergency beacon and a glow-in-the-dark locator, it can be charged up in four different ways.
You can plug it in or pop in three alkaline batteries. Not near an outlet or forgot your batteries? Leave it in the sun and let its solar panel gather power. Cloudy day? Use some muscle and crank it up.
Fully charged, the FXR4 S will boost your phone's battery by around 50%. The FXR4 S will start shipping in May.
Price: $129.99
Capacity: 5,000mAh
Dimensions / weight: 0.75 x 6.0 x 6.0 in. / 11.7 oz.
Powerocks Smart Power 5200mAh
Portable battery chargers are getting smarter. Case in point: The Powerocks Smart Power. This handy little gadget comes with its own Android or iOS app that analyzes the charger's battery life. (Of course, the Smart Power also has LEDs that indicate power availability, if you prefer to be old school about it.)
Available in yellow, pink, purple, red, blue or silver, the Smart Power comes with two ports: a micro USB and a full USB. It offers a full charge for a smartphone. It will be available in April.
Price: $79.99
Capacity: 5,200mAh
Dimensions / weight: 4.2 x 1.7 x 1 in. / 8.87 oz.
Tylt Energi 5K+
According to Tylt, the Energi 5K+ can triple your phone's battery life, giving it more of a boost than other chargers with similar capacity ratings. Tylt says the difference is due to the cells it uses in its chargers, along with high-efficiency circuits.
The Energi 5K+, which comes in black with a red, blue or gray band, has embedded micro USB and Lightning connectors, so you don't need to carry any additional cables -- and since it has a micro USB port as well, you can charge three devices simultaneously. An LED indicator lets you know how much juice is left.
Price: $89.99
Capacity: 5,200mAh
Dimensions / weight: 5.59 x 2.75 x 0.56 in. / 6 oz.
Mobile Edge UrgentPower DX 5200
Though it's among the lighter chargers profiled here, this small powerhouse still provides a big boost to your phone or tablet. It provides up to 20 additional hours of life to your smartphone and up to five additional hours to your tablet.
The UrgentPower DX 5200 has four blue LED lights that indicate how much charge it holds and it has a built-in LED flashlight. It comes with a USB cable and three tips: an Apple 30-pin adapter, a micro USB connector and a mini USB connector.
Price: $49.99
Capacity: 5,200mAh
Dimensions / weight: 3.6 x 1.75 x 0.75 in. / 4 oz.
Ventev Powercell 6000+
You don't need a separate power cable to refill this mobile battery; with folding AC prongs, the Powercell can plug into a wall outlet so you can charge it while you are charging your phone or tablet.
According to Ventev, the Powercell can add up to 25 hours of talk time, 18 hours of Internet, 20 hours of video or 100 hours of audio playback to your smartphone. It can charge two devices at once and includes a rapid charging port the company says is great for charging tablets.
Price: $74.99
Capacity: 6,000mAh
Dimensions / weight: 4.72 x 2.79 x 0.94 in. / 7.2 oz.
Kinkoo Infinite Nova
The Kinkoo Infinite Nova is a stylish 10,500mAh charger which, according to the vendor, is the slimmest available at its capacity (at 0.6-in. deep, it is pretty svelte). The battery pack has two micro USB ports so you can charge two devices simultaneously; according to the vendor, it can fully charge an iPhone 5 up to 6.5 times. Four LEDs in the shape of a "W" indicate how much charge the device has left.
The Kinkoo is available in black, blue, rose red or charteuse (in other words -- yellow); you also get two high-speed micro USB cables and a microfiber carrying case. It will be available April 30, but can be pre-ordered now.
Price: $99.90 
Capacity: 10,500mAh 
Dimensions / weight: 5.6 x 2.8 x 0.6 in. / 8.5 oz.
Anker 2nd Generation Astro Pro2
It may be largest and heaviest device in this slideshow, but that's because the Anker Astro Pro2 packs quite a punch. According to the vendor, it can add 130% to 300% of battery life to a tablet, up to 600% to large-capacity phones like the Galaxy S4 and 1,000% of battery life to an iPhone. (In other words, you can use it to charge your phone 10 times.)
The AstroPro 2 has an LCD display that tells you what percentage of power your charger has left. And its three USB ports (it can charge three devices simultaneously) use a technology called PowerIQ that Anker says results in fast charging.
Price: $79.99
Capacity: 20,000mAh
Dimensions / weight: 4.4 x 6.6 x 0.6 in. / 18 oz.
Mojo BattStation Optimus 20400
This powerhouse has the highest capacity in this slideshow, but it is not much larger than a smartphone (although it is thicker and weightier). If you need the power, the BattStation Mojo Optimus has it.
Capable of charging most tablets up to two times and most smartphones up to eight, the BattStation can also be used as an emergency flashlight. It can charge two devices at the same time via one 2.1A and one 1A USB port. It also supports pass-through charging, so you can plug it into an AC outlet and charge it and your phone at the same time.
Price: $129.95
Capacity: 20,400mAh
Dimensions / weight: 5.5 x 2.8 x 0.86 in. / 12.7 oz.
Rebecca Linke is associate online editor at Computerworld.
Copyright © 2014 IDG Communications, Inc.
Next Up: Check out these related slideshows