NASA's Mars rover Curiosity is getting a software patch that will improve its image processing, among other important areas. If you think patch management is hard in your organization, imagine what it's like at a distance of 350 million miles.
In IT Blogwatch, bloggers are willing JPL to succeed.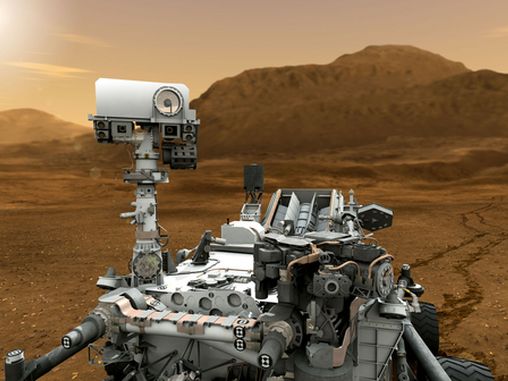 By Richi Jennings: Your humble blogwatcher curated these bloggy bits for your entertainment. Not to mention: Why not install the Gmail 'undo' lab?..
Sharon Gaudin reports... from spaaaace:
The software upgrade, dubbed R10...is waiting to be activated [and] will take four days to update.

...

JPL...programmers and engineers have long been working on the software, as well as the upgrade process. ... [R10] holds advanced controls to drive Curiosity, as well as to operate [the] robotic arm...and its ability to spot hazards in its path.  MORE
Christina DesMarais adds:
Curiosity...has been getting what NASA calls a "brain transplant." ... It will also give the rover better image processing ability. ... It's a pretty big deal considering [it's] happening from 350 million miles away and if something goes wrong it could mean the last contact...with Curiosity.  MORE
Simon Sharwood shows spirit:
NASA tested the upgrade on August 11th in an exercise [that] "demonstrated that the new software is ready to support the upcoming surface operations mission phase." ... The rover spent the remainder of the [time] using its old OS, which nonetheless managed to send home some rather impressive pics.  MORE
It reminds Alan Boyle of the old days:
The old software, which helped Curiosity...land safely, is being phased out. The new software is being phased in — first on the primary computer, and then on the backup computer.

...

The switchover is required because of the limitations of Curiosity's onboard memory. ... At the time that the rover was designed and built...Curiosity's computer [was] the state of the art in radiation-hardened electronics.

...

However, software transitions can be tricky:...in 2004, a computer glitch took [Spirit] out of action for two weeks.  MORE
Your humble blogwatcher calls it "The Fastest Computer on Mars":
Mars Science Laboratory, better known as Curiosity...[is] based around a RAD750 computer, produced by BAE Systems Electronic Solutions. ... [It's] a hardened, single-board design, which can cope with...radiation, wide extremes of temperature, and draws about 10 Watts of power.

...

[It's] based on the PowerPC 750 design, which [is] mature and proven...important attributes for a critical application such as this. ... Operating system duties are handled by the classic VxWorks real-time OS from Wind River.  MORE