25 years of the World Wide Web
Tech leaders reflect on the Web and all the good and bad changes it's brought.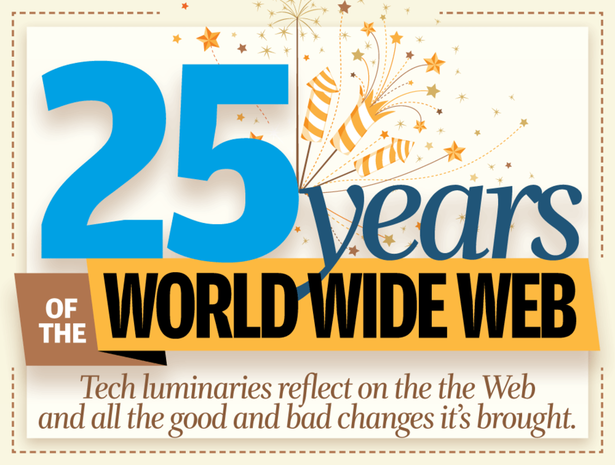 Happy Anniversary!
Before the World Wide Web, do you remember how you would have found where Crimea is? How did you share pictures of your vacation or work when you were on the road?
The Web has changed the way we work, share our lives with family and friends and even play games. This one innovation has brought an astonishing level of change in a short amount of time.
Today, the Web is marking its 25th anniversary. On March 12, 1989,  Tim Berners-Lee, a British computer scientist, introduced the idea of the World Wide Web in a proposal for an information system.
Here, technology leaders, including Vint Cerf, and executives from Intel and AOL, reflect on how the Web has affected the world we live in.
Tim Berners-Lee, inventor of the World Wide Web
On the Web's 25th anniversary, Berners-Lee called on people from around the world to help define the Web's future.
"We have much to do for the Web to reach its full potential," he said in a statement and video interview released today. "We must continue to defend its core principles and tackle some key challenges."
Three of those challenges, he noted, are connecting the two-thirds of the planet not yet able to access the Web, deciding who has the right to collect and use our data, and creating a high-performance, open architecture that will run on any device.
"Together, we have built an amazing Web but we still have a lot to do to make sure it's for everyone," said Berners-Lee.
Vinton Cerf, Google evangelist
Vint Cerf, known as one of the fathers of the Internet, has said that the Web and our digital devices have become integral parts of our lives, changing the way we discover things, who we communicate with and even how we think about communications.
The American computer scientist, who has worked at IBM, DARPA and now Google as its vice president and chief Internet evangelist, said that the best of the Web is still ahead of us.
"The future of the web is limited only by our imagination," Cerf wrote in an email to Computerworld. "Ninety-nine percent of what we will do on the Web has yet to be invented."
Radia Perlman, Intel fellow
"If you're in the middle of the forest and you wonder the origin of this weird word or who started WWI, you can just look it up," said Intel fellow Radia Perlman. "That's kind of astonishing."
Perlman, who holds more than 100 patents, is largely known as the software designer and network engineer who invented spanning-tree protocol, the heart of Ethernet.
"I'm constantly marveling at things that can't possibly work but do," she said. "Internet search is one of them. If 15 years ago someone said to me, 'I have an idea for a company that will crawl through the Internet and help people search for things and I'll make it free,' I would have said, 'What a stupid idea.'"
Howard Schmidt, former White House CyberSecurity Coordinator
Howard Schmidt sees the positives about the growth of the Web, as well as the dark side of it.
Today, Schmidt is the CEO of R&H Security Consulting, but he spent 31 years working in the White House. A former White House security adviser, he became special adviser for cyberspace security just three months after the terrorist attacks of Sept. 11, 2001.
"How do you measure the importance of something that replaced 3x5 cards?" he asked, adding that greater changes are ahead, especially with search. "In the future, it will be less about having a computer and the structure we're used to. You won't have to search for something. It'll be your data and if you want something, there it is."
Jeffrey Jaffe, CEO of the World Wide Web Consortium
Jeff Jaffe is chief executive officer of the World Wide Web Consortium, the Web's main international standards organization.
The MIT-trained computer scientist, who works with W3C director and Web inventor Berners-Lee, said the Web has far exceeded anything he could have imagined.
"There are very few innovations that changed everything about people's behavior," Jaffe said. "But I also think it's just a start."
In a future that will continue to struggle with the benefits of a Web that knows about you and the concerns about the Web that might know too much about you, Jaffe also said the Web will continue to alter industries like publishing.
The publishing industry will be the Web and books will be interactive with links to online dictionaries and references.
Curtis Brown, AOL chief technology officer
When many people first began using the Web, they were using AOL.com.
The online pioneer was there when we were all just sticking our toes in the waters of the Web.
Curtis Brown, AOL's chief technology officer, said the Web was a critical advance that gave life to the company.
"In the early days, AOL helped people get online, which was a challenge given the technology's infancy," he said. "Bandwidth constraints, too, didn't allow for rich experiences with content or applications. Fast forward to today where… navigating and leveraging the power of the Web is what's valuable for people and for advertisers. The Web's evolution has allowed AOL to build platforms that have transformed us into a successful digital media company."
Dona Crawford, associate director for computation, Lawrence Livermore National Laboratory
The Web has played a critical role in climate change research, according to Dona Crawford, associate director for the Computation Directorate at Lawrence Livermore National Lab.
"Of course it's always better to collaborate," she said. "We were all on airplanes all the time trying to work together. Then usher in the Web. Now you can get the top experts in chemistry and physics to all be on one team."
Lawrence Livermore has a program that brings together all the climate models from around the world and makes them available globally.
"It's all the microclimates from around the world," Crawford said. "How else will we understand what's going on with the climate if we can't look at it from a global scale? We couldn't do that without the Web."
Copyright © 2014 IDG Communications, Inc.
Next Up: Check out these related slideshows