Cool stuff from CES 2013
Computerworld reporters found these cool and intriguing products while exploring International CES in Las Vegas.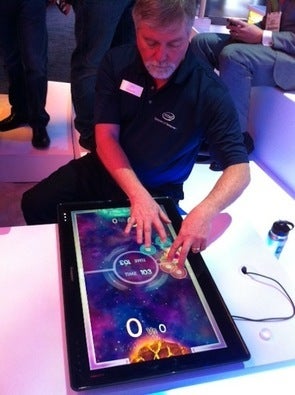 Lenovo's Horizon Table PC
There was a lot of interest in the IdeaCentre Horizon Table PC from Lenovo. The device has a 27-in. screen and runs the Windows 8 operating system with Intel's Core i7 processors and Nvidia's GeForce graphics. The multi-user, multi-touch, multi-mode consumer device is due out this quarter with a price tag of $1,299.
Ford apps for your car
Technology for the car was big at CES. Among the auto makers attending was Ford Motor Co., which showed a Fusion SE  sedan as it reached out to developers in its bid to bring drivers' favorite apps seamlessly into the car. The company launched its Ford Developer Program to help third-party programmers create apps for Ford's Sync AppLink, an auto feature that lets users run their smartphone apps through a vehicle.
Micron's first 1TB SSD for under $600
Micron unveiled its first terabyte-sized solid-state drive for consumers, the Crucial M500, which will sell for under $600, or 60 cents per gigabyte. The new SSD comes in several versions, including an ultrathin card. A 2.5-in. laptop drive version (shown here) can hold up to 960GB of data and will sell for $599.
The M500 uses Micron's densest NAND flash chips, made with 20 nanometer node lithography. Micron said its 128Gbit-sized chips are an industry first.
Lenovo's K900 smartphone with HD
Lenovo's new IdeaPhone K900 smartphone is a big phone with a 5.5-in. display, but it's also lightweight at 5.7 oz. The K900 has a 13-megapixel camera and the display is rated at 1080p for full high-definition resolution. It will run Android 4.2 and use a 2GHz Intel Atom Clover Trail dual-core processor.
Markets for Atom-based phones seem to be largely outside the U.S. so far, and the K900 will first be sold in April in China, where Lenovo has a strong smartphone following. Pricing has not been set.
Personify Chat
Want your clients to see your face the next time you're making an online PowerPoint presentation? Personify can help with its video chat tool, dubbed Personify Chat.
Using a depth-sensing camera attached to a desktop or laptop, the product delivers a virtual presence experience. The user's image shows up on the audience's computer screen, overlaid on any other content, such as a presentation or spreadsheet.
"The product is a way for you to spice up your meetings," said Sanjay Patel, CEO and president of Personify. "Rather than being a boring PowerPoint plus voice, you can add, well, you to it, he said. "In an enterprise environment, you want to convey your enthusiasm, your body language, ... which just doesn't come through on the phone."
Pop art iPad and iPhone cases
Pop artist Burton Morris is making his colorful work available on Apple accessories. His vibrant images of everyday objects, reminiscent of Andy Warhol, will be available on iPhone and iPad cases.
Morris' artwork was seen on the set of the TV series Friends and was selected for the 76th Annual Academy Awards ceremony and the 2004 Summer Olympic Games. The iPhone and iPad cases range in price from $10 to $30 and will be available this April.
Panasonic's 4K TV
Panasonic presented a 56-in. OLED TV that shows images at 4K resolution, four times the overall resolution of current 1080p high-definition TVs. The 4K OLED TV falls under a new generation of high-definition TVs referred to as UltraHD, which can display images at a resolution of 3840 x 2160 pixels.
UltraHD TVs, also referred to as 4K TVs, display deeper and more colorful images than current high-definition TVs. Panasonic did not say when the TVs would be available or provide pricing information. 
Health monitor from Texas Instruments
There were lot of gadgets for staying fit and healthy at CES. Among them were personalized health monitors from Texas Instruments that wirelessly transmit data to health dashboards on mobile devices.
TI's prototypes include wristbands, handheld devices and weight scales that not only measure body weight, but by passing low-current electricity through the body, display a person's percentage of body fat, extracellular water mass and fat-free mass.
Another monitor consists of a wristband that has a plug for a finger-mounted blood oxygen reader. The wristband has an additional LED light that acts as an EKG, measuring heart rate and electrical activity.
HP's quiz machine
At the ShowStoppers event at CES, Hewlett-Packard set up a giant ultrabook model that was actually a quiz machine. Two people could match wits about tech trivia, stepping on designated keys on the giant keyboard to log in their answers.
A tree of ultrabooks
How to find the Intel booth among the hundreds of exhibitors at CES? Just look for the giant tree made out of ultrabooks.
Huawei's Ascend Mate smartphone
Huawei's Ascend Mate, at 6.1 inches, was the biggest smartphone shown at CES, following the industry trend toward larger screen sizes. This one is almost as big as a tablet.
The device has a 1.5GHz quad-core processor, 2GB of RAM and an 8-megapixel camera. It runs a customized version of Android 4.1 (Jelly Bean).
Sales of the phone will start in China next month. The phone maker didn't say whether the phone would be available in the U.S. Pricing also wasn't released.
Looxcie's wearable, hands-free cam
Want to stream work from a job site back to your boss -- or stream your daughter's birthday party to her grandparents? That's what the people behind Looxcie Inc. are hoping for.
The company's hands-free, wearable video camera attaches to eyeglasses (as Looxcie spokeswoman Stacey Finkel shows in photo), helmets or hats. The camera can record video as well as live stream to online friends, and to Facebook or Twitter. 
The device also has uses for enterprises, noted Looxcie vice president Jay Moore. For instance, a repair worker who's having trouble fixing a machine offsite could live stream the problem back to a supervisor and get immediate help, Moore said. The device has a starting price of around $1,000.
The Leap Motion controller
The Leap Motion controller lets you interact with your computer by just using gestures. It creates an area of 8 cubic feet within which you can draw, push, pull and manipulate using your hand, fingers or a pencil tip. The tiny controller will cost $69.99 and should be available sometime in Q1 of 2013.
Copyright © 2013 IDG Communications, Inc.
Next Up: Check out these related slideshows